Armed and Gelatinous: Building an arcade cabinet that sticks
Rob Howland and Anthony Prusakowski on taking a goopy game jam title to the arcade, and why that approach might benefit indie developers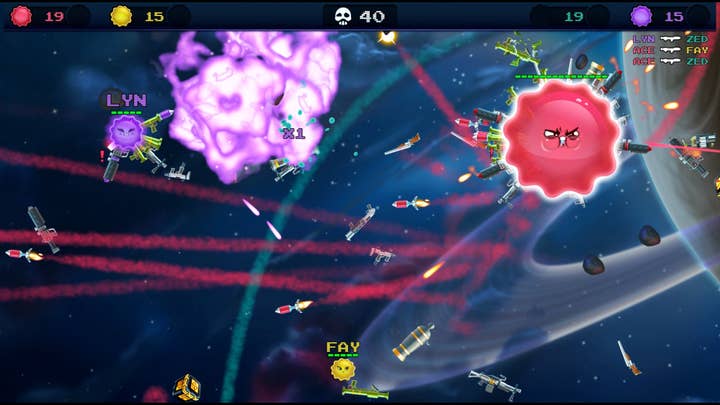 Rob Howland and Anthony Prusakowski met in college at a game jam, where they were given three words with which to create a game: growth, arms, and sticky.
The result -- which they remade from scratch post-jam and then built over the next six years -- is Armed and Gelatinous. The game has been out on Steam since 2016, but prior to the COVID-19 pandemic, it was beginning to pop up as an arcade cabinet in various arcade bars across the United States.
"We're very independent," Prusakowski says, speaking in front of one of these cabinets at PAX East earlier this year. "It's hard to survive, it's hard to get marketing, it's hard to stand out, but then there are so many different games coming out. How do you stand out in that crowd?
"It's hard to survive, it's hard to get marketing, it's hard to stand out"

Anthony Prusakowski
"We found that since we moved to Los Angeles, we just saw this wave coming of arcades. We got in front of it and started building these arcade machines, and it's probably one of the best things we've done to get exposure and get our name out there. We're in a number of cities already, and each one that we build is like a small game launch for us."
Armed and Gelatinous was not originally conceived as an arcade title, though it certainly fits the bill. Characters control blobs of goo floating through space alongside crates of ridiculous weapons which -- when touched by the blobs -- stick to them and can be fired at other players. Collecting more guns makes your goo blob grow larger, though, making it an easier target for other players to take down, steal weapons from, and earn more points.
There are multiple modes playing on themes such as dodgeball, soccer, football, and death match. But all of them have one thing in common: they're all party games, intended to be played alongside others in a couch co-op or competitive setting. That vibe inspired the pair to transform their digital title into an arcade game.
"We realized over the years that once PAX ends, we lose this vibe where everyone's out playing with their friends and having a great time and screaming and loving it," Howland says. "The whole couch co-op culture has died off a little bit. People still want it, but there's not a lot of people calling each other to come over and play on their couch, because online gaming is so prevalent now. So the only place that really translates to is the arcade, and once we realized that, we wanted to start building cabinets so we can keep that vibe going on a daily basis."
Howland and Prusakowski together make up the entirety of Three Flip Studios, and together -- with no funding, and no publisher -- are assembling their arcade cabinets entirely on their own. When I met up with the pair at PAX East, they were in the process of putting together cabinet number eight. Prusakowski tells me that it's not common for arcade cabinet developers to assemble their own machines. And while they do go through a company to manufacture certain components in the correct shape, they've also built one of their machines entirely by hand -- every part. Howland says that cabinet took six months.
"We wanted to understand how every part went together, so if we broke something or dropped it, it wouldn't be stressful"

Anthony Prusakowski
Prusakowski adds: "We wanted to understand how every part went together, how to construct everything, so in the future when we were going through a mechanical process, if we broke something or dropped it, it wouldn't be stressful."
For most developers, having a cross-platform game isn't an issue that has a drastic impact on game design -- aside from some controller quirks, most modern games can be played similarly across console and PC. But for a game that's cross-platform between PC and an arcade cabinet, there are some considerations.
For one, the arcade version needs to include specific features such as the ability for arcade owners to customize how they monetize it. But more importantly, there's the problem of content. How do you keep players who own the game on Steam coming out to arcades to play the same thing? And how do you convince arcade bar owners that they're getting a unique product, not just a Steam game in a fancy box?
Prusakowski and Howland's answer is to split content across the versions of the game. While both platforms have a handful of the same basic game modes, there are some that are exclusive to each, keeping the experiences distinct. But, Howland adds, there is an added perk to leaving the house to play Armed and Gelatinous.
"If you could just own it for $15 at home, why would you go out? But it's a lot more fun to be out at a bar with your friends, getting drunk and playing it, and playing all these other amazing games too. So there's still a reason to go out and play it."
Another challenge for Armed and Gelatinous' arcade debut has been getting it into arcades in the first place. Because it's a new game rather than a familiar, retro game, it takes a bit more convincing for arcade bar owners to be willing to take it on.
"The only problem is trying to get into these places that are used to buying cabinets from the '80s that only cost a couple grand," Howland says. "Try to get a new game in there, price goes way up and they're very curious about whether it's going to pay itself off in the same amount of time. Pac-Man is an earner. They're still going to make money. Getting a new game in there, it's harder to compete with that. But the nostalgia will only get you so far. You've got to put in new games and reinvigorate your arcade space and make it inviting."
"Pac-Man is an earner. They're still going to make money. Getting a new game in there, it's harder to compete with that"

Rob Howland
Prusakowski adds: "It is challenging for us, since we're a new IP... It's a little harder to convince people to take a chance on us, but we have statistics and we have these other locations at this point. We can connect other owners with potential buyers, and they can give firsthand experience on how long it took them to pay off the cabinet and have a detailed understanding between two business owners of what the reality of what's happening is."
Unfortunately, after we spoke at PAX East, another challenge manifested. COVID-19 has shut down most arcades across the United States at least temporarily, and even as they reopen, social distancing guidelines make them a far less lucrative prospect than they were prior. I reached out to the team ahead of this article's publication for additional comment on how COVID-19 had affected their plans, and Howland had this to say:
"Arcade venues started shutting down all across the country, which put a very real damper on our budding Arcade business. Our dream location understandably had to pull out of a purchase and it became clear to us that we had to put construction on hiatus. But soon after we saw one of our machines make a cameo in Season 2 of Dead To Me, so that lifted our spirits.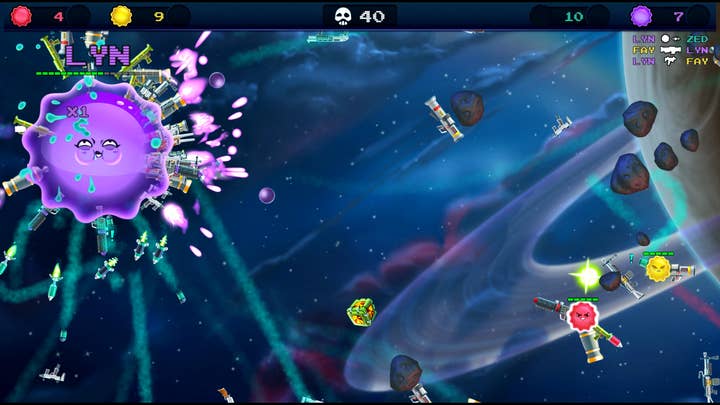 "While the arcade world has been frozen in carbonite, we have been staying productive by refocusing our energy on Armed and Gelatinous' upcoming console release and building out our online component. Getting our game online should hopefully help us stay ahead of the pandemic while we wait patiently for the arcades to kick back on."
Still, at PAX East, with a crowd of excited players gathered around, Howland and Prusakowski are optimistic about the revitalization of the arcade business in the United States. Though retro arcades may have died out, the two say that a resurgence of interest in arcade bars specifically has made marketing new arcade cabinets viable again -- it's a trend that, at least pre-pandemic, they expect to continue.
"We want these to be here after we're not here. It's hard to release a game on a digital platform and have that longevity"

Anthony Prusakowski
"Alcohol sales are driving a lot of business," Howland says. "It's harder for places without alcohol sales to maintain themselves unless they're really big. Without alcohol sales, it's hard for a lot of places to stay in business, which is why you're seeing such a big move to arcade bars and not arcades in general. Because in Japan, game centers are on every corner. They're still a thing. But in America, we don't have that anymore, and it's kind of sad. But thankfully, I guess we like to drink a lot, so now we're able to have the arcade again.
"...I would love to have 100 arcade cabinets around the country, and seeing that sort of growth in the arcade scene would just be a huge win for gamers in general. Because I know that everybody loves the arcade. It's a great place to go. And seeing them get reinvigorated has been inspiring -- it's what pushed us to do this. We see this wave, and we're trying to get on this wave and ride it as much as we can."
Prusakowski adds: "The other thing is, this cabinet's going to be around. We're building these things to last. We're not stapling them together like old machines. It's a solid thing. We want these to be here after we're not here. It's hard to release a game on a digital platform and have that longevity, and I feel like the arcade is going to give you that place in history that not everyone will be able to achieve."
Even though independent developers building brand new IP for arcade cabinets is a niche space, Howland and Prusakowski emphasize that they think it's worth it. Not just for them, but potentially for other small studios with arcade-friendly ideas who are struggling to stand out on crowded digital storefronts.
"To all the other indie game developers out there, if you're interested in having an unsaturated marketplace, unlike Steam and Xbox and PlayStation, this is the platform to be on right now," Howland says. "You don't have the same level of competition and discoverability issues that you have in those other oceans that are getting bigger by the day. You're just a drop in the bucket on Steam, but put in the effort -- ["And it is a lot of effort," Prusakowski chimes in] -- research, and build a cabinet, and you can have the exposure you're looking for."
Prusakowski concludes: "We want to work with other developers as well. We want to get them into the arcade by working on a business end, providing them tools and software controls to get their games into the arcade. That's something we're trying to achieve and get to the point where we can actually help other developers get into this space."
Disclosure: GamesIndustry.biz is a subsidiary of ReedPop, which owns and operates PAX East.