App Annie: Mobile to take 60% of worldwide gaming revenue
Cross-platform play on mobile, improved smartphones are driving the rise in market share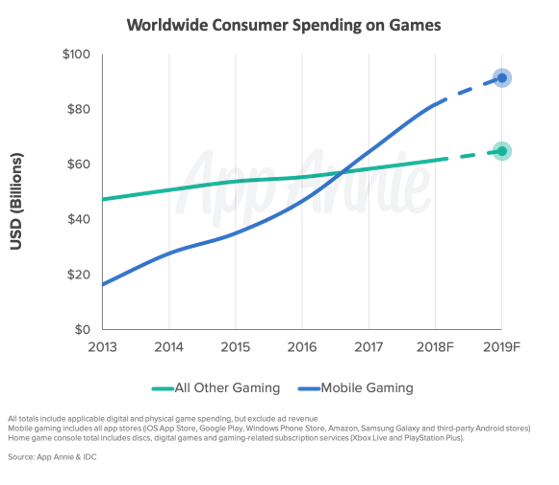 With 2018 nearly in the rearview, App Annie is looking ahead to 2019 and the continued rise of the mobile gaming market in the new year.
App Annie's MD EMEA and senior VP of partnerships Nicolas Beraudo looked at the success of cross-platform play of successful titles such as Fortnite and PUBG. He predicts that console revenues will finally see a proper threat from mobile in 2019 as mobile hits a 60% share of the overall gaming market. Total, that will mean that mobile has claimed 35% of the gaming market in the last six years.
"Games in 2019 will be less siloed and more connected," he said. "For example, Supercell's new game Brawl Stars, set to be huge in 2019 is a combination of Clash Royale and Fortnite. But mobile isn't just gaining a bigger piece of the pie, it's making the pie larger. Monetisation opportunities stand to increase as a result of the increase in cross-platform play as well as the increase in mobile payment adoption. The fastest growing form of monetisation in mobile gaming is subscription-based."
Beraudo also cites continued improvements to smartphone technology and 5G as keys to the increasing presence of mobile, while battery life remains the primary barrier.