App Annie: Mobile gaming was the fastest-growing gaming sector in 2018
Firm predicts mobile gaming will reach 60% of gaming market share in 2019, driven by both hardcore and hypercasual titles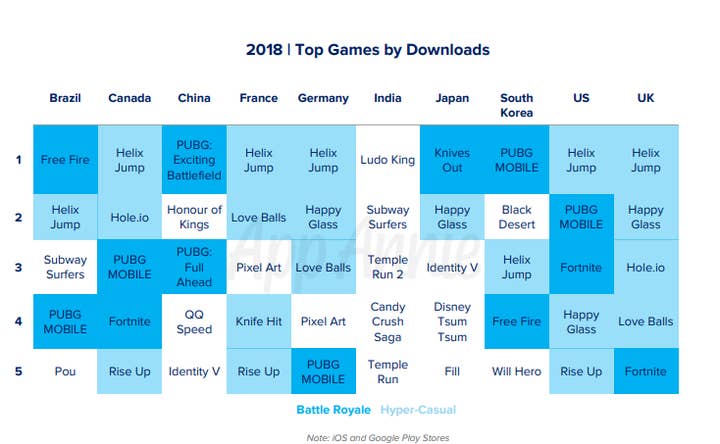 App Annie has released its 2019 State of Mobile report, including insights on how mobile gaming did worldwide in 2018 and predictions for the coming year. Predictably, battle royale drove much of the industry's success last year, and mobile gaming as a whole continued to see strong growth compared to other sectors of the gaming industry.
Globally, all apps (including non-gaming apps) saw 194 billion worldwide downloads in 2018 and $101 billion in total consumer spending. Of that, gaming was responsible for 78% of consumer spending across mobile storefronts, and was also the fastest-growing sector of the gaming market in 2018. China, the United States, and Japan accounted for 75% of all mobile gaming spending last year.
App Annie predicts that mobile gaming will reach 60% of the market share for consumer gaming spending in 2019, driven by growth both in hardcore titles (as hardware improves) and hypercasual titles.

Another interesting tidbit from the report regards China's freeze on game approvals, which recently began to lift. App Annie observed that global consumer spend on China-headquartered publisher's games did increase in 2018, though at a slightly lower year-over-year growth rate. The firm predicts that despite the lift on the freeze, international expansion for Chinese publishers into new markets will continue to be strong in 2019.
In addition, App Annie predicted that paid ads drove 15% more US downloads of games in 2018 as opposed to 2017.
Looking ahead, the firm predicts that Niantic's Harry Potter: Wizards Unite will likely exceed $100 million in revenue in its first 30 days. Should this occur, it would be at half the speed of Pokemon GO, but 10x faster than Candy Crush Saga and 23x faster than Clash of Clans.
Finally, per App Annie, here are the top mobile games of 2018 worldwide by revenue and downloads.
Top mobile games of 2018 worldwide by revenue
Fate/Grand Order - Sony
Honour of Kings - Tencent
Monster Strike - mixi
Candy Crush Saga - Activision Blizzard
Lineage M - NCSOFT
Fantasy Westward Journey - NetEase
Pokemon GO - Niantic
Dragon Ball Z Dokkan Battle - Bandai Namco
Clash of Clans - Supercell
Clash Royale - Supercell
Top mobile games of 2018 worldwide by downloads
Helix Jump - Voodoo
Subway Surfers - Kiloo
PUBG Mobile - Tencent
Free Fire - SEA
Rise Up - Serkan Ozyilmaz
Love Balls - SuperTapx
Candy Crush Saga - Activision Blizzard
Happy Glass - AppLovin
Sniper 3D Assassin - TFG Co
Kick the Buddy - Playgendary