Animal Crossing: New Horizons smashes sales records in the UK
It is the fastest-selling single Switch game ever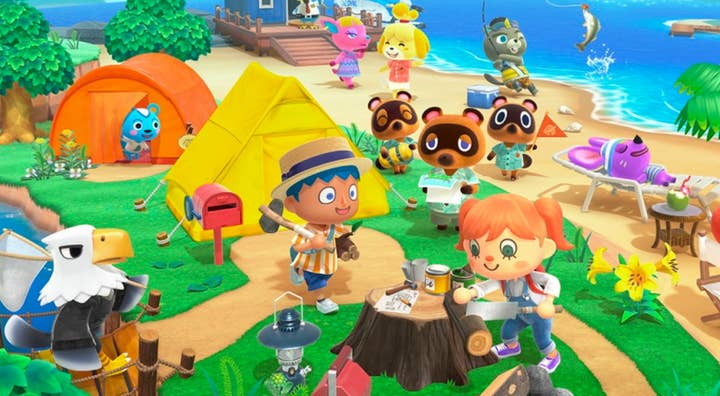 Animal Crossing: New Horizons has become a major hit in the UK.
Nintendo's critically acclaimed sequel has sold more copies in its first week on sale than the launch sales of all previous Animal Crossing games combined, including the spin-offs. The launch is 3.5 times bigger than the last game in the series, 2013's Animal Crossing: New Leaf on Nintendo 3DS, which was the previous biggest launch for the series. It is also the biggest single game launch on Nintendo Switch since the console came out, although if you combine the sales of Pokémon Sword and Shield together, those games enjoyed a bigger first week.
This only factors in physical sales, it does not include digital download numbers, which may have been higher than usual considering the concerns around the COVID-19 virus that has seen the UK Government recommend that citizens stay indoors. Nintendo does not share digital download data externally.
It's no surprise to learn that Nintendo's game was No.1 in the boxed charts this week, comfortably ahead of Doom: Eternal, which debuts at No.2. Doom: Eternal's physical launch sales are roughly a third smaller than its predecessor, but the drop may not be quite so significant if we factor in digital sales. Unfortunately, Bethesda also doesn't share digital download figures, so we won't know how the game really performed.
It's been a major week for boxed game sales overall, with more than 475,000 physical games sold over the last seven days. That's more than three times the previous week's numbers. Of course, Animal Crossing: New Horizons and Doom: Eternal played a big part in that, but game sales have surged across the board. Call of Duty: Modern Warfare at No.3 enjoyed a 282% sales jump, FIFA 20 at No.4 posted a 326% increase, Mario Kart 8: Deluxe at No.5 achieved a rise of 100%... and the list goes on. In fact, only three games across the entire Top 40 dropped in sales week-on-week -- Pokémon Mystery Dungeon: Rescue Team DX fell 24% in sales, Two Point Hospital slipped 8%, and Nioh 2, which was No.1 last week, fell 55% in sales. All three of those games are relatively recent releases.
According to retailers, that has been a jump in demand for games as consumers prepare to stay at home to slow the spread of COVID-19. We will get a wider view of the market when the download data comes in later in the week.
Here is the GfK Top Ten for the week ending March 21st
| Last Week | This Week | Title |
| --- | --- | --- |
| New Entry | 1 | Animal Crossing: New Horizons |
| New Entry | 2 | Doom: Eternal |
| 4 | 3 | Call of Duty: Modern Warfare |
| 5 | 4 | FIFA 20 |
| 2 | 5 | Mario Kart 8: Deluxe |
| 6 | 6 | Grand Theft Auto 5 |
| 12 | 7 | Crash Bandicoot N.Sane Trilogy |
| 14 | 8 | Forza Horizon 4 |
| 24 | 9 | Crash Team Racing: Nitro-Fueled |
| 14 | 10 | Red Dead Redemption 2 |