Analysing the major mobile game design and feature trends in 2021
GameRefinery's Wilhelm Voutilainen looks at the rise of renovation, big IP on mobile, and Japan's growing AR interest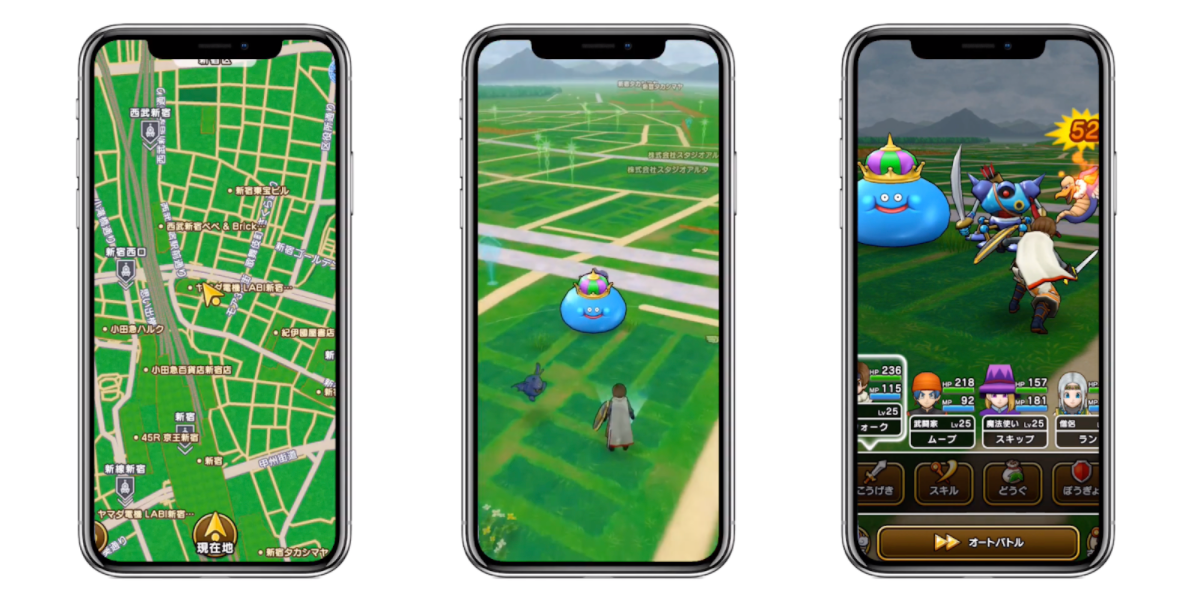 With mobile games now generating over 57% of global games revenue, the mobile gaming market shows no signs of slowing down. Analysts estimate the mobile gaming market will be worth a staggering £272 billion by 2030, and as we near the end of another big year for the sector, it's worth taking a look back at some of the key trends, developments and features that contributed to its growth in 2021.
This growth is great news for both game developers and players. 2021 has seen more titles embrace hybrid gameplay elements and spin out into new genres while the rise of social features we experienced in 2020 has evolved even further, transforming how we socialise online. Roblox's virtual concerts mean you no longer need to travel for miles to party at the world's biggest music festivals, while the renovation features in Perfect World Mobile let you invite your friends over to hang in your virtual home.
2021 has proved there's still plenty of innovation left in the mobile market
So what does all of this tell us? People want to connect, play, and socialise together in digital worlds, and slowly, this is becoming the new norm. We can see this reflected in the popularity of social play elements such as guild mechanics, which are up 20% in the top 100 US iOS games. Deeper social mechanics, such as hang-out areas where players can socialise in digital environments outside of game lobbies, are starting to trend, too.
Social mechanics aren't the only mobile feature that are evolving; events are getting bigger too. Limited time collaboration events are more popular than ever before as more brands outside the gaming industry look for a way in. 40% of the top 100 iOS games in the US feature brand collaboration. This number jumps to a massive 61% for the top 100 grossing games in Japan, with some huge collaborations between game developers and non-gaming IPs this year (we never thought we'd see Stranger Things collaborating with Seven Deadly Sins: Grand Cross!).
2021 was another big year for casino games too, due in no small part to how developers are utilising social mechanics and other gameplay features to attract new players. And while location-based AR games are struggling to replicate the success of Pokémon Go in the West, the popularity of titles such as Pikmin Bloom, DQ Walk, and Eki Momo in Japan could lead to more Japanese mobile developers exploring AR features in their games.
And finally, we've seen new mobile games from some huge IPs, including Pokémon Unite and League of Legends: Wild Rift, two new MOBAs trying to make a mark in a genre that's notoriously difficult to monetize.
All of that said, let's take a look back at some specific examples of these key trends and developments from 2021 in action.
Renovation and special game modes are leading hybrid gameplay elements
Is the mobile gaming market experiencing its very own Animal Crossing effect? We've noticed a lot of casual games are embracing renovation and special game modes as part of their hybrid gameplay elements, primarily through events. The meta elements outside of their core gameplay are one of the most significant selling points of popular match-three titles such as Playrix's Homescapes and Metacore's Merge Mansion. With the popularity of 'merge' games spiking in 2021, we're not surprised to see these hybrid gameplay elements popping up in other casual genres such as puzzlers and even casino games.
The popular card game Phase 10: World Tour introduced renovation elements in its Halloween event, allowing players to construct and renovate their own Halloween theme park. Solitaire TriPeaks lets you renovate and clean up your estate on the Enchanted Island (main game environment) outside of the main card game, while the casino game Caesars Slots uses renovation elements in its Fortune Palace event.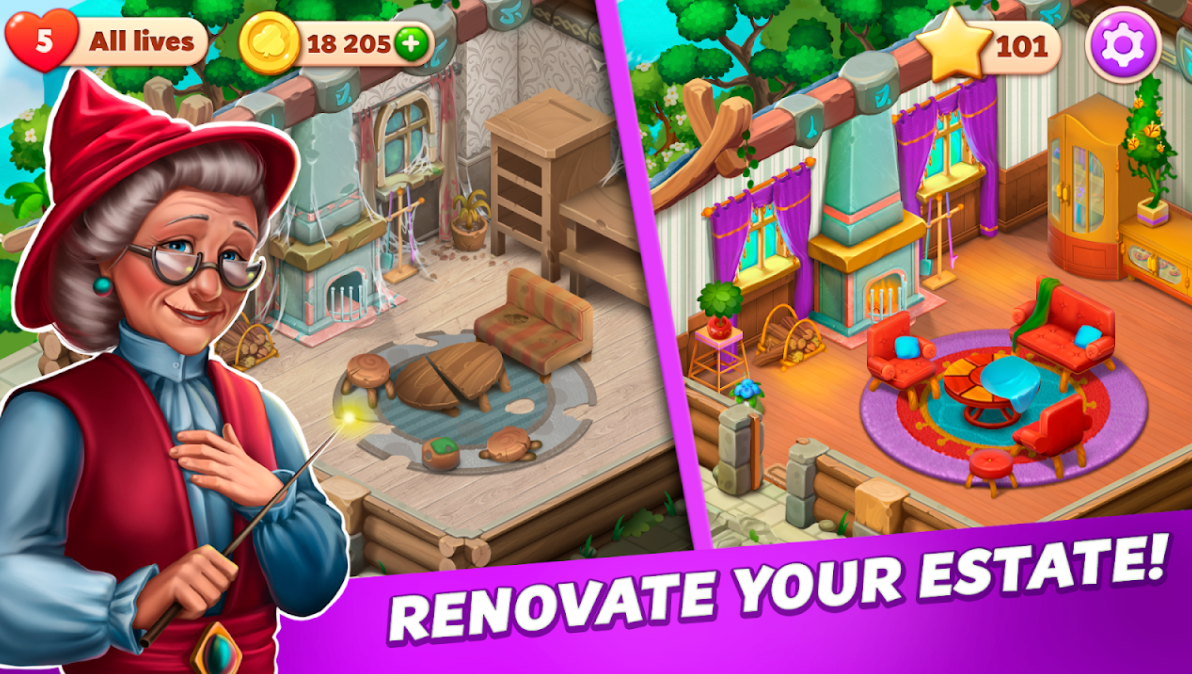 Other examples of games experimenting with different gameplay styles include the popular tycoon game Township. Live ops for the title has always been strong and its popular events are essentially mini-games where players can experience varying types of gameplay. Similarly, AFK Arena's Wondrous Pouch mode introduced match-three mini-games into the game to offer players a new gameplay experience outside of the core RPG elements.
Speaking of match-three, these puzzlers are leading the way with innovation right now. The fast-paced Royal Match enjoyed a massive launch thanks to its quirky visuals and room-by-room progression, while the slower-paced Zen Match combines match-three gameplay with Mahjong style puzzles and interior style meta elements.
We're expecting the growth of renovation elements to continue through 2022 and beyond as more developers adopt them in hybrid gameplay features.
Big IPs are moving into mobile
The First Soldier: Final Fantasy 7, Pokémon Unite, League of Legends: Wild Rift, Marvel Future Revolution, Ni No Kuni Cross Worlds and PUBG: New State are just a tiny handful of the new mobile games from big IPs this year. What's interesting about many of these big titles is developers have chosen to adopt gameplay features you wouldn't typically associate with the IP's console games.
Square Enix utilizes PVP battle royale and PVE monster-hunting elements in First Soldier while also using the title to fill in some of the narrative gaps around the popular Final Fantasy 7: Remake on PS4/PS5. Ultimately, this encouraged many core Final Fantasy fans to download the game on mobile, resulting in over 200,000 downloads in its first two weeks.
We never thought we'd see a Pokémon MOBA game in 2021, as we know that MOBAs are hard to monetize due to their lack of pay-to-win features. Add to that stiff competition from not just League of Legends: Wild Rift, but titles that are already leading the genre in mobile, such as Mobile Legends: Bang Bang.
Despite this, Pokémon Unite enjoyed a successful launch but has struggled to stay in the Top 200 grossing games since. League of Legends: Wild Rift is dipping in and out of the Top 200 too, but has grown in popularity after adopting new social features, with the addition of guild mechanics leading to a huge spike in new players, many of whom have stayed with the game since. The launch of the Netflix series Arcane, a new anime set in the LoL universe, also helped to draw in new players thanks to a successful collaboration event.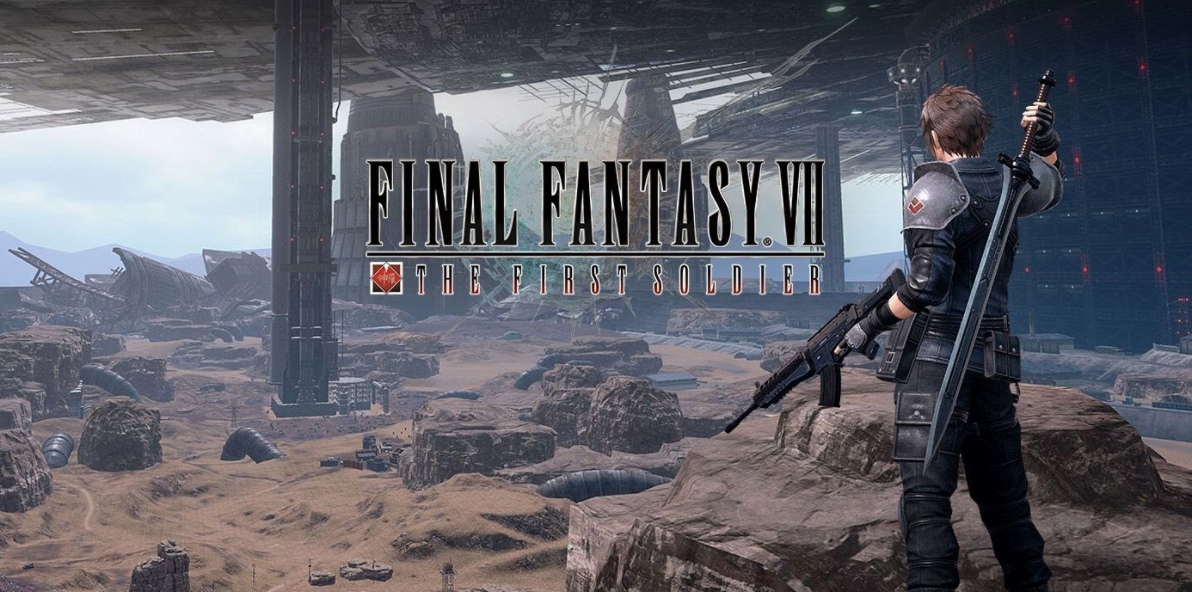 We're expecting an abundance of mobile games to appear from big IPs in 2022 due to the opportunities in the mobile gaming landscape. Developers can reuse assets from existing versions of their games while using mobile as an opportunity to experiment with features and gameplay mechanics that wouldn't usually fit in their base games.
But even with the backing of solid IPs behind them, success is never guaranteed for new mobile game launches, especially in genres that are dominated by big titles already. Marvel Future Revolution, as an example, has not been able to find the same success as Genshin Impact.
Casino games are finding new players after embracing collection systems
Casino games are evolving. If you've not played them before, casino games involve way more than just cranking slots handles, turning cards or spinning roulette wheels. Many feature hybrid gameplay elements, opening up new gameplay experiences outside of the core casino gameplay.
Collection systems have been a popular hybrid element in casino games for a while, but 2021 saw massive systems growth in the Top 100 casino games, rising from 47% to over 80%. Some of the new games to add collectibles albums in 2021 include Lightning Link Casino, GSN Casino and Wizard of Oz Slots Casino.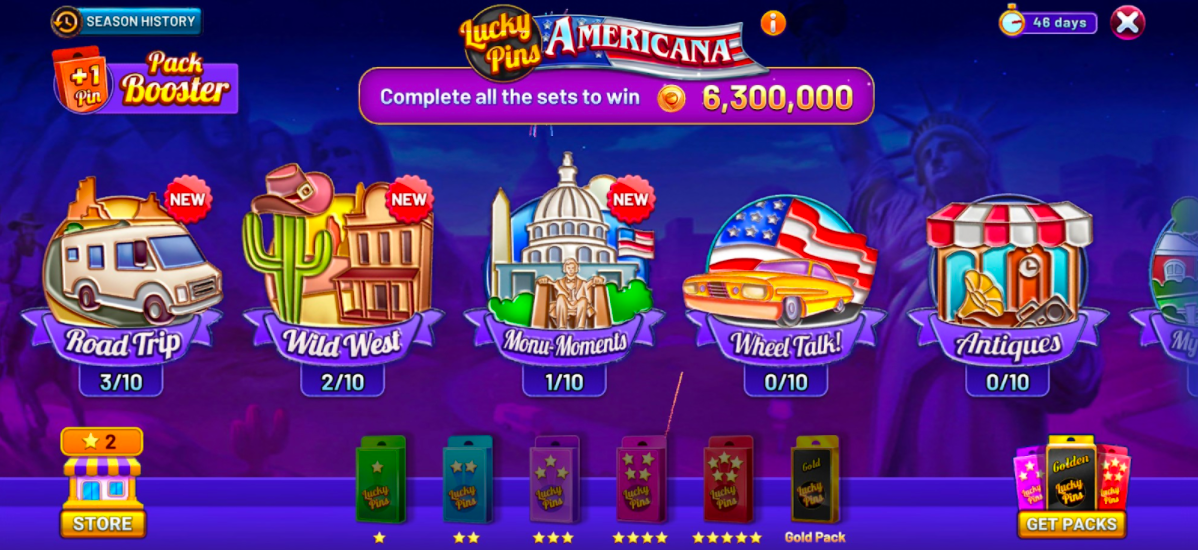 So why is this system suddenly getting so popular in mobile games? It's a psychological pay-off to players when they've got something to show for all of the hours they're investing in a game. Similar to renovation elements -- in the sense that you're continually working towards something more significant -- collectable elements keep players engaged with games for longer by encouraging them to grow their collection of items.
Not only do we expect to see more casino games outside of the Top 100 embracing collectable elements (they're relatively simple for developers to implement), they're proof of the growing popularity of hybrid elements. As the casino genre shows, there's plenty of room to think outside the box and do something different to keep players engaged.
AR and exploration games flounder in the West but find success in Japan
In November, Niantic and WB Games announced that it would be closing down Harry Potter: Wizards Unite for good. Similar to its Pokémon cousin, Wizards Unite involves exploring the outside world with your mobile phone to capture wizarding creatures, but it failed to replicate the success of Pokémon Go.
Even with the backing of solid IPs, success is never guaranteed for new mobile games, especially in genres that already dominated by big titles
Undoubtedly, COVID lockdowns haven't helped the situation with Wizards Unite as players have been stuck indoors. Still, similar titles such as Pikmin Bloom are performing much better in Japan, which accounts for 65% of the revenue generated by the game.
Of course, as many of the cities in Japan rely heavily on public transport, it could be a case that Japanese players are spending more time travelling on their daily commutes and have more time to play as a result. Either way, AR mobile titles continue to thrive in the East.
It's also worth noting that despite the growing popularity of the Dragon Quest IP in the West, the exploration version of the game, Dragon Quest Walk, is still a Japan-exclusive two years after its initial release in 2019. Is there room for another exploration game to take on Pokémon Go? In the West, arguably not, but we wouldn't be surprised to see an eventual contender from another major IP in Japan.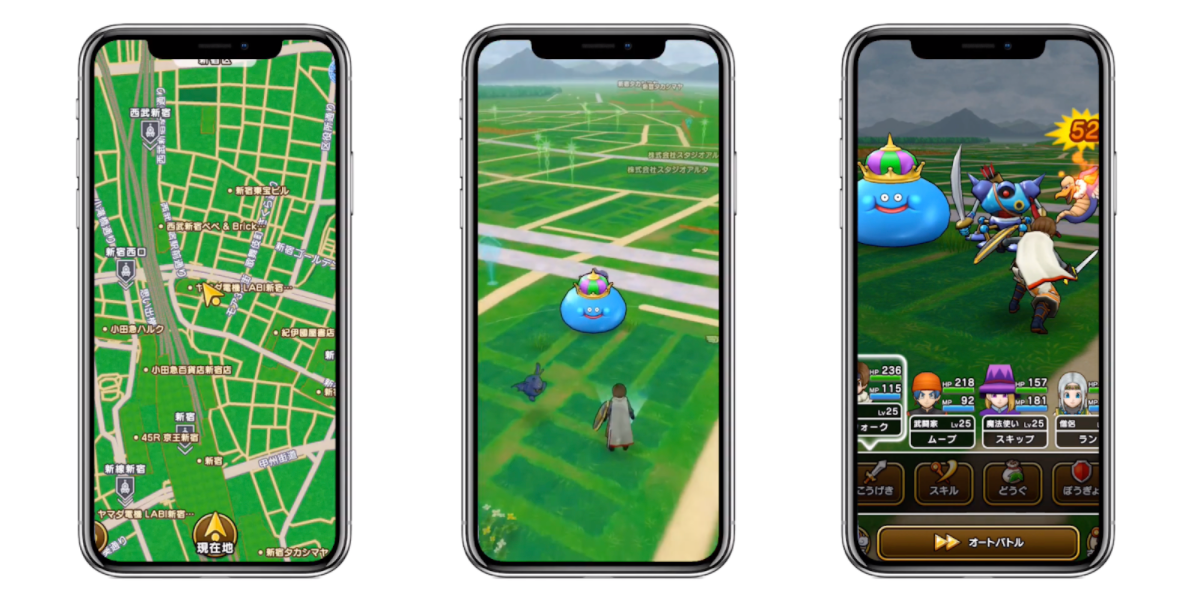 Other key trends from 2021
Battle Passes have grown in popularity every year but rose from 46% to 61% in the US Top 100 grossing mobile games.
As League of Legends: Wild Rift has shown, social elements can significantly increase player engagement, and social mechanics were popular in 2021, rising from 60% to 70% in the top US grossing titles and by 20% in the Top 100 US casual titles.
Older titles are still dominating the charts in Japan, such as Fate/Grand Order (2015), Monster Strike (2013), and Puzzle and Dragons (2012) -- all of which are Top 10 grossing titles.
Ads are still rare in Japanese mobile games, with developers growing revenue through in-game purchases instead. While they still appear in some titles, most top grossing titles avoid using them.
Due to new laws, China has now implemented time restrictions in many games, but this hasn't stopped new releases from being a success. Top 10 grossing titles Harry Potter: Magic Awakened and Battle of the Golden Spatula dominate the charts.
Developers who take time to regionalise their games for releases in new markets are doing better. The Chinese version of Team Fight Tactics (Golden Spatula) is much more popular than the Western version, and the Western version of State of Survival struggled so much in Japan that it was shut down. But after being regionalised and re-released, State of Survival is now a Top 100 grossing title in Japan.
We don't doubt that we'll see many of these trends build into 2022 and eventually become the norm. More AAA developers will inevitably expand their offering in the mobile sector. As for whether or not the weight of their IP will be enough to shake the titles already dominating the mobile charts, we'll have to wait and see.
We can also expect to see more mobile games keeping their players guessing thanks to hybrid meta elements creating crossover genres. As 2021 has proved, there's still plenty of innovation left in the mobile market.
Wilhelm Voutilainen is senior game analyst at GameRefinery