Amazon taps RTS pioneer Louis Castle to lead Seattle studio
We talk to the Command & Conquer creator about his decision to join the Crucible team and his development approach
Industry veteran Louis Castle has found his next major role. The co-founder of Westwood Studios best known for the Command & Conquer franchise is now serving as the head of Amazon Game Studios, Seattle. With a long tenure in the industry that includes time spent at EA, Zynga, Instant Action and Kixeye, Castle will now lead the team working on Amazon's competitive multiplayer action game, Crucible.
GamesIndustry.biz caught up with the BAFTA and GDC Lifetime Achievement Award winner prior to the announcement. Castle explained, "Amazon reached out and asked if I was interested in a studio leadership position. I was - assuming I could run it my way. I was really impressed with Amazon's core tenants and their dedication to build a customer-centric games business. And Amazon's AWS Cloud technologies and community services with Twitch were exactly the kinds of technologies I wanted to incorporate in my next games.
"I've always cared deeply about players, and wanted to create a studio environment similar to the one I enjoyed at Westwood Studios: obsessed with listening to players, and learning from them. Amazon is just an amazing fit."
Speaking of listening to players, Castle said he's all for the more modern and open approach to game development. Many developers nowadays show their warts and all with very early builds in order to get feedback and make changes as necessary at an early stage in a project.
"We still have to do our jobs as product visionaries and creators, but we're building games for gamers, and their feedback is critical to the process - whether they're players, streamers, or viewers"
"One of the key learnings I've enjoyed over the recent years is that you can't be too close or listen too carefully to the players... I think it is critical to get feedback as soon as possible from the players and viewers," he said. "We still have to do our jobs as product visionaries and creators, but we're building games for gamers, and their feedback is critical to the process - whether they're players, streamers, or viewers."
As a relative newcomer to games development, Amazon Game Studios doesn't have the breadth of a proven portfolio the way other publishers do and is currently working on building new IP like Crucible, Breakaway, New World and others. Castle is excited to be a part of new IP building at the company.
"I don't know too many game developers who would prefer to pursue licensed IP over the chance to create something. The new IP problem space is wide open and the possibilities are endless," he said. "I've personally had about equal amounts of success in both adapting and building IP. I do think an organization gets strong process value from adapting IP. Fortunately nearly everyone at Amazon has had a bit of both in their careers so we are well positioned for success."
Aside from building its games on Lumberyard with Twitch integration and streaming/broadcasting in mind from the get go, Amazon has the advantage of being an online retailer. Twitch recently announced that it would begin selling games directly to its viewing audience, and as a longtime PC developer Castle believes that makes perfect sense.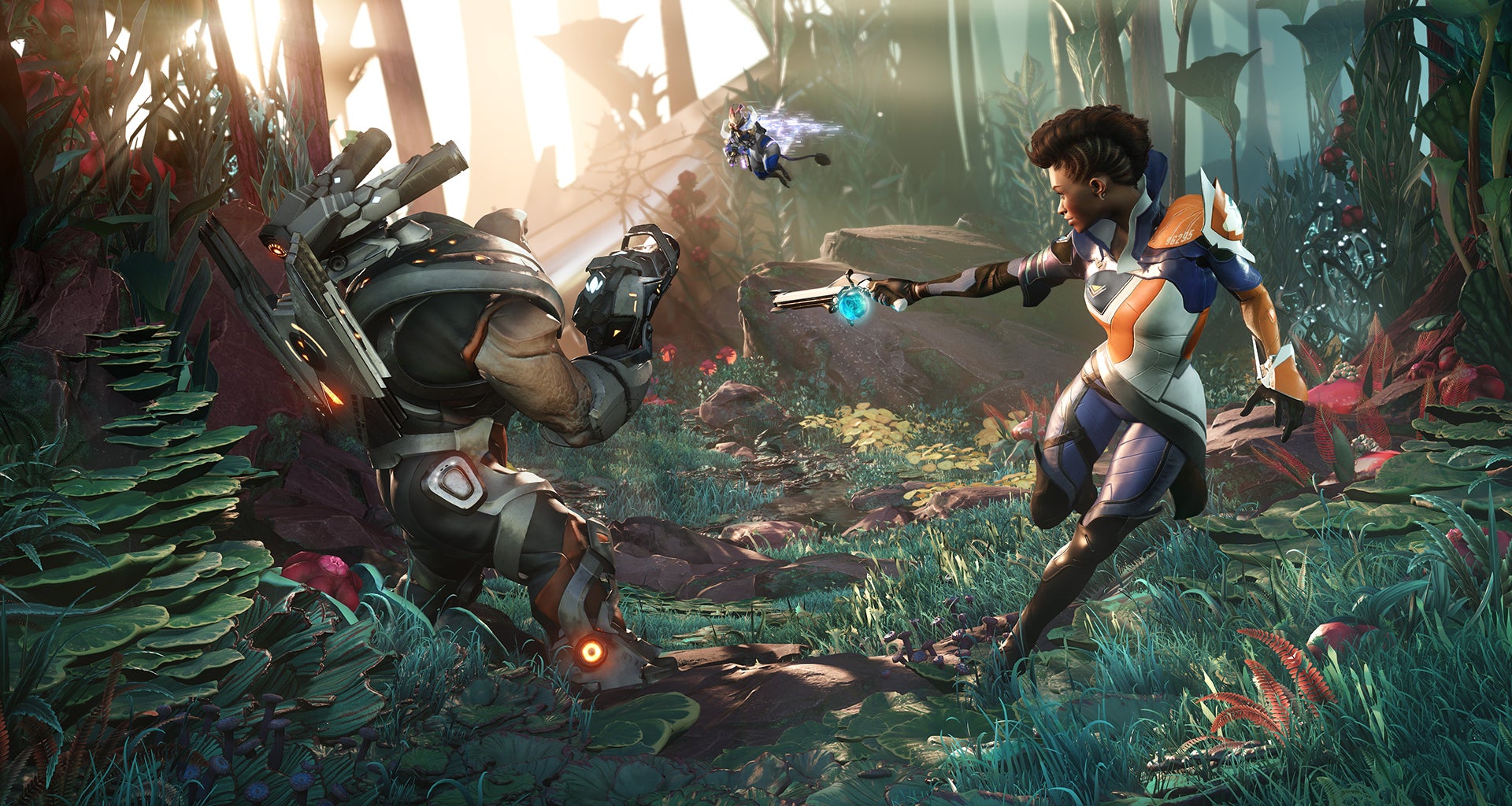 "It's great that Twitch can be a discovery and purchase portal. Customers deserve the opportunity to purchase their entertainment with the least amount of hassle necessary," he said. "Why force anyone to take extra steps to enjoy their games? I think there are many other ways we can use our direct connection to the fans and hopefully encourage other game studios to innovate in similar ways."
Amazon Game Studios is currently in its expansion phase and is actively hiring, but sometimes studios can get too large for their own good. Castle isn't too concerned about the team size he's managing, however. "I don't know that there is any size that is generally too big or too small. Any project can be over or under staffed. Amazon values frugality on behalf of our customers, but we are also think long-term and make big bets," he explained. "Part of my job is to make sure every talented team member is sufficiently challenged without being overwhelmed so we will have a place for the right talent and work the org around their skills."
Quality of life and team satisfaction is something Castle takes seriously. He noted that he has a "deep belief that great games are made by passionate, happy teams."
An exact release date for Crucible has not yet been set.