Amazon "reaching out to everyone" for Indie Games Store
Amazon opens a new storefront to sell indie games on PC and Mac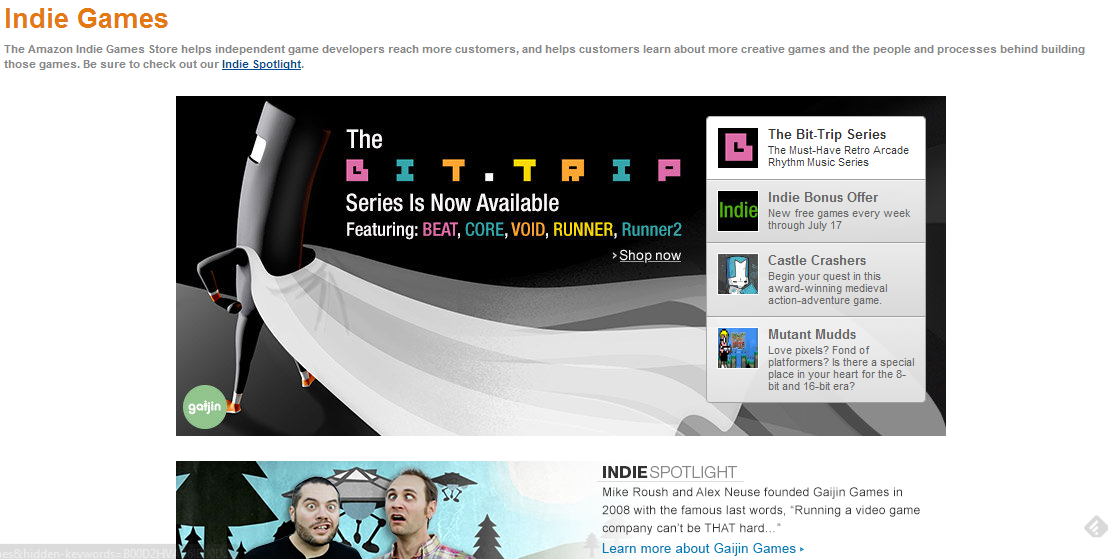 Amazon has launched its new Indie Games Store, a marketplace built specifically for independent developers and their titles on PC, Mac, and browsers. The retail giant has already built a sizable fanbase via its sales of PC digital downloads, and the new Indie Games Store stands as an expansion of that strategy. In addition to offering indie titles, Amazon has also launched its Indie Spotlight: a weekly series of profiles on specific developers, starting with Gaijin Games this week.
"Game development is an art, like any other. It can be personally rewarding, and like other forms of artistic expression, great games can come from anywhere. Powerhouse game studios don't hold a monopoly on inventiveness or creativity, and some of the best games of all time were created on a shoestring by two or three people with a shared vision," wrote Amazon GameCircle technical evangelist Peter Heinrich in a blog post announcing the Store.
"It's hard to get noticed, though. If you're an indie game developer, it's usually a headache to get your game in front of people, both gamers and reviewers. Amazon recognizes this. As part of our commitment to independently developed games, Amazon is launching the Indie Games Store, a new category on Amazon in the Digital Video Games Store, designed specifically to address this problem."
Amazon is leaving the gates open to let indie developers in, according to a Reddit post by Amazon marketing manager of digital video games Tony Valcarcel.
"We've been working really hard these past few months to make our process as easy as possible to get through. In fact, in the past, 3 months or so, we've been reaching out to everyone we can find to get more Indie Games on sale," wrote Valcarcel.
"Let me be 100 percent clear on this, we want to sell every functional Indie game available on the market and are building new processes and self-service tools to make this even easier in the coming months. If you [have an] Indie Game and want to get it on sale on Amazon, email find-more-gamers@amazon.com and we'll get the process started!"
The process could prove much easier for indie developers, many of whom have had problems with Valve's current Steam Greenlight system for access to Steam self-publishing. Just this week, Paranautical Activity developer Code Avarice had their game blocked from publishing on Steam. The developer previously had their game on Steam Greenlight, but later found a publisher in Adult Swim. Valve denied them publishing access due to the old Greenlight page, and the resulting trouble also led to Adult Swim exiting from the deal.