Amazon Instant Video app comes to Xbox Live
Amazon Prime Instant Video is now available to user Xbox 360 users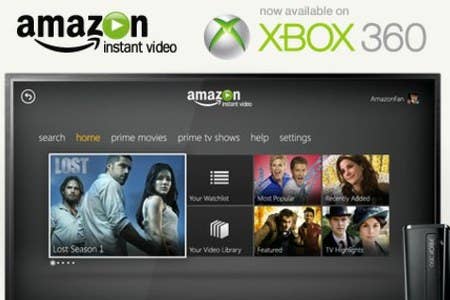 Amazon has introduced an Amazon Instant Video app for Xbox Live, available to user with a with an Xbox Live Gold subscription. The app itself is free, but access to Prime Instant Video, with free streaming TV shows and movies, requires a separate subscription to Amazon Prime. Any video content already purchased on your Amazon Instant Video account is available.
"Amazon Instant Video on the Xbox 360 console is among one of the most requested video features from our customers, so we are excited to offer yet another way for customers to enjoy Amazon Instant Video," said Anthony Bay, Amazon.com vice president for video. "With Amazon Instant Video on Xbox 360, Xbox LIVE Gold members can start enjoying new release movies, current TV episodes and Prime Instant Video right away. Our integration with Kinect for Xbox 360 lets customers play and search for videos with the wave of a hand or the sound of their voice, and our Whispersync technology allows customers to seamlessly switch between watching on their Kindle Fire and their Xbox 360 console, without losing their place. Also, Watchlist is a great new feature that lets customers keep a running queue of videos they want to see in the future."
"Working with Amazon.com marks a significant milestone in our mission to make the entertainment you love more amazing on Xbox," said Ross Honey, general manager of Xbox LIVE Entertainment and Advertising, Microsoft Corp. "By bringing the Amazon Instant Video app to Xbox LIVE and adding voice search and voice control through the magic of Kinect, we're transforming the way people discover and experience entertainment."
Users without Amazon Prime can start a one-month free trial of the service today.