Amazon Associates lets Twitch viewers buy while streaming
Meanwhile Twitch Extensions enables developers to build interactive overlays for streamers
Amazon has brought its affiliate program Amazon Associates to Twitch, enabling streamers to sell or recommend products to their audience without viewers having to leave the site.
This is the first time Twitch partners and affiliates have been able to take part in Amazon Associates, and will allow them to select products from the online retail giant's catalogue that can then be purchased by anyone viewing their content.
Selected products will be added to a Gear on Amazon list, an example of the new Twitch Extensions the company has also unveiled this week. Gear on Amazon will be an overlay that can be added to streamed content and allow players to buy the host's selected products.
The idea is that streamers will be able to recommend the equipment they're using and the games they're playing - plus any other products of interest - and receive a share of each sale generated by their viewers' purchases.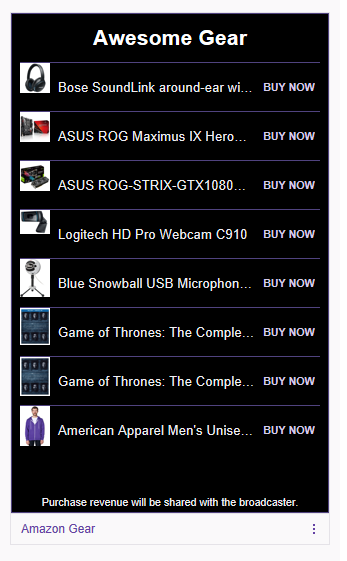 Twitch Extensions will also enable games studios to create applications that streamers can integrate into their content, offering more information on the game showcased or calling for viewer interaction.
Examples from the wave of Extensions scheduled for launch include a Destiny Armory Overlay that lets fans read up on gear and perk details while watching streams, an interactive Hearthstone deck overlay that offers tips regarding the cards in play, and stat trackers for games such as League of Legends, The Binding of Isaac, Rocket League and Overwatch.
Streamers will also be able to use these extensions to set up polls for viewers, so the audience can suggest which course of action to take next.
While there's no launch date for Twitch Extensions yet, the streaming platform promises the tools to build them will be made available soon, with more details due to emerge from the TwitchCon Developer Day on October 19th, 2017.
The TwitchCon reveal will also include details on how Twitch plans to let streamers and developers monetise these Extensions with the help of Amazon Associates.