Amazon adds Game Connect to boost free-to-play gaming
Amazon beefs up its PC download offerings to include free-to-play and MMO titles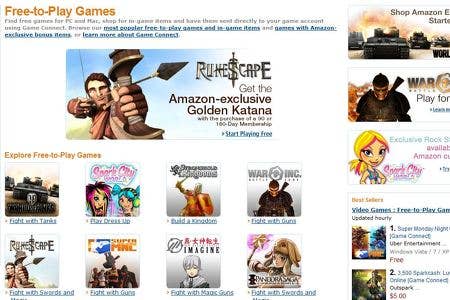 Amazon has launched Game Connect, a service that offers free-to-play and MMO titles to Amazon customers, making it easier to purchase virtual items and other content. Like the Amazon AppStore, Game Connect provides a single, unified payment system that developers can integrate into their titles to make purchases easy for consumers. Users who use Game Connect will also unlock exclusive in-game content in certain titles.
The initial selection of Game Connect-enabled titles includes TERA, World of Tanks, Spark City, Stronghold Kingdoms, Pandora Saga and Super Monday Night Combat. Users of Game Connect will also be able to unlock exclusive in-game content in certain titles.
"Customers can now discover a new category of free-to-play games and can experience the convenience of having virtual items purchased with their Amazon account delivered directly to their game accounts," says Mike Frazzini, director, Amazon Games.
"Game Connect helps game developers reach more customers, move more quickly and grow their business by simplifying the purchase process for customers. This is an exciting next step for the Digital Games Store and we have even more to come."
"Uber Entertainment is very excited to be both a part of the new Amazon Digital Games Store and participating in the Game Connect program," said John Comes, Creative Director at Uber Entertainment.
"We think that Game Connect is a fantastic new program that directly benefits our TERA fans and we are very excited to be involved as we continue to build out and expand our offerings," said Chris Lee, Vice President of Publishing at En Masse Entertainment.
Amazon's new free-to-play store can be found here. Developers can learn more about Game Connect at the official developer page.