After 13 years, Remedy's dream of Alan Wake 2 is real – and it's really going for it
"Now we will show and make something exceptional," Sam Lake tells us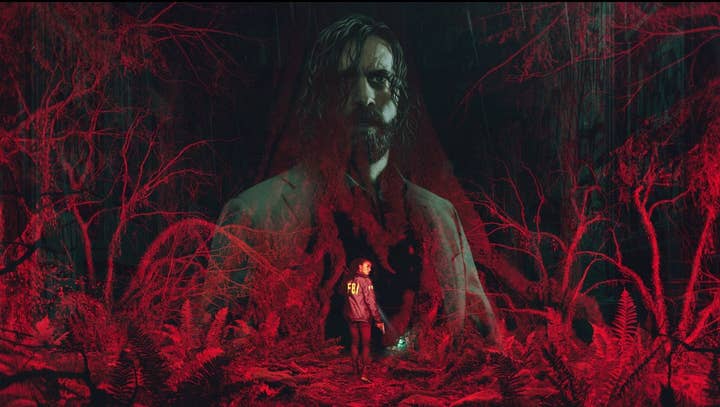 Remedy's last game, Control, was a real breakout hit for the developer.
Released in 2019, the action adventure attracted ten million players and plenty of critical praise. So the smart business play would be to double down and immediately begin work on a sequel.
But Remedy didn't do that. Although more Control is coming, the Finnish studio has chosen to do something decidedly more risky and build a sequel to its 2010 Xbox game, Alan Wake.
"I have been lobbying and trying to make Alan Wake 2 to happen for a decade"Sam Lake, Remedy
Of course, not every business decision is based on financial gain, and that's the case here. The first Alan Wake may not have been the success Remedy or Microsoft wanted, but it has a cult following and it's a game that is close to the heart of creative director Sam Lake and the whole studio.
Alan Wake references have cropped up in the games Remedy has released since, the team frequently talked about its desire to do more. And now, finally, it can.
"There is a lot of passion involved in doing this, yes," Lake tells GamesIndustry.biz.
"That said, Remedy has grown into a lot bigger company through the years, and we do have several core development teams working and concepting different things. There is a separate team looking after Control. But yes, for me personally, I have been lobbying and trying to make Alan Wake 2 to happen for a decade."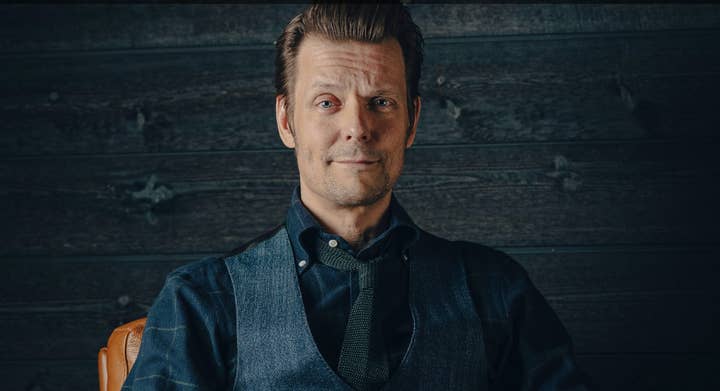 Game director Kyle Rowley adds: "We started our concept for this before Control came out. After Control was done, a lot of that team went to work on [the single player mode for Korean shooter] Crossfire. Once Crossfire was done, the Control team were still figuring things out, and we were quite far ahead in our concept stage, so it made sense to pull everybody into our team.
"That's outside of the fact that Sam really, really, really, really wanted to make it."
The chance to work on Alan Wake 2 came about after Remedy secured the publishing rights to the game from Microsoft in 2019. The studio then worked Alan Wake references into Control, and eventually did a full cross-over between the two games with Control's 2020 expansion, AWE.
"The first one, yes it is a horror story already. And this is even more so"Sam Lake, Remedy
In 2021, the developer released a full remaster of the original game, which paved the way for an all-new Alan Wake title, with Epic Games as the new publisher.
"I was really excited by it all," Lake says. "Through all of this, there has been a burning ambition to really stretch ourselves far. Partly because of that whole history, and finally being here… Now we will show and make something exceptional… or at least try to; the judgement comes later. There was a real thrill to building this. The pieces just fell into place so perfectly."
Alan Wake 2 is not a simple sequel. Although fans (and I count myself in that) may have been perfectly happy with a new story and modernised gameplay, the Remedy team has gone further, introducing detective gameplay and a new character in Saga Anderson. But the biggest change, according to Remedy, is the game has 'switch genres' and is now a survival horror.
Except… the first Alan Wake, in many ways, was a survival horror. It was a foreboding game, with a nightmare story, terrifying shadow enemies, and limited health, ammo and torch batteries. Lake acknowledges that the first game was a horror story, but that it wasn't a true survival horror experience. This one is.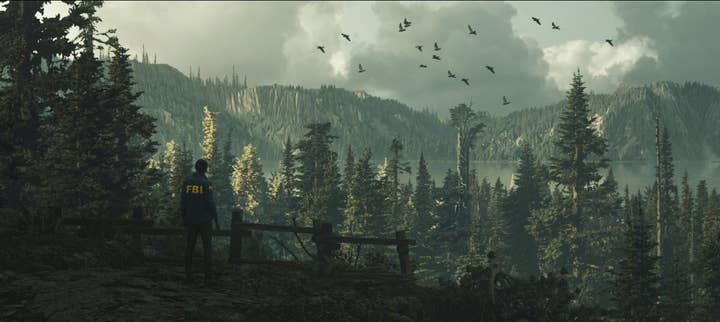 "Earlier concept stages of Alan Wake 2, when we were thinking about it through the years, they never were true horror games," Lake explains. "That sudden realisation of… why haven't we thought about [making a survival horror] before? If you look at survival horror, there are so many aspects that would allow us to tie-in the storytelling closer to the gameplay. Which is very much part of the ambition.
"Basically, it's slower. With Alan Wake, you're jogging through the woods and there are tens and tens of enemies coming at you. It is an action game from that perspective. We got criticism for it… The game tends to stay the same. You're in a dark forest and you're facing the same enemies over and over.
"That was one of our internal goals, in that there needs to be more variety, there needs to be more depth in combat, and we want less combat. We want there to be a bigger build-up to it. It should be a bigger event. There needs to be more choices and more resource management, and we want other gameplay elements that support the storytelling, and all of this we felt that we are getting with survival horror as a genre.
"The first one, yes it is a horror story already. And this is even more so."
"Sometimes you have to laugh to be afraid. If it's just constant horror all the time, you can become numb"Kyle Rowley, Remedy
Remedy going all in on the horror angle has clearly helped the team when it comes to building the game, but it arrives at a somewhat congested time for the genre. Over the last six months, we've seen AAA horror games such as The Callisto Protocol, and remakes for Dead Space and Resident Evil 4. There are further big horror brands coming back, too, including Alone In the Dark and Silent Hill.
However, Lake and Rowley are confident that Alan Wake 2 will stand out.
"The tonality of it is just very different to something like Resident Evil, or even Silent Hill," Rowley says. "We think a big part of the IP is that it is Pacific Northwest, it is small town Americana, with quirky characters and humour in there… When you're playing a traditional survival horror, it can be quite intense for the whole experience. There's a lot of horror, horror, horror. We like to think that we bring some levity. Sometimes you have to laugh to be afraid. If it's just constant horror all the time, you can become numb to it."
Lake adds: "We put a lot of emphasis on character-focused storytelling. It is true that there is a strong element of psychological horror in this, which very easily comes from certain fundamental themes of Alan Wake, which is fiction becoming reality… what can you trust, what is actual truth? That, as a starting point for the characters going into this, is a big part of it."
Remedy has already talked about some of the references for this game, for instance a tone close to anthology series True Detective.
"But from a horror perspective, we are big fans of [movie director] Ari Aster, and Hereditary and Midsommar," Rowley says. "Those films are horror films, but not in the traditional sense with jump scares."
"We are trying to tell a horror story, not just create a horror game"Kyle Rowley
Lake adds that "it's stylised, it's art house," while Rowley continues: "The horror comes from the drama and the characters and what they're put through. And not just dark corridors. That's important. We are trying to tell a horror story, not just create a horror game."
Alan Wake 2 has been in production for four years, but Sam Lake has been developing it in his head from the moment the first game launched in 2010.
"There's been very different iterations through the years," Lake recalls. "Even from a very high level idea of it. When you really burrow down into a concept and spend months in a writers room workshopping the story, and what the game needs to be… obviously there are a lot of ideas and discoveries in that process, and it starts to shape itself in that.
"That being said, when we first sat down and created the concept for Alan Wake 2 – the game that we now have – we found the vision and idea relatively quickly. And from that point to what the final game is, it's closer to its initial vision than any previous Remedy game. All of our game-building processes have been long and winding, with many changes along the ways. The original Alan Wake included. But this is very close to what we were dreaming up initially."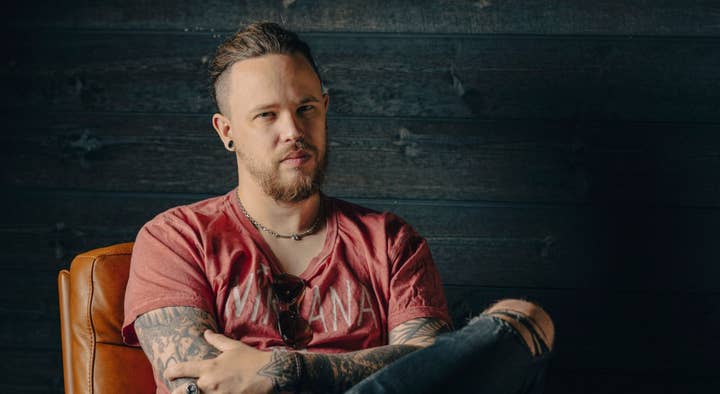 Although the concept for Alan Wake 2 came together quickly, it wasn't an easy development, particularly as its early development took place during COVID-19 lockdowns.
"Which was not easy," Lake admits. "I don't think anybody on this planet really understood what it means and how it affects work or personal life or anything. It was challenging because a lot of that early part of coming up with the concept is… you're getting excited together and that excitement just feeding on and ideas bouncing around. When you can't do it together, and it's suddenly remote over Zoom or written messages, it starts to slow down. It took us longer to get from concept to pre-production than we were expecting. We didn't necessarily even realise it at the time, but looking back, the COVID lockdowns were a big part of that."
Despite that, the development has been substantially less painful than the original Alan Wake, which took almost seven years to create and saw the team "admit defeat" mid-way through development and start again.
"We learnt a lot building [2016 action game] Quantum Break, and then we did Control and we learnt a lot about giving more agency to the player and making the game more open," Rowley says of the comparatively smoother development. "We built a lot of new tech with Control in terms of AI and all these things. It's not like we started from scratch. We already had a lot of foundations from building those other games."
Alan Wake is the latest game in what Remedy has dubbed its "Connected Universe," which includes the original Wake and Control (so far). It might sound potentially confusing, especially if people feel the need to play through multiple games and expansions just to keep up with Remedy's wider story.
"[Becase of COVID] It took us a longer while to get from concept to pre-productionSam Lake, Remedy
"We are very aware of that," Lake explains. "And we are very careful with it. We have talked about this a lot. Every game that we make is such a large world of its own, and we feel that, first and foremost, it needs to be an approachable and enjoyable experience purely on its own merit, no matter the wider universe connections.
"That's a big part of why we have [new character] Saga Anderson. She doesn't know about the supernatural involving Alan Wake, and she is the point-of-view character who takes us into this world. So for newcomers who don't know anything about Remedy, they will go into this experience with a very familiar, pop culture thing of an FBI agent coming to investigate ritualistic killings. It is Saga learning about things with the players.
"And then, there is the Remedy Universe-related content to be discovered through exploration, with lots of threads there that we are taking forward. But it's not required homework beforehand."
Before speaking to Remedy and seeing Alan Wake 2, I was worried for the game. The original went up against Red Dead Redemption and lost, and this new game arrives right next to Assassin's Creed Mirage and Spider-Man 2. There's no physical version, either, which fans are unhappy about. And there is no shortage of big budget horror games right now, either.
But after seeing it and hearing from the team, I feel Alan Wake 2 has a fighting chance to do more than just survive.
Sign up for the GI Daily here to get the biggest news straight to your inbox