Activision CEO says competition putting out "less than adequate" products
Bobby Kotick partially blames the lack of quality games for the softness in the market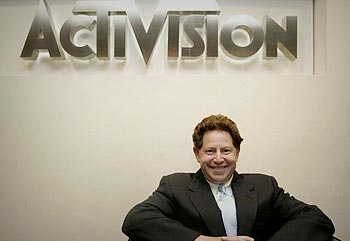 Following Activision Blizzard's earnings announcement, the publisher held its investors call to discuss its results and the industry at large. Chief Executive Bobby Kotick was asked by an analyst about the challenging marketplace this year and why sales have been down at retail.
"You have a very difficult macroeconomic environment, when you look at the things that can generally have an impact on the consumption of entertainment - unemployment data is very concerning, and when you look at the challenges in Europe there are a lot of things that are going to affect the macroeconomic outlook. We are also at the late end of the cycle, and the late end of a console cycle is always going to have its share of difficulties," Kotick began.
He then proceeded to lay some of the blame at the feet of his competitors, which he said are not necessarily doing the industry justice by shipping less than stellar games.
"I also think you've had, unfortunately, a stream of products that are less than adequate from some of our competitors. The demand in the marketplace is for great quality products. If you look at the success we're having it validates that there is an opportunity for great quality products but I think at this stage in the cycle, it's challenging for anything other than great quality products," he said.
Kotick added that other sectors, particularly mobile, are having an impact on how much money consumers are willing to spend. Beyond that, many gamers are happy to keep playing online games for longer stretches of time instead of rushing out to buy new products.
"There's also a lot of competition for entertainment dollars - you look at mobile games and what's happening there and the pricing there that's having an impact," he continued. "And I also think that a lot of the games we make, like Call of Duty, that are multiplayer games offer a lot of replayability, and when you have the opportunity for replayability in an economic environment like this, you're going to spend more time playing the games that you have."
"But I will say that if you look out at the next five years, there's a lot of reason to be hopeful and enthusiastic, but the next few years are going to be challenging," Kotick concluded.