Activision Blizzard launches TV and film studio
Skylanders Academy animated show and Call of Duty "cinematic universe" first projects on the slate for Activision Blizzard Studios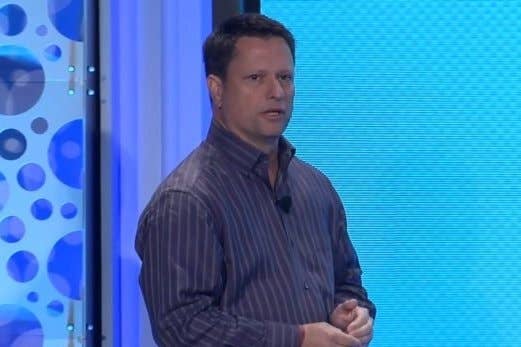 Activision Blizzard is going Hollywood. The publisher today announced the formation of Activision Blizzard Studios, which will use the company's library of intellectual properties as the basis for a number of television and film projects.
To manage its move into movies, Activision Blizzard has tapped someone with extensive experience in the field. Activision Blizzard Studios' co-president is Nick van Dyk, who has previously served as senior vice president of corporate strategy and business development at The Walt Disney Company (where he played a part in acquiring Pixar, Marvel, and Lucasfilm) and chief strategy officer at Artisan Entertainment. Van Dyk has already been working with Activision Blizzard for over a year, and will lead the company's film and TV studio alongside an as-yet-unnamed creative executive whose appointment is expected to be announced soon.
The first project for Activision Blizzard Studios will be Skylanders Academy, an animated television program based on the toys-to-life franchise. The series is being created under the watch of showrunner Eric Rogers (Futurama, Brickleberry), with voice acting by Justin Long (Alvin and the Chipmunks, Live Free or Die Hard) in the role of Spyro and Ashley Tisdale (Phineas and Ferb, High School Musical) as Stealth Elf. Also on the cast are Jonathan Banks (Breaking Bad, Community), Norm Macdonald (Dirty Work), Harland Williams (RocketMan), and Richard Horvitz (Invader Zim). The pilot episode is expected to air in the second quarter of 2016.
Another project slated in Activision Blizzard Studios' near-term plans is "a robust cinematic universe based on the Call of Duty franchise." The company wants to create a series of feature films based on the military shooter franchise, with possible TV adaptations in the mix as well. The first release in the series is roughly expected to launch in 2018 or 2019.
"Activision Blizzard Studios has the unique advantage of starting with a library of world-class intellectual property that includes some of the largest franchises which have not yet been developed in film and television," van Dyk said, adding, "Activision Blizzard Studios is not just an exciting new business for our company, it is a synergistic complement to our core business. Our movies and shows will benefit from the remarkable IP created in our games and will further increase the awareness of, engagement with, and passion for our franchises."
The move into TV and film production marks the third major expansion for the publisher in as many weeks. Last month, Activision Blizzard launched its own eSports division, headed up by former ESPN CEO Steve Bornstein and Major League Gaming co-founder Mike Sepso. Earlier this week, the company massively increased its presence in the mobile market by announcing a $5.9 billion deal to acquire Candy Crush Saga creator King.