AccessJam announced to support Global Accessibility Awareness Day
Disabled game developers organisation Accessibility Unlocked kicking off month-long event on May 21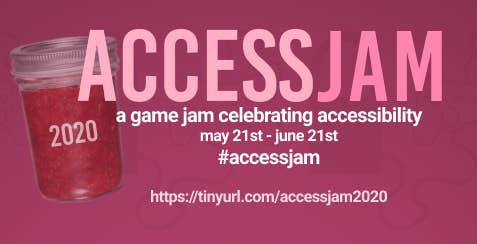 Accessibility Unlocked, an organisation dedicated to supporting game developers with disabilities, is hosting a special game jam to explore how to open up the medium to more players.
AccessJam will give participants one month to make a game from scratch that explores the challenges of accessibility, or a tool that solves an accessibility problem.
Participants also have the option of recording or sharing their own stories.
It is open to teams or solo developers and, while Accessibility Unlocked is primarily focused on Australia and New Zealand, games makers around the world are encouraged to take part.
AccessJam kicks off on May 21, which is Global Accessibility Awareness Day. It will run for one month, finishing on June 21.
The competition will be hosted via a dedicated Itch.io page. The optional theme is 'Growth'.
Entries will not be ranked and there are no prizes, but some of the entries will be highlighted via Accessibility Unlocked's mailing list and social media channels.
The organisers hope to make this an annual event.