Oculus and Valve send mixed messages on VR exclusivity
Valve wants the VR market to be entirely open, but the belief that Oculus is trying to lock it down is built on a series of misunderstandings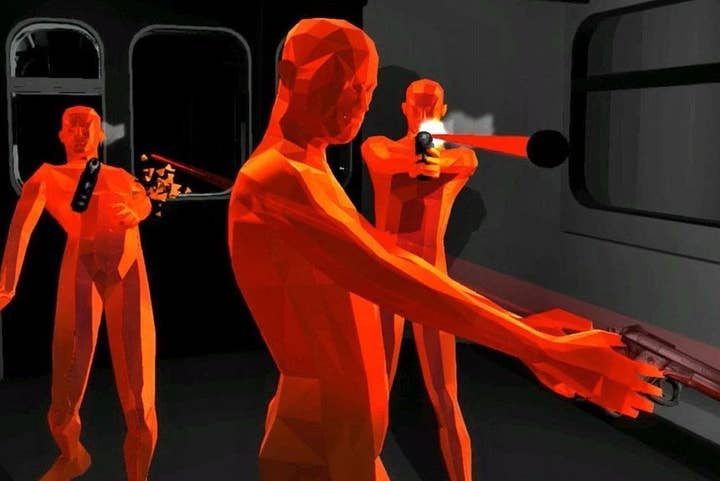 When Gabe Newell speaks the entire industry listens, and recent comments made by Valve's co-founder and managing director clearly marked the company's position on VR exclusivity, and suggested a tacit disapproval of companies that have adopted a different strategy.
"We don't think exclusives are a good idea for customers or developers," Newell said last week, in an email exchange posted, with his permission, to Reddit. "We're in a much better position to absorb financial risk than a new VR developer, so we are happy to offset that giving developers development funds (essentially pre-paid Steam revenue).
"However, there are no strings attached to those funds. They can develop for the Rift or PlayStation VR or whatever the developer thinks are the right target VR systems. Our hope is that by providing that funding that developers will be less likely to take on deals that require them to be exclusive."
"We don't think exclusives are a good idea for customers or developers"

Gabe Newell
That Valve is committed to keeping its VR platform open should come as no surprise. But the fact that Newell allowed his comments - which were initially made in a one-to-one conversation - to be published on such a visible forum indicates that this normally private company wanted to make a public statement. Understanding that statement, though, also requires an understanding of the context from which it arose.
At the start of last week, Mario Kotlar, a designer at Croteam, weighed in on a Reddit thread about Oculus' perceived attempt to make the Rift a closed platform. That position, while not ubiquitous among VR developers, is supported by Oculus only allowing Rift exclusives it has fully funded - Lucky's Tale and Edge of Nowhere, for example - to be purchased through the Oculus Store, and its decision to crackdown on a bypass that made it possible to play those games on the HTC Vive. The problem has been further aggravated by recent news that a couple of highly anticipated VR games, including Superhot and Giant Cop, will be exclusive to the Rift at launch.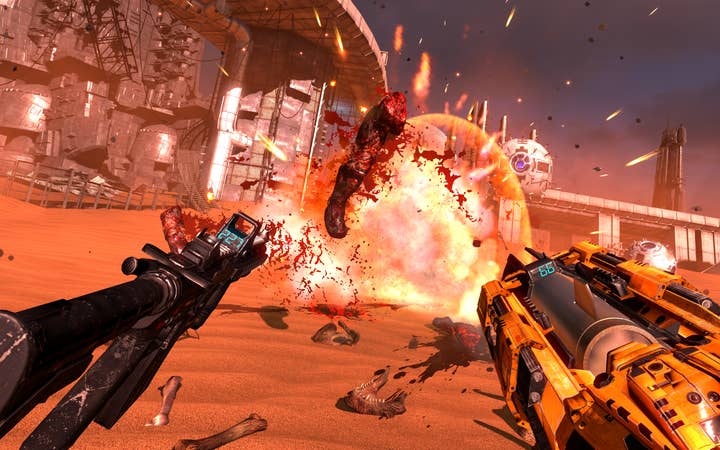 According to Kotlar, Oculus made a similar move for Croteam's Serious Sam VR: The Last Hope, offering the Croation developer "a shitton of money" in exchange for exclusivity. "It wasn't easy," Kotlar said, "but...we believe that truly good games will sell by themselves and make profit in the long-run regardless. And also because we hate exclusives as much as you do."
What Kotlar failed to clarify was that his comments did not refer to full exclusivity. Oculus was asking only for a window of exclusivity, but by the time that detail had been revealed to Upload VR by Croteam CTO Alen Ladavac the story had already spread far and wide. It should be noted, of course, that some parts of the VR community regard any form of exclusivity as a major issue, but it's also true that timed exclusivity isn't nearly as problematic as the initial mistaken assumption: that Oculus was preventing third-party games from launching on other VR platforms at all.
"In the case of Croteam, at no time did we request that they stop development for other platforms"

Oculus VR
Oculus reinforced this point in its own official statement. "We regularly offer developers financial grants to help fund early development of new titles to accelerate development or expand the scope of the game," the company said. "In some cases, we exchange funding in return for launching on the Oculus Store first, with the expectation that the game will go on to launch on other platforms. In the case of Croteam, at no time did we request that they stop development for other platforms, and we look forward to seeing Serious Sam be successful across the entire VR ecosystem."
Considered in this context, Newell's reference to there being "no strings attached" to the funds it offers VR developers seems particularly pointed; finding a symmetry between the two companies' strategies and then making a qualitative judgement on which is more beneficial to the nascent VR market. However, one shouldn't overlook the degree to which Valve would benefit from every PC-based VR company adhering to the same open strategy; after all, it does have digital PC retail under its control with Steam, and Oculus' desire for exclusive products - whether full exclusivity for games it develops in-house or funds in total, or timed exclusivity on those it only partly finances - is in no small part down to making its own store a viable alternative. It's not ridiculous to suggest that an entirely open VR market would see Valve taking a 30 per cent cut of every game sold, but it takes a leap of both faith and logic to see a few timed exclusives as proof that Oculus is locking down the Rift.
Just as important is the amount of money being offered to developers on an individual basis, and how frequently those offers are made. Oculus also provides developers "financial grants" with, as Newell put it, "no strings attached," but the prospect of timed exclusivity seems to have been raised with only a handful of games that required a larger amount of resources than a no-strings grant could provide. Indeed, since the issue with Croteam and Newell's subsequent comments, the developers behind both Superhot and Giant Cop have issued their own version of events, neither of which sit easily with the anti-Oculus rhetoric gathering momentum in certain corners of the internet.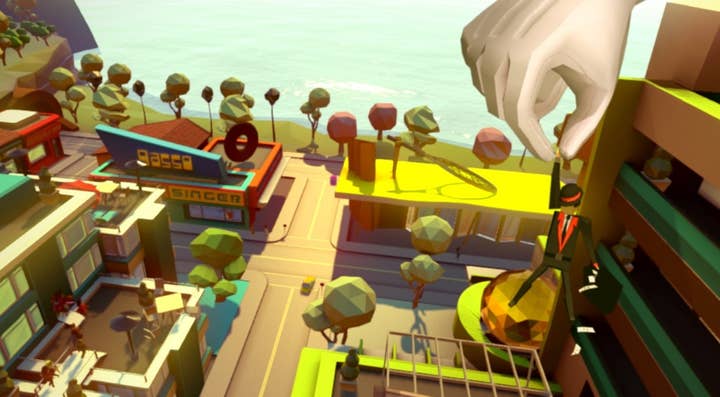 Speaking to UploadVR, Giant Cop developer Other Ocean Interactive said that it had always intended to target one platform first, and the suggestion of a period of exclusivity for the Rift was its own idea. "We have chosen to make that platform Oculus because we're a small team and making a video game is a huge risk," said studio lead Ryan Hale. "You're basically fronting money for a product that isn't going to pay you anything back for years. For us, it really came down to the fact that we needed a partner. Having Oculus support us and make us a part of a marketing process significantly increases our chances of making Giant Cop a success for the community, and for the people dedicating their time to build it.
"Having Oculus support us and make us a part of a marketing process significantly increases our chances of making Giant Cop a success for the community"

Other Ocean Interactive
"They never told us that we couldn't put Giant Cop on other platforms for six months or anything like that. We just told them that it's going to take us two to three months to develop the Vive version after we release the Touch edition. People are saying it won't come to Vive for years and this simply isn't true."
Hale also shot down the notion that developing for both Rift and Vive simultaneously is a simple task, an idea also expressed to us by Jesse Schell when we met at GDC earlier this year. "Even the difference between the Vive controllers and the Oculus controllers," Schell said, naming just one factor from of a list of differences given by Hale. "There's enough difference there you really have to stop and think. There's a lot of subtle details."
In this instance, then, Valve's idea of openness doesn't necessarily take into account the difficulties involved in addressing two very different platforms that a vocal minority regard as the same. In addition, once Giant Cop is ready, Oculus offered Other Ocean support in terms of marketing and discovery, which are pretty much the biggest challenges that any developer faces on the open market. Perhaps Valve offers the exact same amount of funding and post-launch support as Oculus. Then again, perhaps not, and if that's the case it's hardly a surprise that Other Ocean actively pursued a limited period of time in which its deeper, more focused and polished game would be placed in the spotlight.
The story behind Team Superhot's decision to launch as a timed Oculus exclusive has many similar turns, including the qualitative benefits of focusing on a single platform at launch and the high cost of getting the best out of VR. In a detailed post on the Superhot website, the studio traced its relationship with Oculus back to the end of 2013, when the pre-Facebook VR company expressed an interest in getting its then-embryonic game working on the Rift DK1. That led to Superhot being featured in Oculus VR's E3 press conference the following year, which the studio cites as an event that, "boosted our Kickstarter campaign through the roof during its final week."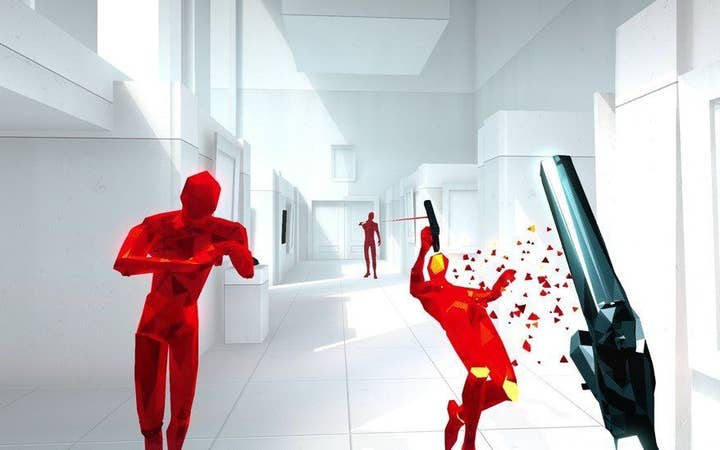 Like Other Ocean, working closely with the Rift highlighted the, "sheer amount of intricacies we didn't expect in designing VR games. We felt that just doing a simple port of Superhot would be pretty damn weak. There's so much more you can do in VR if you commit to work above and beyond a naive cash grab of a port." And like Other Ocean, when the PC version was close to launch and it was time to seriously plan for redesigning the game "from scratch," the cost of doing so became immediately apparent.
"The budget [for Superhot VR] was waaaay too scary for our indie studio's thirst for survival"

Team Superhot
"The budget was waaaay too scary for our indie studio's thirst for survival. We wouldn't be able to make it without diverting resources from all the other crazy stuff we're creating in the Superhot universe. We also needed some serious VR design chops or we'd get ourselves bogged in R&D.
"Towards the end of last year, we rang up Oculus and pitched to team up - to pool together enough resources and VR design knowhow; to give us a shot at fleshing out a fully fledged, no-compromise Superhot VR. A couple of weeks later, we already had our first full time VR dev happily coding away, and we had enough runway in the budget to keep us from having to cut the project short."
GamesIndustry.biz spoke to Oculus VR's Jason Rubin at E3. The interview, which covers exclusivity and much more besides, will be published later this week.