3D Realms responds to Gearbox suit
Developer claims it still owns Duke Nukem trademark and right to produce new Duke Nukem game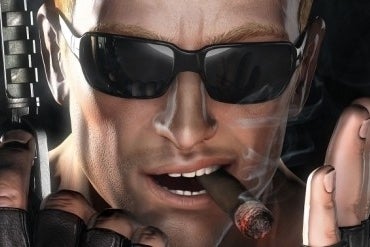 The Duke Nukem legal dispute continues to unfold, as 3D Realms yesterday answered last month's lawsuit from Gearbox Software. In a statement provided to Polygon, 3D Realms denied all of Gearbox's allegations, accusing the company of laying claims to rights it doesn't actually have.
"3DR has submitted evidence showing that Gearbox at no point intended to enter into good faith negotiations but instead sought to force former owners, Scott Miller and George Broussard, to improperly surrender what rightfully belonged to 3DR," the company said, adding, "It is our position that 3DR retains the right to develop the tentatively titled 'Duke Nukem Survivor' game for specific platforms. This game was previously licensed for development to Interceptor Entertainment. Furthermore, it is our position that the trademark for 'Duke Nukem' was never assigned to Gearbox, but remains the sole property of 3DR."
The US Patent and Trademark Office has Gearbox Software as the last listed owner of the Duke Nukem trademark.
In 2010, Gearbox "acquired the full intellectual property rights of the 'Duke Nukem' brand" from 3D Realms in a deal that led to the completion and release of the long-in-development Duke Nukem Forever. Last month, 3D Realms announced that it was creating Duke Nukem: Mass Destruction, which prompted Gearbox to send the company a cease-and-desist order. 3D Realms appeared to comply with the order, but Gearbox filed suit regardless.
This is not the first legal sparring between the two companies. After Duke Nukem Forever debuted, Miller's Apogee (doing business as 3D Realms) sued Gearbox alleging the studio had underpaid royalties on the game. However, the company soon dropped its complaint, with Miller chalking it up to a misunderstanding.
Interceptor Entertainment, which acquired 3D Realms the week after Gearbox filed its lawsuit, released its own statement, saying, "3D Realms and Interceptor Entertainment were rightfully developing our game and as you can imagine we were quite shocked when the accusations by Gearbox arose, as we have always acted within our legal rights. It's unfortunate that Gearbox has shown no intention of finding a peaceful solution with us. We will however continue to work towards a solution."