38 Studios confirms layoffs
Rhode Island governor says some staff have been let go, but declines to offer further details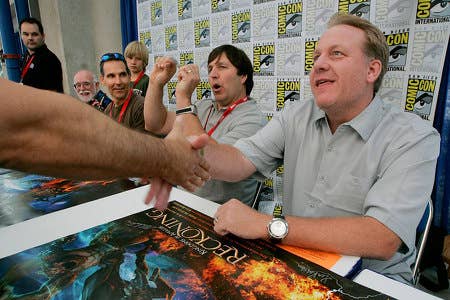 The ongoing financial problems at Kingdoms of Amalur developer 38 Studios has resulted in layoffs, abc6 reports.
The announcement was made by Rhode Island governor Lincoln Chaffee following a long meeting with the state's Economic Development Committee and 38 Studios boss Curt Schilling.
Schilling hurried past reporters and into a waiting car as he left the meeting, commenting only about the "misinformation" surrounding the issue and that the company would not be turning to the taxpayers for further assistance.
Governor Chaffee was more forthcoming, describing the situation as, "a mix of who's made payroll and a number of layoffs." However, he did not provide any further details about how many people had been made redundant, or from which departments.
"I know that the taxpayers want answers, and they'll get them overtime. All I can promise is that we're working hard to protect every penny of the investment that was made," he added.
The "investment" Chaffee refers to is a $75 million loan awarded to 38 Studios last year. The company has received $49.8 million of that amount to date, but is now struggling to keep up with repayments.
The company has already fired all temp and contracted employees, and has allegedly failed to pay its remaining employees this month.