2K acquires PGA Tour 2K21 studio, signs Tiger Woods
Publisher adds HB Studios to roster and strikes a long-term exclusive deal with golf icon as president David Ismailer discusses 2K Sports' new expansion era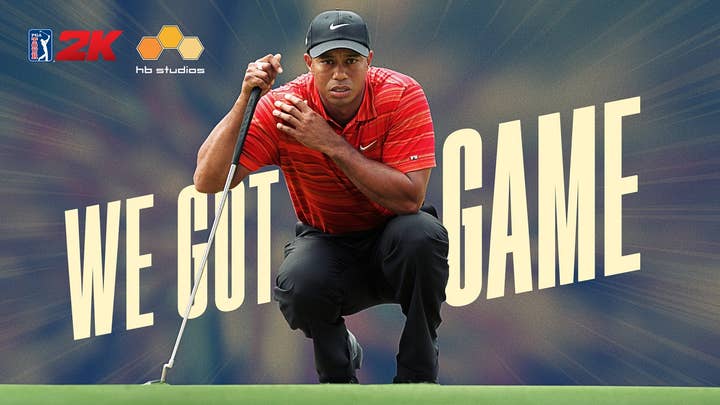 2K is adding a couple more clubs to its bag, as the publisher today announced the acquisition of PGA Tour 2K21 developer HB Studios along with a long-term exclusive partnership with Tiger Woods.
Speaking about the deal with GamesIndustry.biz, 2K president David Ismailer said the publisher has seen success with the Nova Scotia-based developer's golf games, which 2K has been publishing since The Golf Club 2019 featuring PGA Tour; last year's PGA Tour 2K21 has shipped nearly 2 million units to date.
"We have an incredible foundation to build on, and acquiring HB gives us the opportunity to optimize our relationship with them between a publisher and a developer into our independent studio structure," Ismailer says.
"But it also lets us invest more into their resources by building out more resources in Canada and the United States. And that lets us build more engaging features for the game as we think about the future."
As for Woods, the 11-time PGA Tour Player of the Year is not only giving exclusive rights to his name and likeness in video games to 2K Sports, he is also taking an executive director credit on the game and serving as a consultant for the development team.
"There aren't that many icons in the industry other than Tiger Woods," Ismailer explains why asked why the publisher pursued Woods above the beyond the PGA Tour license. "And the way I view building sports franchises, it takes quite a while to build into the franchise. So we thought it was the right way to partner with Tiger.
"We've done similar partnerships like this with players like Michael Jordan... around long-term partnerships for their support in growing our franchises"

David Ismailer
"We view his ability to help us into the next set of iterations of these games over a long-term basis. We've done similar partnerships like this with players like Michael Jordan and others in the industry, specifically in basketball, around long-term partnerships for their support in growing our franchises."
Woods sustained serious injuries in a car accident last month, and Ismailer wishes him a speedy and full recovery, but makes it clear he doesn't think the partnership will suffer if Woods isn't back on course for a while.
"We came to our agreement and partnership in advance of that accident, but that doesn't change our relationship of him becoming our executive director for the title, helping us decide talent, events, courses... He's got a wealth of knowledge," Ismailer says. "He's one of golf's most precious icons, and we think between acquiring HB and working with Tiger, we've got an incredible opportunity to build golf in the video game space."
Bigger picture, this move continues a re-expansion of the 2K Sports brand. A couple generations ago, the 2K Sports brand covered virtually all the bases, so to speak. It had annual franchises based on the NBA, NFL, MLB, NHL, and tennis, not to mention less established franchises in college basketball, boxing, snowboarding, and even poker.
Over time, that output dwindled to the NBA 2K and WWE 2K franchises, but has been growing in recent years with the addition of golf and the announcement of a new deal with the NFL. The intended acquisition of Codemasters could also have resulted in a racing franchise or three being added to the 2K Sports roster. So why did 2K Sports need to narrow its focus back then, and why is now the right time to expand it again?
"Yes, we were in other sports," Ismailer acknowledges. "I think each of those sports had their own issues as to why we got out of the space. In terms of the expansion today, we're very focused on competing in a space where we have a competitive advantage.
"It's not that we're going after all sports... There's nothing to announce today, but we continue to strategically focus on specific sports and add them to our portfolio when it makes sense. We obviously have a very incredibly talented competitor in this space, so we're always very humble in our approach when we go against that competitor. However, that doesn't mean there aren't opportunities for us to exploit in the sports genre, and that's what we're doing."
HB Studios was founded in 2000 and has since specialized in building sports games for all platforms. Its first title was Cricket 2002 for EA Sports, and it went on to work on a number of that publisher's largest franchises, working on FIFA, Madden NFL, NBA Live, and even one time on Tiger Woods PGA Tour.