Zynga Platform beta is now live
The new Zynga.com is totally integrated with Facebook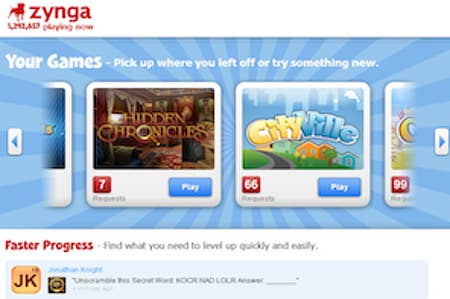 Following its announcement last week, social behemoth Zynga has now launched an early beta for the Zynga Platform at Zynga.com. The company stressed that the platform is "totally integrated with Facebook as an extension of the companies' strong and collaborative partnership."
On its official blog, Zynga outlined some key features of the new Zynga.com, including playing games from third-party developers, making zFriends, live chatting and more. Players are able to log in with their Facebook ID and play games with their existing Facebook friends, and they can also find and play with new friends on Zynga.com.
As for third parties, Zynga Platform partners will be able to leverage 240 million monthly active users who currently play Zynga games. Former senior vice president of Publisher Relations at Sony Computer Entertainment Rob Dyer is now in charge of leading the effort as VP of Platform partners at Zynga.
GamesIndustry International spoke with Dyer today and we'll have the interview for you soon.