Zynga launches Zynga Platform
Social company launches its own site for playing games, with third-party developers added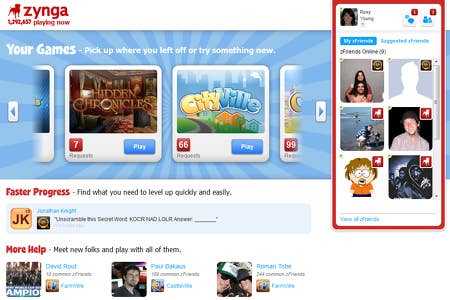 Zynga's reliance on Facebook is changing with the announcement today of Zynga Platform, which is going into open beta this month at Zynga.com.
The Zynga Platform is designed to provide a richer gaming and social experience for players, both with Zynga games and third party titles. Players will use Facebook Connect with Zynga.com, meaning their Facebook friends will be immediately available on the Zynga Platform.
"We built Zynga.com to give out players more ways to connect with each other and play great social games whether built by Zynga or other talented developers," said Mark Pincus, founder and CEO, Zynga. "Together with our platform partners, we look forward to bringing more play to the world on our platform."
The initial platform partners announced are Mob Science, Row Sham Bow and Sava Transmedia. Zynga Platform partners will have access to the 240 million monthly active users who currently play Zynga games by publishing and promoting them across the Zynga network.
In addition to inviting developers to promote their games to its player audience, Zynga will enable partners to tap into channels and features that increase social engagement, analytics that measure and drive social, and back end technology that ensures scalability and availability. Financial terms of the deals with third party providers were not announced.
Manuel Bronstein, general manager of Zynga.com, said that discussions are ongoing with other third-party providers.
The initial beta release of Zynga.com features:
zFriends - Connect and play with more people, beyond your Facebook friends, who love to play as much as you do.
More Games - Five of Zynga's top games - CastleVille, Words With Friends, CityVille, Hidden Chronicles and Zynga Poker - will be accessible on the site at launch, but soon you will be able to discover and play more social games by Zynga and third party game developers.
Social Stream - Get real-time access to items needed to advance faster in games by posting to Zynga's live social stream without ever leaving your game board.
Player Profile - A profile that is all about the way you play, highlighting your favorite games, top zFriends, recent activity and your helpfulness score to see how you stack up against friends.
Live Chat - Without leaving the game board, you can also chat with zFriends in real-time to send gifts, strategize, or just say 'OMG, look at the size of that beastie!'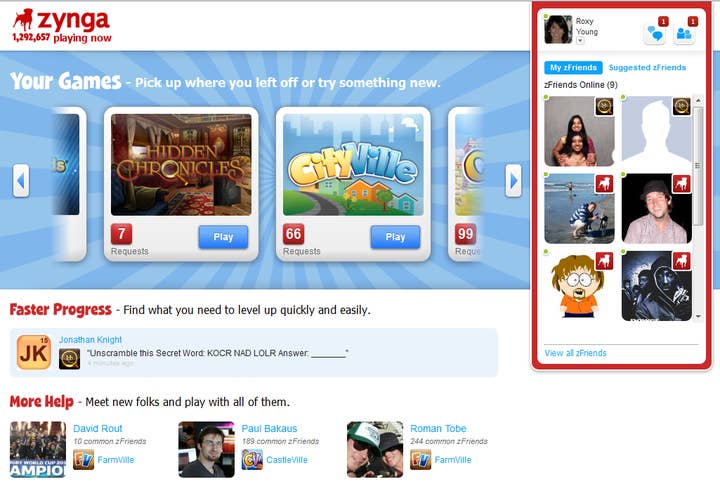 "Publishing on the Zynga Platform will allow developers to tap into a captive audience of players who love to play social games," said Rob Dyer, head of platform partners at Zynga and former senior vice president of Publisher Relations at Sony Computer Entertainment.
"What's more, we're committed to creating an environment that's a win, win for everyone involved. We know the challenges of being a game developer, and want to build the best destination for play - not just for players - but for the entire ecosystem as well."
"As an independent game developer, we have faced significant challenges in getting players to discover our games," added Michael Witz, CEO of Mob Science. "The Zynga Platform provides an unparalleled opportunity by letting us focus on building a game that can easily be enjoyed by the millions of people on Zynga's network who already love to play social games.
"As an early Zynga Platform Partner, we look forward to working closely with the company to evolve the platform and create the best environment for developing and playing social games."
Zynga.com is expected to launch this month. The play service will be available in 16 languages, including: English, French, Italian, German, Spanish, Portuguese, Turkish, Indonesian, Norwegian, Danish, Dutch, Swedish, Traditional Chinese, Korean, Japanese and Thai.
Zynga is initially working closely with select Platform partners, but plans to open up the Zynga Platform and make it more widely available to all third party game developers through an API later this year.