YouTube now the top mobile game discovery path for kids
Interpret study finds video platform has surpassed recommendations from friends or family as the top way for children under 13 to learn about new games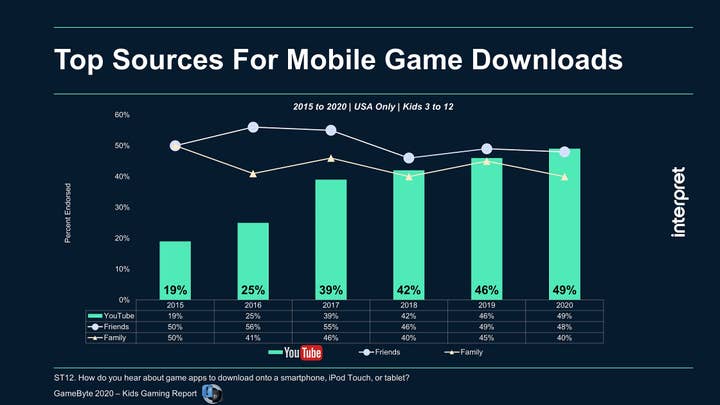 Over the past five years, YouTube has become the most popular way for US children aged 3-12 to learn about new mobile games.
That's according to a new GameByte report from Interpret, which regularly surveys a panel of 1,000 American children on their gaming behaviors. The latest survey found 49% of respondents turning to YouTube for game recommendations, just edging out their friends (48%) and family (40%).
YouTube competitor Twitch trailed significantly when it came to mobile games, with just 12% of kids using it to find new titles.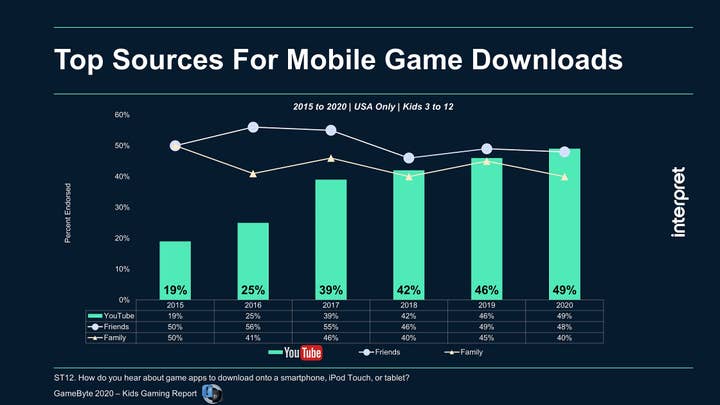 It is the first time YouTube has been a more popular discovery channel for mobile games than friends. The video platform topped family recommendations in popularity beginning in 2018.
"When life gets too busy, many parents rely on YouTube to entertain their kids," said Interpret VP of research and strategy Jesse Divnich. "Minecraft and Roblox videos are especially big draws for this demographic who regularly upload their own videos at a young age. YouTube's recommendation algorithm also means that kids are introduced to other games and videos constantly based on their search and browsing habits."
YouTube is likewise a common way for kids to learn about non-mobile titles, with Interpret finding it a top-three discoverability channel for console and PC games.
Divnich noted that data was collected in February before COVID-19 prompted lockdowns in various parts of the US. He said it's likely YouTube viewership only increased after stay-at-home orders began being issued.