Yes, FIFA 20 is once more at the top of the EMEAA charts
In end-of-year lull, nothing else stopping FIFA from scoring a seventh week at No.1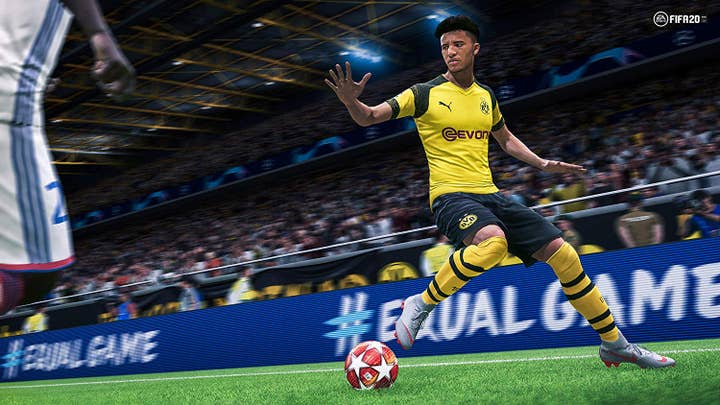 As the end of the year approaches, we're beginning to run out of unique ways to write, "FIFA 20 is No.1 for the EMEAA region, and not much changed from last week to this week."
Five games retained their places from last week including FIFA 20, which is back at the top for the third week in a row and the seventh total week since its launch. Call of Duty: Modern Warfare also refused to budge from No. 2.
Star Wars Jedi: Fallen Order appears to have had a boost from No.5 last week to No.3, possibly due to the release this week of the latest Star Wars film: The Rise of Skywalker.
No new releases made it into the Top 50 combined, digital, or physical charts for EMEAA last week, and everything in the top 10 was something that had been in the top 10 or relatively close to it in recent weeks. In fact, the most interesting thing going on this week appears to be a couple of Assassin's Creed titles -- Odyssey, Origins, and Black Flag, specifically -- getting a digital boost. Odyssey went from No.14 to No.9, Origins went from No.24 to No.10, and Black Flag went from No.18 to No.11, all thanks to a sales bundle.
Holiday sales might shake things up a bit more next week, but this looks to be the status quo for a bit until we see more major releases in the new year.
Here are the Top 10 best-selling games by units (combined digital and physical) in EMEAA for the week ending December 15, 2019:
| Last Week | This Week | Title |
| --- | --- | --- |
| 1 | 1 | FIFA 20 |
| 2 | 2 | Call of Duty: Modern Warfare |
| 5 | 3 | Star Wars Jedi: Fallen Order |
| 3 | 4 | Luigi's Mansion 3 |
| 4 | 5 | Pokemon Sword |
| 6 | 6 | Mario Kart 8 Deluxe |
| 7 | 7 | Grand Theft Auto V |
| 8 | 8 | Just Dance 2020 |
| 11 | 9 | Mario & Sonic at the Olympic Games: Tokyo 2020 |
| 9 | 10 | Pokemon Shield |
Participating companies in the GSD charts (run by B2boost on behalf of ISFE) are Activision Blizzard, Bandai Namco, Capcom, Codemasters, EA, Focus Home Interactive, Koch Media, Microsoft, Milestone, Paradox, Sega, Sony, Square Enix, Ubisoft and Warner Bros.
Digital data includes games sold in Australia, Austria, Bahrain, Belgium, Bulgaria, Croatia, Cyprus, Czech Republic, Denmark, Finland, France, Germany, Great Britain, Greece, Hungary, Iceland, India, Ireland, Israel, Italy, Kuwait, Lebanon, Luxembourg, Malta, Netherlands, New Zealand, Norway, Oman, Poland, Portugal, Qatar, Romania, Russia, Saudi Arabia, Slovakia, Slovenia, South Africa, Spain, Sweden, Switzerland, Turkey, Ukraine and UAE.
Physical data includes all games, but only those sold in Belgium, Denmark, Finland, France, Great Britain, Italy, Netherlands, Norway, Poland, Portugal, Spain, Sweden and Switzerland.