Xbox One S "launch edition" to ship August 2 for $399
Release dates for the smaller hard drive versions have not been provided yet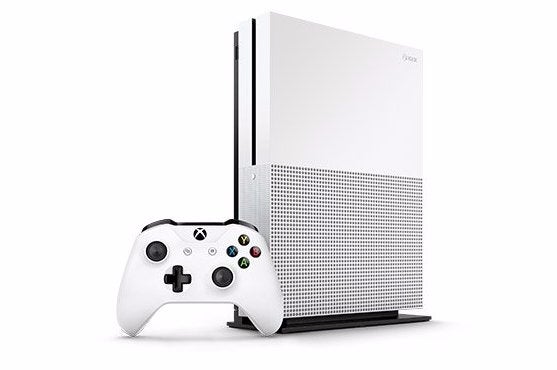 After unveiling the Xbox One S at this year's E3, Microsoft today confirmed that the newly designed Xbox console would begin hitting select markets on August 2. The company is starting with the $399 2TB version, arriving in the US, UK, Australia, Canada and much of Europe, bundled with the the new Xbox Wireless Controller, which offers a textured grip and Bluetooth support.
"Availability is limited and demand is high so you'll want to check with your local retailer for more information and pre-order your console soon," Microsoft says.
For those who haven't been paying attention, the Xbox One S is 40% smaller than the Xbox One, incorporates the power supply into the machine itself, supports 4K resolution and HDR playback, which promises to make games like Gears of War 4, Forza Horizon 3, and Scalebound "look even better thanks to a higher contrast ratio between lights and darks, bringing out the true visual depth of your favorite games."
Microsoft reiterated that 1TB and 500GB versions of the Xbox One S will also be sold for $349 USD and $299 USD, respectively, and details on when those consoles will become available will be "shared soon."
Of course, back at E3 Microsoft also announced its far more powerful Xbox Scorpio, which is planned to launch sometime in 2017. Knowing that a much better console is coming, it'll be interesting to see how consumers react to the Xbox One S this summer and holiday season.
For a complete list of countries that the 2TB Xbox One S will be launching in on August 2, read the media announcement here.
Also be sure to check out my E3 interview with Xbox head Phil Spencer, who talks about why the Xbox ecosystem is what matters, not selling you an Xbox One S or Scorpio.