Xbox shines at E3: Backward compatibility, HoloLens and more
New firmware update to bring backward compatability, Xbox launching an Early Access program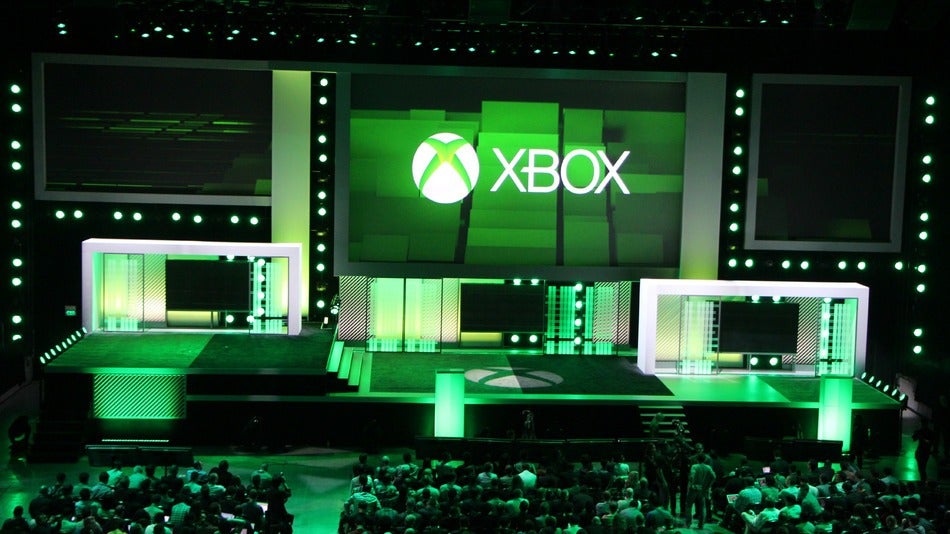 At the Xbox E3 2015 conference today, Microsoft kicked things off with a demo of Halo 5 and a "giant leap" for Halo multiplayer called Warzone. That was followed by an interesting demo of an Xbox One exclusive from Keiji Inafune and the makers of Metroid Prime called Recore, a Comcept-developed title for 2016.
The first big news, however, came from Xbox head Phil Spencer who surprised the audience by announcing a near future firmware update will bring Xbox 360 backwards compatibility to Xbox One. Your Xbox 360 catalogue will be playable natively. Microsoft said that over 100 games will be available this holiday, with more to come. You just put your retail disc in, download the game and you're good to go. Microsoft showed Mass Effect running on Xbox One as an example, and noted that the game runs with all Xbox One community features. Game developers don't have to do any extra work, they simply need to approve the game. "We won't charge you to run the games you already own," said Microsoft in a not-so-subtle jab at competitors who charge players to buy old games they might already own on older platforms.
After showing off the new Xbox One controller, and then a demo of Fallout 4 (which will enable mods created on PC to be played on Xbox One), EA's Peter Moore then took the stage to talk about the EA Access program available for 5 bucks a month on Xbox One. "With EA Access you'll get to play EA's newest releases before anyone else," he said, noting that Titanfall is coming to the Access vault this week, and later this summer, Dragon Age Inquisition. Also, this week, in celebration of E3, EA is opening up Access to all Xbox Live Gold members, meaning all 12 games can be played as much as you want for free all week long. Before leaving, Moore also showed a new trailer for Plants vs Zombies: Garden Warfare 2, which ships next spring. He said it's "tapping into heart of what fans loved about the original."
"Today we showed you the greatest games lineup in Xbox history... If you've been waiting to move from your Xbox 360, now is the time"

Phil Spencer
Up next, Microsoft showcased Forza Motorsport 6, which will run at 60 frames per second and offer 24-car multiplayer. Turn10 said "it's the biggest game we've ever built." The title ships on September 15. Following Forza was a trailer for Dark Souls III (early 2016) and then Ubisoft North America boss Laurent Detoc came out to show Tom Clancy's The Division, which will have an exclusive beta first on Xbox One this September. Additonally, Rainbow Siege will launch on October 13, and Ubisoft is giving away the previous Rainbow Six Vegas games in the series for free with Siege - they will be playable with the backwards compatibility update this holiday.
Microsoft then switched to focus on the indie community and its ID@Xbox program. Chris Charla showed off a montage of interesting titles, including Tacoma from Steve Gaynor at Fullbright, Cuphead from Studio MDHR, Ashen from Aurora44 and more. Charla noted that more than 1000 indies are making Xbox and Windows games.
Microsoft is also pushing a bit more on the free-to-play front with Windows 10 and Xbox One exclusive Gigantic, a multiplayer game from Motiga with a beta this August. There's also Fable Legends, which is free-to-play with Xbox Live Gold membership and launches this holiday.
Importantly, Chris Charla also announced a new program similar to Steam's Early Access, called Xbox Game Preview. The program lets players buy and play titles while still in development, but unlike like Early Access every game in the program has a free trial so you can jump in early and buy or wait. Microsoft is launching with a select numbers of games over the next year, starting with The Long Dark and Elite Dangerous, which can be purchased right away tonight on the Game Preview program.
Next, Microsoft showed an impressive-looking demo of Rise of The Tomb Raider, launching as Xbox One exclusive on November 10, and followed that by a couple interesting announcements from its Rare studio. First Rare showed a video compilation of some of their classics like Battletoads, Banjo Kazooie, Perfect Dark, and more. The company will be selling Rare Replay, a collection of 30 games for $30. Studio Head Craig Duncan then unveiled the next AAA project for the studio called Sea of Thieves. The adventure game is reminiscent of Pirates of the Caribbean and is "By far the most ambitious game Rare has ever created," Duncan said.
Entering the later part of the conference, Microsoft put the spotlight on VR and AR. Kudo Tsunoda (who's working on HoloLens) took the stage to remind everyone of the new Oculus relationship and stressed that Microsoft also has a partnership with Valve for its Vive VR headset. Essentially, Microsoft wants to ensure that Windows 10 is the best platform for VR gaming, he said. Then, Tsunoda introduced Lydia Winters, Brand Director at Mojang, who demonstrated a completely new version of Minecraft built specifically for HoloLens. It certainly seemed impressive, as Mojang created an entire Minecraft world right on a table on the stage, and it could be manipulated with voice and hands.
Back in the AAA space, Rod Ferguson of The Coaltion then came out to announce Gears of War Ultimate Edition, a remastered version of the original coming in August, and the public beta starts today. He then introduced the Xbox exclusive premiere of Gears 4.
Wrapping up, Phil Spencer commented that, "Today we showed you the greatest games lineup in Xbox history... If you've been waiting to move from your Xbox 360, now is the time."