First free-to-play Xbox 360 game debuts next week
ToyLogic's Happy Wars launches Oct. 12 for Xbox Live Gold subscribers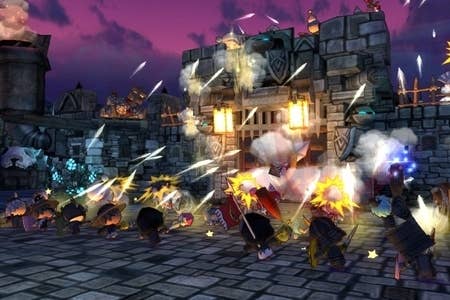 The Xbox 360 will get its first free-to-play game next week, as Microsoft today confirmed the microtransaction-driven Happy Wars will launch October 12.
While the game uses a free-to-play business model, users will need to be active Xbox Live Gold subscribers in order to download the title. The multiplayer combat game drops gamers into 15-on-15 skirmishes. Each player's character will be completely customizable with thousands of items, including outfits, weapons, and shields. In addition to the large-scale multiplayer battles, the game will also feature an offline single-player campaign mode, co-op mode with computer-controlled adversaries, and more.
Although the ToyLogic-developed title is Xbox Live's first foray into free-to-play, it won't be the last. Signal Studios' Ascend: New Gods will rely on microtransactions for its money, and is set to launch next year.