Xbox doesn't need another military space marine series
Phil Spencer stresses commitment to original IP, says Microsoft must satisfy Minecraft community's needs before experimenting with the brand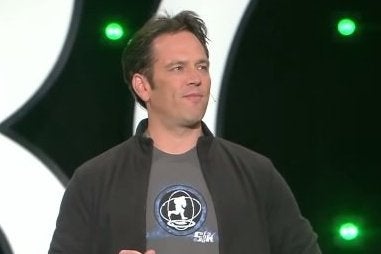 Toward the end of the Xbox 360's lifespan, Microsoft settled into a first-party rhythm with the Halo, Fable, Gears of War, and Forza franchises. In an appearance on IGN's Podcast Unlocked this week, Head of Xbox Phil Spencer stressed that the company is committed to continually bringing new intellectual properties to Xbox One, games like next week's new release Sunset Overdrive.
"I think new stories, new characters give us a new canvas to try new things," Spencer said. "Sunset's a great example of that. It's a game that isn't like anything else in our portfolio. And I think that's great. I want to continue to invest in things that push the boundaries. I don't need another military space marine game. I probably don't need another racing game. People push me on [Project Gotham Racing] or something. But in terms of trying things that are new and have a unique reason to be in our portfolio, it's gotta be a commitment from us as a first party, absolutely."
One franchise in the process of joining Microsoft's first-party portfolio is Minecraft. However, Spencer repeated assurances that there are no plans to make the multiplatform blockbuster exclusive to Microsoft platforms.
"I love who plays Minecraft," Spencer said. "Male, female, young and old. It's something that lives on so many different screens. I'd love to bring it to more screens out there. What we've learned through Xbox Live is something we can help in unifying a little bit of what happens with Minecraft today. On PC I get access to the mod servers, if I'm on console or the mobile editions, I don't. [Redmond Game Studios and Platforms GM] Matt Booty and I are looking at how we help bring that whole system together a little more."
Expanding the mod support across platforms is perhaps the least of Microsoft's aspirations when it comes to doing new things with Minecraft. However, Spencer said the existing fanbase has to be catered to before he can start considering how to add on to it.
"I think we earn permission to do other things with Minecraft when we meet the Minecraft's community's desires around what the franchise is," Spencer said. "Matt and I have been pretty consistent in that. I don't want us to go and try to make it something it isn't. But I do think it has room to grow."
Spencer added that the push to acquire Mojang came from within the Xbox team at Microsoft, and that the company will look to the gaming division to shepherd the Minecraft IP going forward.
"There are opportunities for us to work, and I think it has such head room as an IP," Spencer said. "And frankly, I love what it means for us as a gaming industry. Kids creating things, playing together, having a good time, it has a role in classrooms."