Xbox, Curve, Tencent and more join GamesIndustry.biz Investment Summit at PAX
Over 30 publishers and investors have now joined the event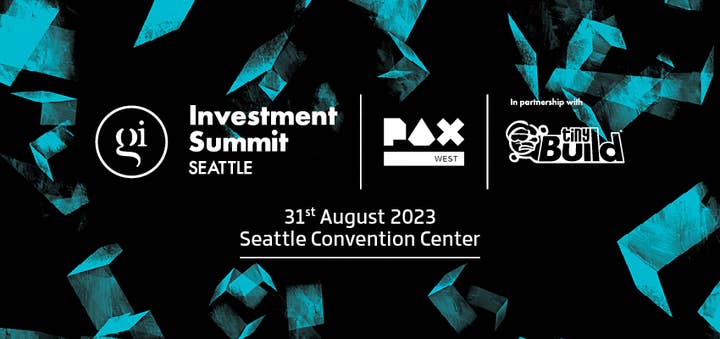 More major platfrom holders, investors and publishers have signed-up to the GamesIndustry.biz Investment Summit at PAX this month.
Xbox, Fellow Traveller, Curve, Tencent, 101XP, Rogue Games Crunching Koalas and Offworld Industries are the latest companies looking to meed indie developers at the event.
The Investment Summit at PAX will take place at the Seattle Convention Center on Thursday, August 31st. Tickets are on sale now and start from $50 + booking fee.
Already, more than 75 game developers have signed-up to the event. They'll be looking to meet investors, publishers and platforms that include 101XP, Agnitio Capital, Astra Games, ByteDance, Crunching Koalas, Curve Games, Fellow Traveller, Hiro Capital, Hooded Horse, Kabam, Kepler, Kowloon Nights, Limited Run, London Venture Partners, Nintendo, Offworld Industries, Phoenixx Inc, Retrovibe, Rogue Games, Secret Mode, Serenity Forge, Skystone Games, Snail Games USA, Square Enix Collective, Tencent, TinyBuild, Thunderful, Valve, Whitethorn Games, Xbox, Ysbryd Games and more to be announced.
This year's event, the first since 2019, will feature talks from Valve, Xbox, Shawn Layden, TinyBuild, Square Enix Collective and a panel boasting a number of big name investors, including London Venture Partners, Hiro Capital and Kowloon Nights. The full speaker schedule is listed below.
The event is headline sponsored by Hello Neighbor publisher tinyBuild.
The heart of the event will be our meeting system, where developers, publishers and investors can connect throughout the afternoon. Tickets for the event are on sale now and are $50 (+ booking fee) for developers and $200 (+ booking fee) for publishers and investors. Tickets include lunch, refreshments and two days of access to PAX West.
Developers and publishers who are exhibiting at PAX are able to attend the event for free. Simply contact Kevin Brady to receive details of how to sign-up.
Some limited sponsorship opportunities are still available. Contact George Corner for more details.
Here is the schedule:
09:00 am — 09:30 am PDT
Registration
09:30 am — 09:55 am PDT
Welcome and Fireside Chat with Shawn Layden
The former head of PlayStation Studios and current advisor to major companies such as Tencent will discuss the past, present and future of video games
09:55 am — 10:10 am PDT
Creating Thousand Hour Long Experiences - Alex Nichiporchik (TinyBuild)
The CEO of TinyBuild will discuss the importance of emergent gameplay, and why the industry is not seeing enough games with it
10:10 am — 10:30 am PDT
How Square Enix Collective and FuturLab took PowerWash Simulator to 7m players - Anne-Lou Grosbois-Favreau (Square Enix), Jakub 'Koobs' Klitenik (Square Enix), Rebecca Sweetmore (Futurlab), Joshua Brown (Futurlab)
The publisher and developer tell us how they teamed up to deliver the indie hit to millions of fans
10:30 am — 10:55 am PDT
Steam Visibility: How Games Get Surfaced To Players - Erik Peterson (Valve)
Valve will explain how game visibility works on Steam and what developers can do to improve their chances
10:55 am — 11:10 am PDT
Break
11:10 am — 11:30 am PDT
Fireside Chat with Jen MacLean of Xbox
The general manager of Game Creator Partnerships will talk about opportunities with Xbox, the state of the market and offer her advice to indie teams
11:30 am — 12:00 pm PDT
The Games Investment Panel - Anlu Liu (Kowloon/Kepler), Joe Yuan (Hiro), Matt Bilbey (LVP), Snow Rui (Hooded Horse)
Leading investors and publishers will talk about a difficult 2023, where things are heading and what developers should be mindful of when seeking financial support
12:00 pm — 13:00 pm PDT
Lunch
12:40 pm — 18:00 pm PDT
One-To-One Meetings
A series of 20-minute one-to-one meetings set-up via the MeetToMatch meeting system