World of Warcraft sees Q3 streaming rise
StreamElements: WoW Classic interest persists as Fortnite continues to dip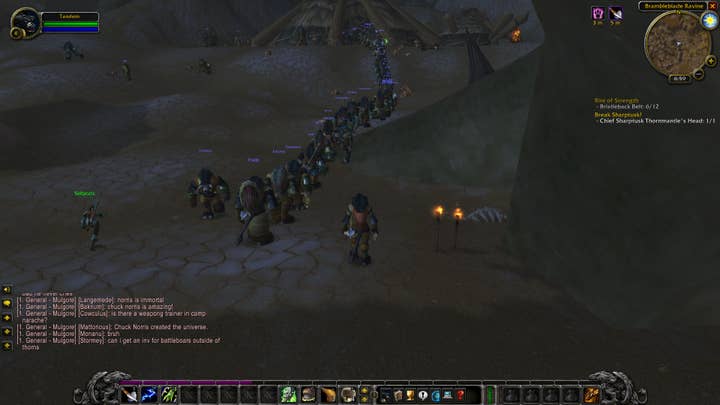 World of Warcraft Classic's launch already propelled the game up the Twitch charts during its debut month. But interest seems to have persisted through the quarter.
StreamElements reports that in Q3, World of Warcraft was the third most-watched game on Twitch, just behind Fortnite and League of Legends. It beat out categories such as Just Chatting (not a game, but streamers "just chatting" with their audiences), Grand Theft Auto V, and Dota 2. Most other games held steady on the chart from Q2, though Hearthstone was replaced with Minecraft at No.9.
World of Warcraft's numbers are taken from both retail and Classic versions, though there's little doubt that Classic's launch in August is the reason for its 118% quarter-over-quarter audience growth. The top streamer for Q3, Asmongold, is primarily a World of Warcraft player. He brought in over 13 million hours watched in September, and over 28 million for the quarter.
Though it's unclear how long it will persist near the top of the charts, other top contenders such as Fortnite and League of Legends continue to drop for yet another quarter in a row, with Fortnite's viewership down 20% from last quarter.
It's likely that some of this shift is also attributable to top streamer Ninja's departure from Twitch to Mixer mid-quarter. Though StreamElements reports that his movement did not meaningfully impact the total number of hours watched across Twitch, Ninja's focus on Fortnite may have affected the game's popularity on Twitch in relation to other titles. In total, Fortnite has dropped from 126 million hours watched in January to 60 million hours in September.
Across all streaming platforms, Twitch continues to hold the lion's share of viewership, with 75% of total hours watched in Q3. Mixer, YouTube Gaming, and Twitch all saw their lowest amount of hours watched this year at different points in Q3, though StreamElements notes this is normally a slower time of year for streaming.