Workers & Resources pulled from Steam after fan claims credit for game mode
Update: Game hit by DMCA takedown notice returns to sale as developer 3Division says "we navigated this tricky situation"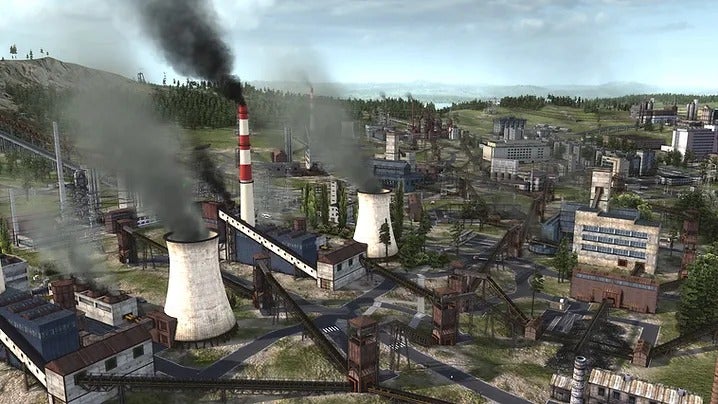 Sign up for the GI Daily here to get the biggest news straight to your inbox
Update, March 6, 2021: Workers & Resources: Soviet Republic returned to sale over the weekend, with developer 3Division posting an update to say it was excited to put the matter behind them.
"We thank you for your patience, support and understanding as we navigated this tricky situation," the developers said.
"We want to apologize to those who were looking to purchase the game and were unable to. We realize that we underestimated the situation, and it quickly escalated to a point that posed a threat to our game. We greatly wish that this had not been the case."
They did not say how the dispute with the DMCA takedown issuer was resolved.
Original story: A dispute between a game developer and one of its fans has resulted in a DMCA takedown notice pulling the studio's game from Steam.
At the time of writing, 3Division's management title Workers & Resources: Soviet Republic is unavailable for purchase on the leading PC marketplace, although current owners can still access the game.
In a post on the game's Steam Community site, spotted by Rock Paper Shotgun, the developer's owner and lead programmer Peter Adamcik said the DMCA request was issued by a player – "once a respected member of our community" – who claims he owns the rights to the title's Realistic Mode.
Steam user 'Storpappa' published a guide on Steam, advising people on how to play Workers & Resources: Soviet Republic in a more challenging way, which he referred to as Cosmonaut Mode.
3Division later added a Realistic Mode, with Adamcik claiming this had been "in my mind very early when [he] started to work on the game" but refrained from adding due to the complexity, his uncertainty about demand for it, and deciding that this was not a crucial feature for the game's Early Access period.
Adamcik offers a breakdown of the Storpappa's guide, saying: "There is nothing in his work in terms of game design that would relate directly to game's code, and he does not offer any technical solutions for the development team to use.
"He literally just created a guide with some possible way to play the game and called it Cosmonaut mode, but it is not helping the development process. Only one thing he was helpful in, is that the popularity of his guide showed us how much people wanted to play the game in a realistic and more challenging way."
DMCA notices were also issued via YouTube, both against the studio's own videos and those of an influencer that has been covering the game. 3Division has reached out to both YouTube and Steam to restore both the game and the affected videos.
Adamcik also claims the studio's website was taken down and that he had reached out to website builder Wix. The site appears to be back online so it seems this appeal was successful.
He adds that the studio would have been willing to add Storpappa to the credits – along with other players who made guides and challenges, or other contributors – after the game fully launches. But this offer is now off the table after Storpappa "chose to use extortion and abuse," according to Adamcik.