Will mobile games in India be different from China?
SuperData's Joost van Dreunen on why India may be a safer bet for many Western publishers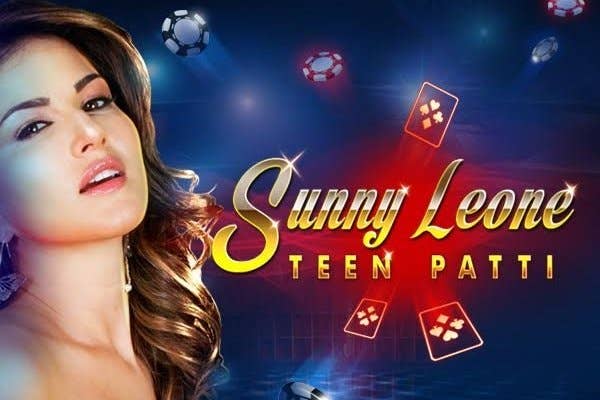 As the mobile games market continues to mature and saturate in western economies, most game makers have set their sights firmly on the east. For the past year or so, we've been hearing a lot about China, its massive addressable audience, and its growth potential. But the Chinese games market is not for the faint of heart.
Fortunately, there's more to Asia than just China. The shift to digital gaming has, in fact, opened up a lot of markets previously inaccessible. One of those newly discovered mobile game markets is India. It has a giant population and is showing signs of becoming the next hot thing in gaming. Just last week, Apple's Indian division announced that it crossed the $1 billion threshold, following a surge in demand for smartphones.
It doesn't take much to piece this together into an argument that says: India is huge, the market potential enormous, let's all make games for the Indian market. Or, as the former-CFO for Zynga Asia, Atul Bagga, put it: "All aboard. The India mobile game train is about to depart." A major industry association, NASSCOM Gaming Forum, recently released a report stating that "even if a small percentage of people start paying, suddenly you'll see multi-million dollar business, going to $300 million, to $500 million." But before we all jump on the bandwagon, let's take a look and see how the mobile games market in India stacks up.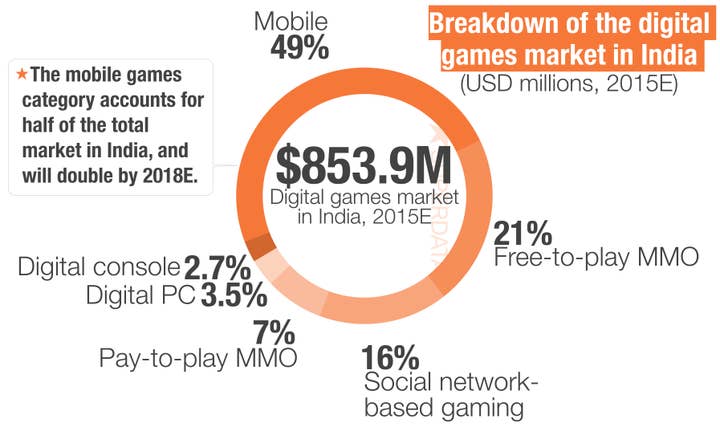 In the absence of a strong retail-based games market, it is the digital segments that define the Indian games industry. PC-based gaming categories provide a mixed bag in terms of growth, as pay-to-play and social network-based gaming are in decline but free-to-play and PC DLC are going up. The clear dominant category here is mobile, with $416 million in annual revenues this year and 64 percent growth year-over-year.
It is in particular the transition to smartphones that serves as a catalyst. Among gamers in India, Samsung, Sony and Micromax are the most popular brands. To ramp up its share, Apple has spent the last two years heavily advertising its iPhones, further convincing a growing part of the consumer base to upgrade their feature phones to smartphones and tablets. Today, the monthly active user base for mobile games in India is 185 million strong. Despite an already impressively sized audience, overall conversion and spending skews much lower. This is not surprising, since a large part of the population does not have the disposable income to spend on entertainment, at least not in the same way we're familiar with in other markets.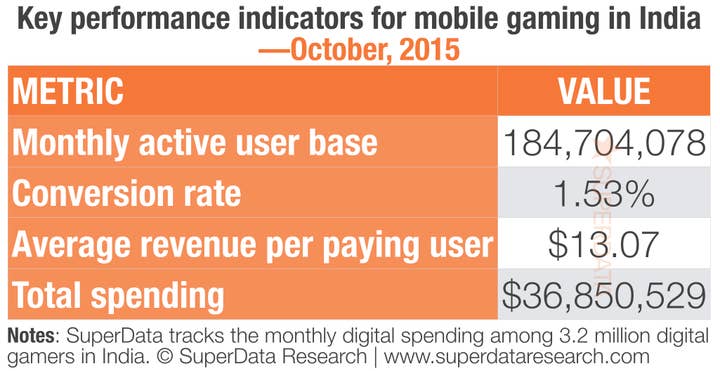 Furthermore, different from many other countries, the mobile games market in India is made up largely of Android-based smartphones, accounting for 73 percent of monthly revenues (October, 2015). A hit title like Clash of Clans earns 2.6x more on Android than it does on iOS (October, 2015). One thing that differentiates the mobile games market in India is the absence (as of yet) of any titan-sized incumbents. By comparison, in the Chinese mobile games market, Tencent claims no fewer than 25 titles in the top 100, earning it a combined $19 million (October 2015, iOS only). But India does have a long history of software development, making it likely that many will try their luck at releasing a mobile game.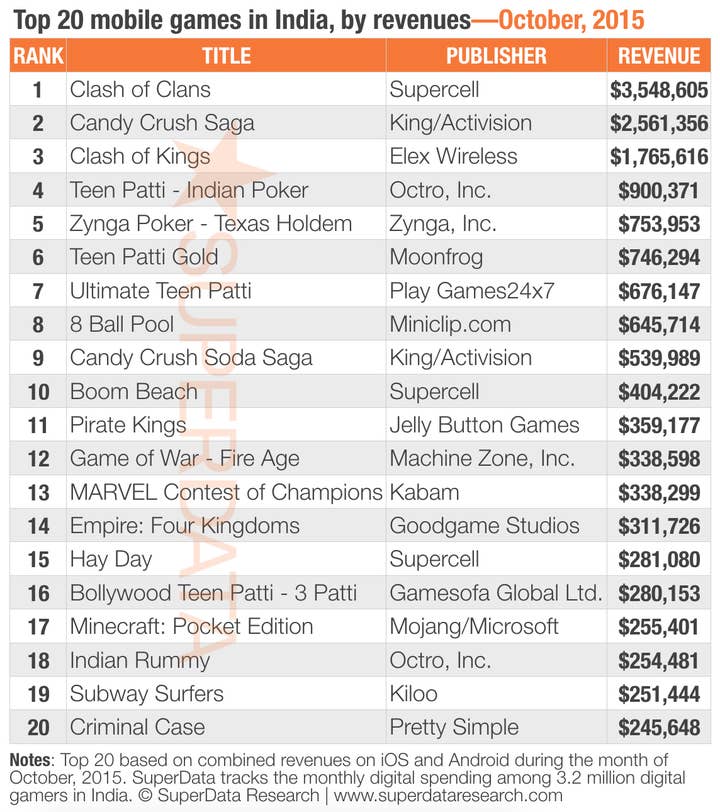 From a market share perspective, the top 10 mobile games account for 34 percent of monthly earnings. The usual suspects--Supercell, King/Activision--claim the top spots, but as we move further down the rankings it becomes apparent that lesser-known firms play an important role. Following a $15 million investment by Sequoia Capital last year, Octro has become the most successful Indian mobile games company, earning $1.2 million in October. Its most successful title, Teen Patti - Indian Poker, earned $900,371 in October and competes with Teen Patti Gold (Moonfrog) and Ultimate Teen Patti (Play Games24x7).
Octro's success is, of course, attracting new-comers who, armed with the experience from lessons learned in western markets, are trying to give Octro a run for its rupees. Hoping to leverage the same success Glu Mobile has seen by signing Kim Kardashian, an emergent strategy in the Indian mobile games market is to use celebrities that resonate with audiences there. Case-in-point is the Mumbai-based firm Gamiana, which convinced adult movie star Sunny Leone to lend her image to a mobile game as part of her entry into the mainstream entertainment. Arguably just as controversial of a figurehead as Kim Kardashian, Sunny Leone provides the image of a strong, self-made woman with a growing fan-base that flies against the more conservative values in India. Unsurprisingly, she has been the most searched person on Google for three years in a row in India, and has a Facebook following of well over 15 million fans.
Newcomers to the Indian mobile games market bring a degree of sophistication in their strategy, showing a preparedness for challenges observed in more mature markets. Currently the cost-per-install in India is still relatively low with $0.74 for Android and $1.26 for iOS (October 2015). But this is likely to change as this market grows in popularity. Especially savvy publishers that have been watching the markets elsewhere are trying to get a head start as the cost of customer acquisition increases.
So will the Indian mobile games market provide safe shores from the Chinese cliffs? No. But it can play a key role for western game makers looking to offset some of the risk that comes with deploying in Asia.