Will Microsoft bundle a VR headset with Scorpio?
Analysts discuss Microsoft's move to offer $299 VR headsets, which could pair nicely with Project Scorpio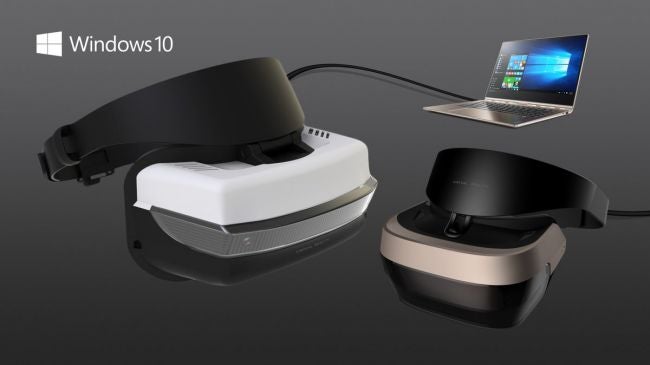 At a Microsoft event to showcase its Windows 10 Creators Update coming next year, the software giant made it absolutely clear that it has big plans for VR, not just AR and HoloLens. By partnering with HP, Dell, Lenovo, Acer and Asus to offer a range of VR headsets that are priced at $299 and feature inside-out tracking, the company has taken an important step towards democratizing VR for the masses. But what's the larger play here? How will VR headsets like these impact Project Scorpio next year and the Xbox business moving forward?
Tim Merel, founder of Digi-Capital and CEO of Eyetouch Reality, believes the VR news from Microsoft is a true "game changer" and he speculates that the company will look to make Scorpio an even more enticing proposition for gamers by bundling in VR. "The greatest potential for the Microsoft VR headset could come from bundling it with Xbox One Project Scorpio, which Microsoft has already highlighted as supporting next generation VR. With an Xbox One installed base over 20 million users, this might be Microsoft's silver bullet for both VR specifically and the console market more generally. So Microsoft could be using its new VR headset to leapfrog competitors in two markets at the same time, leveraging for VR some of the great work already done by Phil Spencer, Alex Kipman and Kudo Tsunoda with Windows 10 and HoloLens in the adjacent AR market," he says.
Wedbush Securities' Michael Pachter agrees with Merel, telling GamesIndustry.biz, "Tim is spot on. A standalone headset without a CPU/GPU makes no sense, and if it requires the purchase of a high end PC, it's not clear that anyone will buy it instead of Oculus/Vive/PSVR. However, if it works with Scorpio, it's a formidable competitor for PSVR (albeit with a starting installed base of zero). I think that's probably the plan, and am curious if software for Oculus and Vive will work with the Microsoft headset."
"The increased VR capability of the Scorpio could provide a compelling reason for PS4 gamers to jump into the Xbox One platform"

Patrick Walker, EEDAR
Other analysts are more skeptical of Microsoft's chances in VR, however. Stephanie Llamas, Director of Research and Insights at SuperData, still thinks HoloLens and augmented or mixed reality will be more impactful for the company.
"A VR device will not be a silver bullet for any market for a very long time," she cautions. "First off, Microsoft is banking on consumers they don't even have yet: Xbox One will not support the line of devices, so they are actually starting from a user base of zero that they hope will buy the Xbox One Project Scorpio. Early VR adopters already bought their PSVR, Vive or Oculus -- inside-out tracking alone isn't going to entice them to spend on another VR device this early in the market's lifecycle. This product is going to be secondary to a purchaser's decision to buy Project Scorpio, not the other way around.
"Second, this is just a MS-compatible line of headsets. So Microsoft will have to tout a third-party accessory with a first-party device, which definitely complicates their marketing and potential for bundling. Microsoft should have done this a year ago, or at least given us more promise than including their controller with the Oculus Rift, but they are already too far behind. Where they should continue to focus, and where they have shown a unique value proposition, is with the HoloLens's potential for augmented and mixed reality."
EEDAR's Patrick Walker, on the other hand, is confident that a pivot towards VR is a smart move for Microsoft at this juncture. "While many technology thinkers are significantly more excited about the potential of AR long-term, VR is much closer to reaching a mainstream market," he remarks. "It is also becoming more and more clear that the line between VR and AR will likely be blurred. Microsoft's VR initiatives on the Xbox One portfolio also make a lot of sense considering the console's position in the market. The PS4 has had a much more successful launch than the Xbox One so it is in Microsoft's interest to push technology initiatives that disrupt the console generation, including the VR headsets and the merger of PC and console gaming.
"The increased VR capability of the Scorpio could provide a compelling reason for PS4 gamers to jump into the Xbox One platform. This creates a nice short term strategy of regaining console share, a mid-term strategy of generating VR revenue across PC and console, and a continued long-term strategy of developing for the future of AR."
DFC Intelligence's David Cole falls more in the skeptic's camp. "The big issue in the VR market is that there needs to be a clear market driver that can package up the experience for the mass consumer. Right now the only one with that solution is PlayStation VR, which has a clear price point and an easy to use solution that is getting out to the masses," he says. "The problem with the other VR devices is not having that clear distribution or message. Just having a product available doesn't push it to consumers and that is the big problem Microsoft faces...who is going to communicate that message to consumers? This is still a pitch to the tech elite. There is also going to be a great deal of consumer confusion with multiple devices.
"The issue is many of these headset manufacturers are not strong at consumer marketing so who is going to get the message out? Right now for 2017 we see PSVR as being far and away the leading high-end VR device"

David Cole, DFC Intelligence
"VR is a new form of entertainment that needs to be introduced as such. The issue is many of these headset manufacturers are not strong at consumer marketing so who is going to get the message out? Right now for 2017 we see PSVR as being far and away the leading high-end VR device. I don't think these products are launching until later in 2017 so we see a lot of announcements coming in this space."
Inside-out tracking is important because it means you don't need sensors all over your room to track your headset and controller motions, but as long as players are tethered to a device the experience will feel somewhat limited. "Losing the wire will be bigger. VR is still in its infancy and we expect even more price reductions and innovation to drive the market," Cole continues.
"Microsoft has pretty much indicated that they plan for Project Scorpio to work with multiple VR headsets. The real issue will be Project Scorpio is too little, too late. Project Scorpio will actually be starting from a zero install base, not 20 million, so I think Windows VR should move the needle more than Project Scorpio."
Merel remains more positive, though, and unlike Llamas, does not think that offering third-party VR hardware is a downside. "Microsoft's new VR headset is the next stage of VR going mass consumer. For consumers, inside-out tracking without the need to buy or set up external sensors in a dedicated VR playroom is huge. The $299 price point is much less expensive than other PC based VR products. Launching with partners HP, Dell, Lenovo, Asus, and Acer gives Microsoft an accelerated hardware platform and also spreads its market risk," he notes.