Wii U launching with 23 games
Nintendo names nearly two dozen day-one games for latest console, nine more by November's end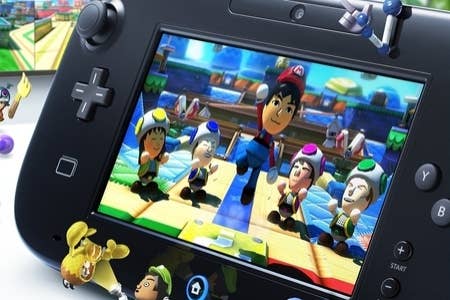 When the Wii U launches in the US November 18, it will do so with a lineup of nearly two dozen games, four of which will be published by Nintendo itself. Nintendo of America today detailed its list of 23 launch games, as well as another nine to follow by the end of November, and 20 more expected before April of 2013.
On the first-party front, Nintendo is ushering its system out the door with New Super Mario Bros. U, Nintendo Land, Sing Party, and Ninja Gaiden 3: Razor's Edge (which the company is publishing for Tecmo Koei). By the end of the system's launch window (which Nintendo has defined as extending through March), the company will have added to that list with Pikmin 3, Wii Fit U, Game & Wario, Lego City: Undercover, and The Wonderful 101.
Ubisoft leads the third-party charge with six separate titles for the system's November 18 debut, followed by Activision with a quartet of its own offerings. Both publishers were also strong launch supporters of the original Wii, with Ubisoft releasing a half dozen games for the system (including Rayman Raving Rabbids and Red Steel) and Activision chipping in with entries of its biggest properties, like Call of Duty 3, Marvel: Ultimate Alliance, and Tony Hawk's Downhill Jam. This time around, Ubisoft's slate is led by ZombiU, Assassin's Creed III, and Just Dance 4, while Activision is bringing over two of its biggest titles of the year, Skylanders Giants and Call of Duty: Black Ops II.
The full list of launch day and launch window games (arranged by publisher) follows below.
November 18
Call of Duty: Black Ops II - Activision
Skylanders Giants - Activision
Transformers Prime - Activision
Wipeout 3 - Activision
Disney Epic Mickey 2: The Power of Two - Disney Interactive Studios
FIFA Soccer 13 - Electronic Arts
Tekken Tag Tournament 2 Wii U Edition - Namco Bandai Games America
New Super Mario Bros. U - Nintendo
Ninja Gaiden 3: Razor's Edge - Nintendo
Nintendo Land - Nintendo
Sing Party - Nintendo
Sonic & All-Stars Racing Transformed - Sega
Warriors Orochi 3 Hyper - Tecmo Koei
Darksiders II - THQ
Assassin's Creed III - Ubisoft
ESPN Sports Connection - Ubisoft
Just Dance 4 - Ubisoft
Rabbids Land - Ubisoft
Your Shape: Fitness Evolved 2013 - Ubisoft
ZombiU - Ubisoft
Scribblenauts Unlimited - Warner Bros. Interactive Entertainment
Game Party Champions - Warner Bros. Interactive Entertainment
Batman: Arkham City Armored Edition - Warner Bros. Interactive Entertainment
November
Chasing Aurora - Broken Rules
Cloudberry Kingdom - Pwnee Studios
Madden NFL 13 - Electronic Arts
Trine 2: Director's Cut - Frozen Byte
Mighty Switch Force HD - WayForward
Tank! Tank! Tank! - Namco Bandai Games America
Nano Assault Neo - Shin'en
Little Inferno - Tomorrow Corporation
Toki Tori 2 - Two Tribes
January
Runner2: Future Legend of Rhythm Alien - Gaijin Games
"Launch Window" (Before April 2013)
Funky Barn - 505 Games
NBA 2K13 - 2K Sports
007 Legends - Activision
Cabela's Dangerous Hunts 2013 - Activision
Rapala Pro Bass Fishing - Activision
Rise of the Guardians: The Video Game - D3 Publisher
Ben 10 Omniverse - D3 Publisher
Family Party: 30 Great Games: Obstacle Arcade - D3 Publisher
Mass Effect 3 - Electronic Arts
Game & Wario - Nintendo
Lego City: Undercover - Nintendo
Pikmin 3 - Nintendo
Wii Fit U - Nintendo
The Wonderful 101 - Nintendo
Aliens: Colonial Marines - Sega
Jeopardy! - THQ
Wheel of Fortune - THQ
Marvel Avengers: Battle for Earth - Ubisoft
Rayman Legends - Ubisoft