Update: Nintendo confirms Wii Mini
$100 for non-connected machine with no BC - currently Canada only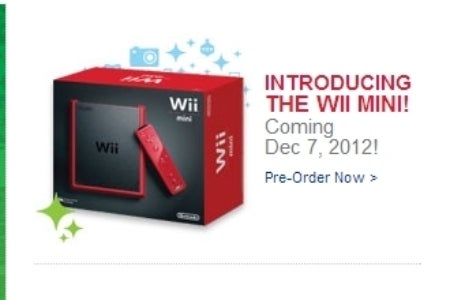 Nintendo has now confirmed the Wii Mini by unveiling an official site for the machine.
Extra details have become public alongside the reveal, including a price tag of $100, the fact that the machine cannot connect to the internet and is not compatible with GameCube games. For now, it seems, the machine will be a Canadian exclusive, but for how long is uncertain. An official Nintendo statement released to GamesIndustry International said that "no announcements have been made regarding other regions."
A listing for a Wii Mini has been spotted on the website of Best Buy Canada, seemingly confirming rumours this week that a re-jigged form factor for the console was on its way to retailers.
The listing gives a release date of December 7 and shows the Wii Mini to be an upright machine in black with red edging, bundled with a single Wiimote. The site says pre-orders are being taken now, but links only to a page for existing Wii products. No price is listed for the unit.
Nintendo has yet to officially confirm the product, but has been contacted for clarification.
The leak comes hot on the heels of the launch of the Wii U in North America earlier this month. The machine launches in Europe on November 30.