Why release a new N64 game in 2018?
How a forgotten PS1 game has become a Kickstarter hit
Do you remember 40 Winks?
Probably not. It was made by Eurocom and published by GT Interactive in 1999 for PlayStation. It was a 3D platform game in an age where 3D platform games were all the rage. It didn't get great reviews. Not many people bought it.
However, the N64 version of the game did get some promising buzz. The reviews coming out of Official Nintendo Magazine and Nintendo Power were more positive - the quote "Move over Mario" emerged from the former (it even appeared on the PS1 box in the US). IGN stated that it had been impressed with the N64 build, despite being unimpressed with the PS1 version.
N64 was the home of 3D platformers during the period, having seen success with Super Mario 64, Banjo-Kazooie and Donkey Kong 64. It was a game that seemed a perfect fit for the Nintendo audience.
But it never came out. GT Interactive was struggling, and after the PS1 title failed, the decision was to cut its losses and not release the game for N64. It all happened while Infogrames was making moves to buy the firm, and projects were being cancelled. 40 Winks was destined to be forgotten.
Almost 20 years later, and 40 Winks finds itself back in the headlines. A games developer called Piko Interactive has acquired the IP and is looking to release the N64 version.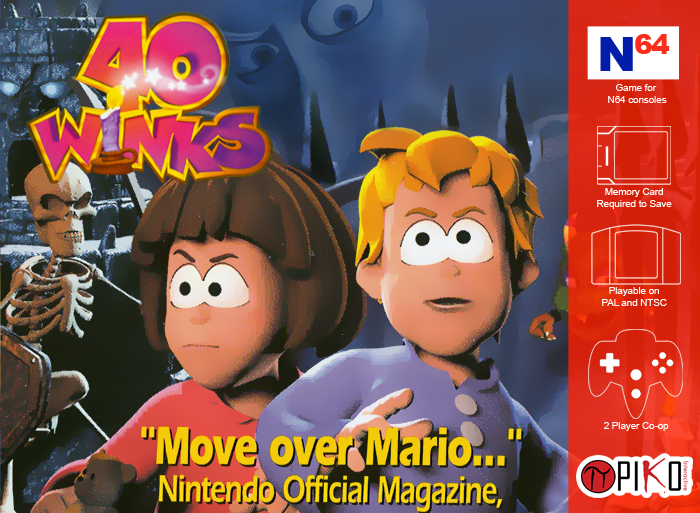 On the N64.
Piko Interactive specialises in this area. It develops games for NES, SNES, Mega Drive, Game Boy, Atari Jaguar and others. It mostly works on games that are either homebrew titles, unreleased projects from yesteryear, or games that were never localised out of certain markets.
"It started in 2013 with the launch of the Kickstarter for the Super 4 In 1 Multicart for SNES," says founder Eli Galindo, referring to the firm's compilation of four homebrew SNES titles. "In the beginning, we started building and soldering by hand, but we have now a partner factory that manufactures the games.
"It's definitely a niche within a niche. However, we love what we do."
There are currently over a dozen employees at Piko, including freelancers. And the company has developed its business to focus on three areas. Alongside the original carts (such as the new 40 Winks project) Piko also publishes these games to Steam. And then there's its Virtual Consoles label, which bundles these games onto different plug and play devices.
"Plug and play will always rack up the most numbers as it is easier for retailers to carry the systems," explains Galindo.
In terms of platforms, Piko's focus is on games that are developed "for the Dreamcast and back", which certainly limits the audience. But Galindo says this was never a business built to make huge amounts of money.
""It's definitely a niche within a niche, however we love what we do"
"We pretty much do what we do because we love these platforms. We grew up with these games, and they left such impact in our lives - and other gamers' lives - that we believe we don't need the next best console. We also didn't have a lot of disposable income back in the day, because we were kids, so I was not able to play about 98% of the games released in '80s and '90s.
"One big reason why we do what we do is because there are thousands of game titles that did not make it to America, or for one reason or another got cancelled, or just didn't have the marketing budget to be known on the scene.
"So we invest our time and money on piling up these unheard or forgotten titles, and making them available commercially for people curious about the history of gaming. The games industry is weird, it's not all fun and games like we thought it was when we were kids. It is mostly businessmen and women in suits discussing purchase and sales agreements, or how to squeeze more money out of consumers. We are not really part of that, or entirely part of that, we want to bring cool old games and projects to people, who without our involvement would probably have never seen or heard of these games."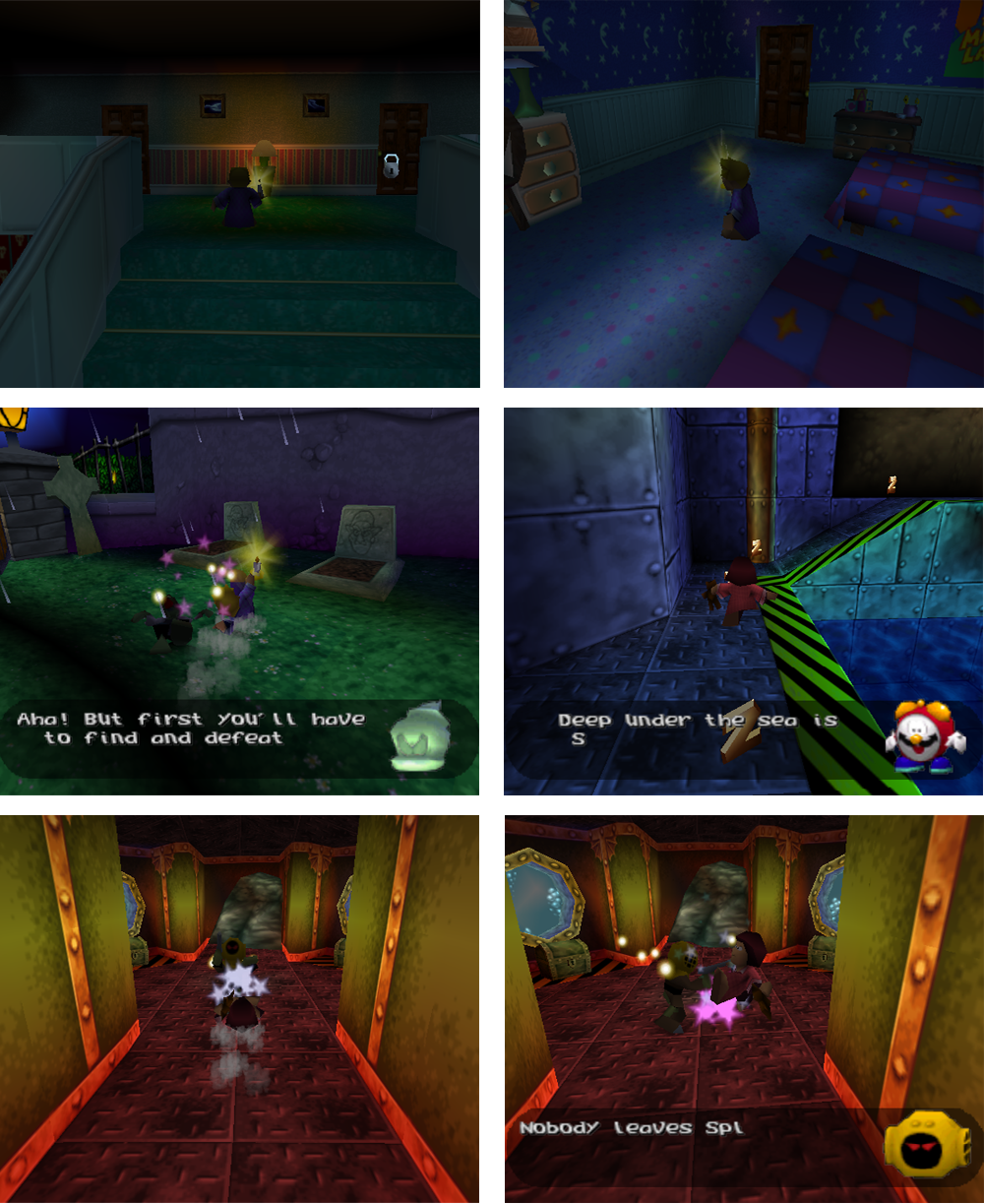 The desire to resurrect past machines comes from Galindo's belief that the industry has "forgotten to make that new, wacky game they used to do back in the day."
Piko Interactive made an acquisition last year of over 60 IPs that were previously owned by companies such as Infogrames, GT Interactive, Ocean, Legend Entertainment, Beam Software, Accolade, Hasbro and Microprose. 40 Winks is the first project to emerge from this acquisition.
In order to judge the demand, and help fund the distribution and manufacturing costs, Piko Interactive uses Kickstarter - and will continue to do so. For 40 Winks, it was looking for $20,000, but it's already on $94,000, with 20 days to go and 1,135 backers. It smashed its target in a matter of hours.
The firm anticipated that the N64 project might be successful after the recent popularity of N64-related retro products. A Kickstarter project for a new N64 controller attracted $166,000, and last year Kotaku reported that vintage game retailers was enjoying a surge in demand for N64 consoles. However, the firm was still surprised by the level of interest in the game.
"We picked 40 Winks because it was an original IP and because it had an unreleased N64 version, but mainly because it was an original IP. Honestly, we expected just to fund our Kickstarter, sell 250 to 300 carts," Galindo continues
"But I listened to the reports on the retro gaming scene, like the Retro Fighters controller getting funded on Kickstarter with over 5,000 backers, and that report that N64 was the hottest platform in second hand stores during the holidays. Those two signs made me prioritise 40 Winks."
Piko Interactive's business is growing more sophisticated. It says it's now moving away from the homebrew games it started with, and has designs on more acquisitions should the demand continue.
"We slowly pivoted from a homebrew developer that produced retro mini games, to a retro publisher that acquired IPs," the firm said on its blog. "When we acquire the rights to a game, we feel like we are giving it a new cozy home which would give it a new purpose in life. Through the years we have increased the budgets or the caliber of acquisitions we do. From indie unreleased games, to popular games from the '90s.
"We hope to recoup our investment quickly so we can keep acquiring more and more games to include in our catalog, expand our intellectual property universe, and give purpose to these 'old' video games."