Why didn't people buy Call of Duty this year? | GI Asks
GamesIndustry.biz polled gamers on their decisions around Activision's flagship franchise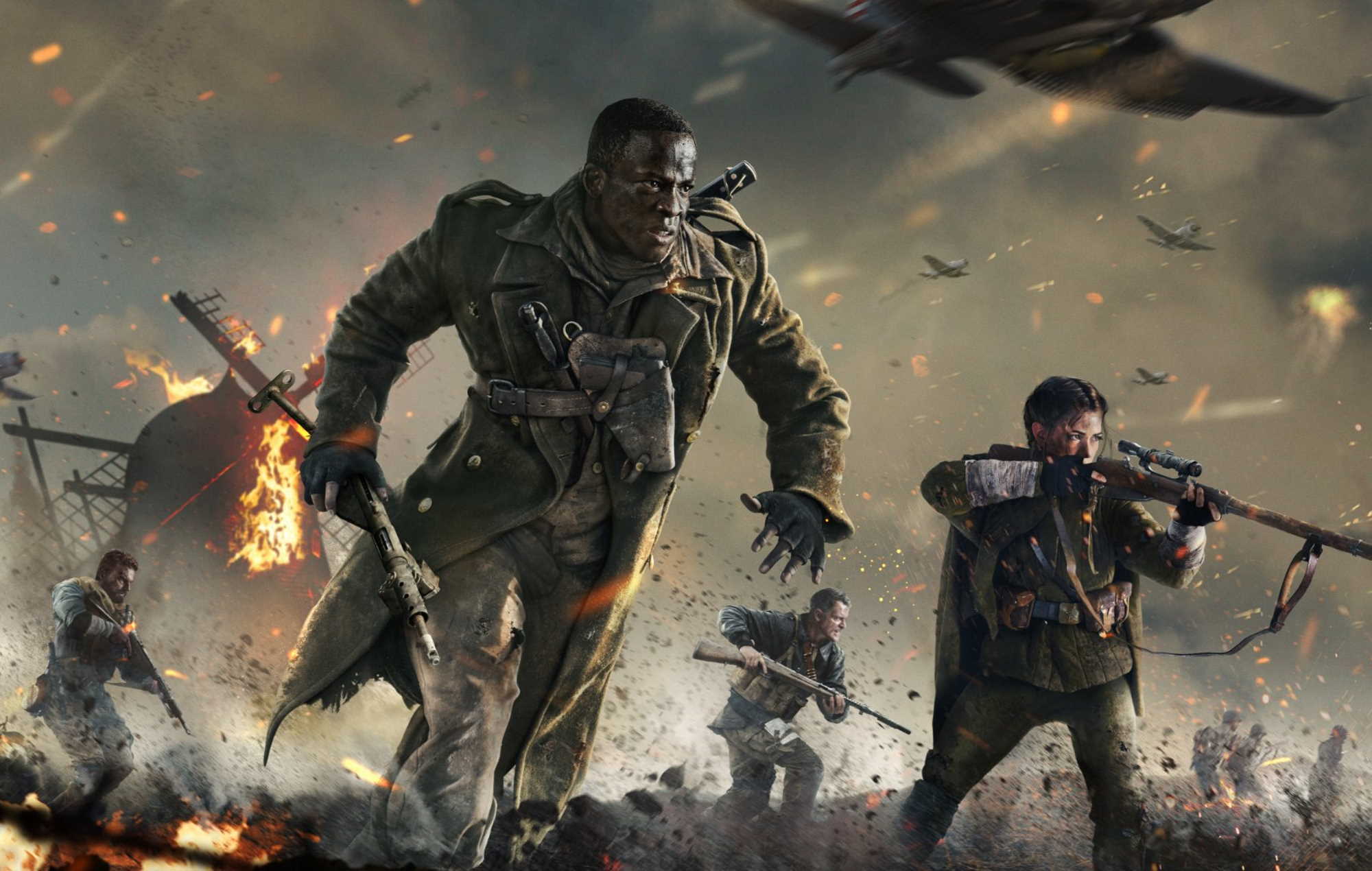 The latest charts data coming out of the UK and Europe shows that Call of Duty: Vanguard sold significantly fewer units at launch than its predecessor, Call of Duty: Black Ops Cold War.
Indeed, in the UK it is the weakest launch for the series in over a decade.
Call of Duty isn't the only game to see slower-than-usual sales in 2021, so what's going on?
Us in the nerdy number community have been sending emails, chatting on Discord and whispering in bars about what might be happening. Are service-based games and subscriptions like Game Pass harming sales of new games? Was it just nobody wants a World War II game? Is Call of Duty boring now?
The theorising got a bit too much, and eventually we decided: Why not just ask the gamers?
We teamed up with our friends at EGX and PAX to speak to an audience of hardcore gamers across the UK and US. Out of the 671 people we spoke to, 284 people said they have bought a Call of Duty game in the last five years, and out of those, just 59 (21%) said they bought this year's Call of Duty Vanguard.
So what about the 79% who didn't? What put them off?
We allowed respondents to give multiple answers to this question. And the biggest response was that they're simply busy playing other games, with 55% of respondents telling us this.
With plenty of free service-based AAA shooter games on the market, plus access to older games through subscription services, it's logical these would have a knock-on effect on new AAA releases eventually. In fact, 14% said that they didn't buy Vanguard because they were happy playing Call of Duty's free service-based game, Warzone.
Call of Duty isn't the only new game this year to see a drop; games like Battlefield and Far Cry also struggled. And the idea that gamers are happy with what they've got may explain the declines there, too.
However, we have had exceptions this year. The latest Pokémon releases have performed exceptionally, for example. So being 'busy with other games' can't have been the only challenge for Call of Duty. And indeed, it turns out there were many reasons fans didn't go for Vanguard this year.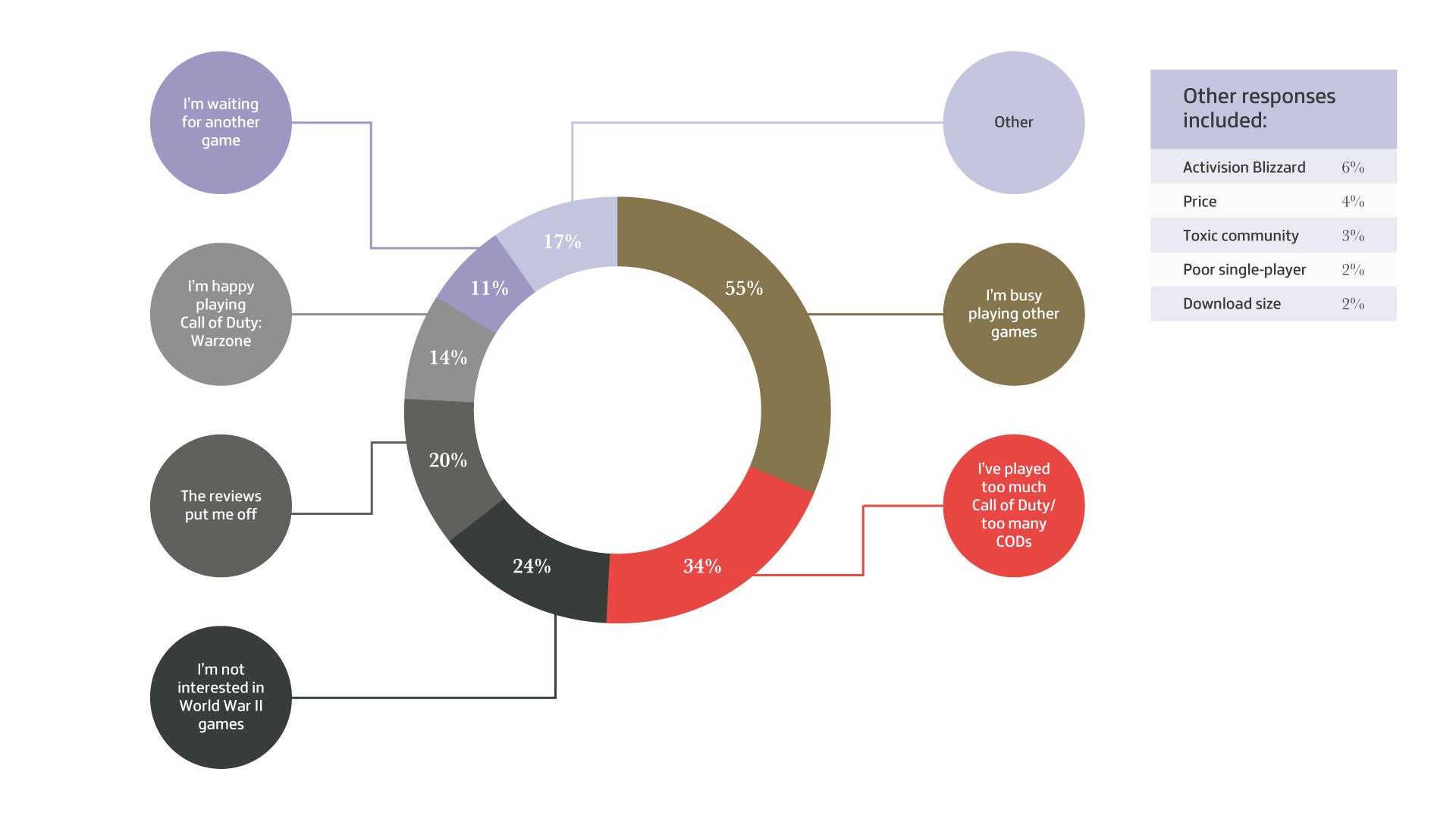 The next biggest issue was the sheer number of Call of Duty games that have come out in recent years. 34% of respondents said they didn't buy Vanguard because they had grown tired of the franchise or needed a break from it.
The other issue was World War II games. 24% said they were not interested in WWII, with some specifiying the fact they didn't enjoy the previous WWII Call of Duty game.
Then it was the reviews. Vanguard didn't achieve huge praise at launch, and 20% of respondents noted that and decided not to purchase as a result.
Finally, 11% said they were waiting for a different game. Out of this group, 38% said they were holding out for Halo: Infinite, and 25% said they were going with Battlefield 2042 this year.
There were other reasons submitted, too. 6% said that they didn't want to support Activision Blizzard due to their 'business practices' and 'treatment of employees'.
Price was a factor for 4% of respondents, who particularly felt it was unreasonable considering the short single player campaign. Indeed, 2% said the single player mode wasn't good enough, a further 2% said the download size was too big, and 3% said they felt the community was full of cheaters.
GamesIndustry.biz will be putting more topical questions to our group of gamers in the weeks and months ahead. If you've got any questions you want answering, email editorial@gamesindustry.biz.