Whatever happened to GameStop.co.uk?
Website disappears, so now is the time to speak to them
This article was first printed in the GamesIndustry.biz UK Retail and Publishing briefing. To receive these special emails, sign up here.
So GameStop's UK website has gone. Visiting the URL will present you with a 'WE HAVE MOVED' page and a link to the firm's Irish site.
I've asked GameStop for an explanation but it's remained silent on the matter. So let's speculate. It's quite possible that the falling value of the pound following the Brexit vote has had an impact, as the firm's UK and Ireland business was operated out of the Nordics. Yet the truth may be far more simple: nobody shopped there. The fact the site has been closed for a few weeks now, and nobody had noticed, speaks volumes.

The closure brings an end to GameStop's ineffectual efforts to take on the UK's big players, which at one point included two physical shops. But that doesn't mean GameStop's relationship with Britain is over.
Last year the firm launched GameTrust, a publishing arm devoted to supporting mid-level games from major developers. It's already signed Insomniac (for the pretty good Song of the Deep), Ready at Dawn (on intriguing multiplayer game Deformers) and Frozenbyte (with Switch launch game Has-Been Heroes).
The big selling point of GameTrust over the other big 'indie' publishers (and let's be honest, these established developers will not have been short on offers) is that GameStop will not just release these titles on Xbox Live, PSN, Steam and eShop, but also create physical versions of the games, distribute them throughout their massive store estate and even build a merchandise plan around them using their wholly-owned Think Geek business.
The complete removal of any UK presence to distribute its physical goods - and let's not forget this is a £776m boxed software market - is disappointing, but here is where opportunity lies. Last year I asked GAME CEO Martyn Gibbs about GameTrust. I was trying to discover if he was going to follow GameStop's lead and go into publishing himself. He wasn't interested in that, but he was interested in stocking GameStop's titles.
Of course, GAME won't be the only interested retailer. And third-party sellers are already selling Song of the Deep via Amazon UK.
Far from being one less retailer in the marketplace, the closure of the GameStop UK website is an opportunity for UK-based publishers, retailers, distributors, PR agencies and the rest to speak to the US giant and see if there's not a deal that can be done.
Let's rant about those digital charts again
Or let's not. I've been hammering on about the lack of digital download data in our charts for the best part of five years. In my previous life, I launched a campaign to try and encourage studios and publishers to share their figures.
I like to think that helped, even if it was just a little bit, because it now finally looks like we're getting somewhere. It's still moving painfully slowly, but with some relentless work from the trade bodies, digital charts are now beginning to emerge.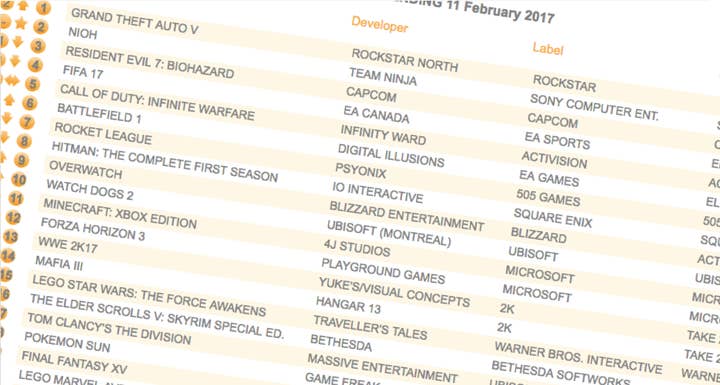 That's why my latest piece on the digital initiatives was more a 'state of play' rather than a rant. There's no need for me to whine anymore, I can now look forward to seeing whatever NPD, or GfK, or ISFE, or SuperData, or Steam Spy come up with.
The GfK UK charts only features physical retail data That last sentence touches nicely on what might prove to be the most interesting element moving forwards - the war between the data firms.
In the US, NPD has signed deals with publishers to do a combined digital/physical chart. The information it has is accurate, but there are notable absentees from its list of contributors (including most indie devs). Its rival is SuperData, which uses consumer transaction data (from developers, publishers and payment service providers) - so it isn't 100% in the accuracy department - but does mean it can put out information regardless of whether publishers want them to or not (it also has a wider pool of platforms as a result).
Over in Europe, it's a little more interesting. GfK is the power in terms of physical retail information, although despite some positive noises, has made no impact in the digital space. European trade body ISFE is following NPD's lead in working with publishers to put together digital charts, and has even tested the offering in some territories. But it doesn't have access to most of the retail figures, and is trying to partner with retailers and other bodies in an effort to do a combine physical and digital chart.
It would seem to make sense for ISFE to team with GfK, but actually the retail stat tracker has signed a partnership with SuperData. SuperData's European information is improving but it isn't nearly as robust as its US data, which might be why its partnership with GfK - which was announced almost a year ago - has so far amounted to nothing at all (although both parties insist the deal is still on). SuperData has also teamed up with Kadokawa Dwango in Japan for a similar project (that's the company that owns Famitsu publisher Enterbrain and tracks retail sales in the market).
Even in mobile things are getting competitive. App Annie remains the power in this space, but the cost of its data has been off-putting to some publishers and developers. Enter Reflection, which doesn't quite have the same level of accuracy (nor does it count Google Play sales) yet, but it is making its data available for free and has attracted some significant support as a result.
And they're other data companies, too. Like IHS, which puts out its own digital estimates. So now it's time to pick a side. Or alternatively, don't. Just do what I'm going to do: grab yourself a box of popcorn, sit back and watch as the battle for the industry's digital data unfolds.
For more on this, and the state of the UK games industry, sign up to our newsletters.