War of words over Star Wars: Battlefront 3
Anonymous dev claims game was mediocre before cancellation, Ellis responds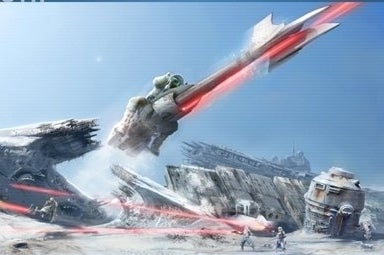 Steve Ellis, co-founder of Free Radical Design, has been forced to fight back against a claim that Star Wars: Battlefront 3 was only 75 per cent complete and of a mediocre quality when it was cancelled.
"I want to set the record straight because a lot of people worked very hard on BF3 (and BF4 [which LucasArts had already asked Free Radical to plan]) and they don't deserve their efforts to be distorted in this way," he told Gamespot, in response to comments from an anonymous source.
"From the personal tone of the comments it is clear that the source is someone whom I personally dealt with. It's unfortunate that they are making this kind of criticism while choosing to remain anonymous."
He was responding to comments from an anonymous ex-LucasArts staff member.
"This 99 percent complete stuff is just bullsh*t," the anonymous source said, itself reacting to Ellis' comments that Star Wars: Battlefront 3 was almost complete when cancelled
"A generous estimate would be 75 percent of a mediocre game."
"We were desperate for a next-gen follow-up to Battlefront (the claim that the project was sabotaged for financial reasons is ludicrous. The franchise was a huge money maker at the time). When Free Radical continually missed dates and deliveries, [LucasArts] made many 'good will' whole or partial milestone payments to keep the project going."
The source even went as far as to call the developer a Ponzi scheme and that budgets were being appropriated from other projects to try and a finish it.
Earlier this year Ellis spoke to GamesIndustry International about the collapse of Free Radical, and addressed the cancellation of Battlefront 3 directly.
"It was pretty much done, it was in final QA. It had been in final QA for half of 2008 it was just being fixed for release."
"LucasArts' opinion is that when you launch a game you have to spend big on the marketing and they're right. But at that time they were, for whatever reason, unable to commit to spending big. They effectively canned a game that was finished."