Waking up to localization
Supporting a variety of languages at launch made a huge difference for Figment, says Bedtime Digital CEO Klaus Pedersen
By any reasonable standard, Bedtime Digital Games' debut title, Back to Bed, was a success. A commercial release that began its life as a student project for a group of aspiring Danish developers, the 2014 puzzle game made back about four times the money it took to make. Be that as it may, Bedtime Digital CEO Klaus Pedersen told GamesIndustry.biz that the studio wanted to do a few things differently with its second title, Figment, which just launched on PC last month.
"We used Back to Bed like a test subject," Pedersen explained. "We tried everything with it, getting it to all platforms and seeing how each one worked. We put it in all the programs. We didn't think too much about the long-term consequences of putting it in a Humble Bundle or being the free game of the week on Apple. We were in a position where we were trying to experiment."
Back to Bed launched on mobile and PC simultaneously, and was later brought to PlayStation 4 and PlayStation Vita. This time around, the team has decided to focus its efforts on a Steam launch for Figment, and use the buzz from that as a marketing beat to promote versions for Xbox One, PS4, and Switch later this year.
"There was a lot of work in getting those out at the same time and not being able to focus on each platform individually," Pedersen said. "But also we felt like Back to Bed got labelled as a mobile game. To be fair, it was originally designed to work on a tablet as a target platform, but we felt Steam sales maybe suffered a little bit from having it be labelled a mobile game."
To the studio's eyes, that distinction was less about price discrepancies (Back to Bed was $6 on PC and $4 on mobile) and more to do with Steam users writing the game off as a mobile port. Pedersen did note that to date, more than half of the revenue Back to Bed brought in for the studio was generated from Apple's App Store.
"It's not that expensive to get the translations done. What is expensive is the man hours it takes if you have to manually implement stuff."
Pedersen acknowledged that the studio's willingness to embrace non-traditional programs and business probably wasn't optimal in terms of maximizing its long tail potential, but it did help the company discover one significant source of revenue. The game has been packaged in a number of different carrier-based subscription programs in Japan, and those efforts have brought in more money than Steam and Google Play combined.
The mobile version of Back to Bed wasn't the only one to make encouraging numbers from international markets. Pedersen said the top 10 markets for Back to Bed on Steam included China (second only to the US), Japan, Korea, and Russia. With an apparent appeal well beyond English-speaking territories, Bedtime Digital made sure Figment supported 19 different languages at launch. (Steam only lists 16 languages on the game's product page, but Pedersen said they also localized it into Indonesian, Malay and Farsi, three languages that the store's interface doesn't yet support.)
"Those are countries that primarily buy games in their native language, sales we'd be missing out on on launch day," Pedersen said. "I think stacking all those sales at the beginning helps you trend on Steam, and gives you visibility, basically."
Perhaps best of all, the translation effort doesn't sound like it was particularly arduous.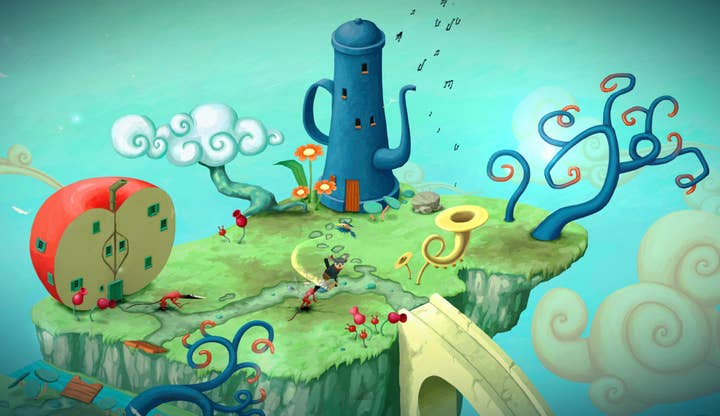 "If you plan ahead from the beginning, take into account that this game will be localized, then you're able to set up all in-game text, UI, and everything in a way that allows for easy implementation of the localization," Pedersen said.
The studio enlisted a separate company to provide localized translations for the text in Figment, and when they received the new text back, they were able to implement the additional languages into the game in a single day.
"It's not that expensive to get the translations done," Pedersen said. "What is expensive is the man hours it takes if you have to manually implement stuff. It's more about not having text hard-coded into the game, or taking into account from the beginning that you can have fallback fonts."
To help ensure the implementation would go smoothly, Pedersen said the team also used dummy text for each language (created using Google Translate) before they had the proper translations back. That would at least help determine how the game generally looked with all the text switched to one of the other supported languages.
"By being prepared and smart about the whole thing, it makes it much easier to localize the game," Pedersen said.
While localization for launch was just one of a number of changes Bedtime Digital made with its approach for Figment, Pedersen believes it made a huge difference. Early sales for Figment are going a lot better than Back to Bed saw at launch, and the studio is "pretty optimistic" about the potential for the game to continue outdoing its predecessor.