Valve and HTC's Vive priced at $800
VR kit will launch in April bundled with Job Simulator and Fantastic Contraption [UPDATE]: Recommended PC specs less demanding than Oculus Rift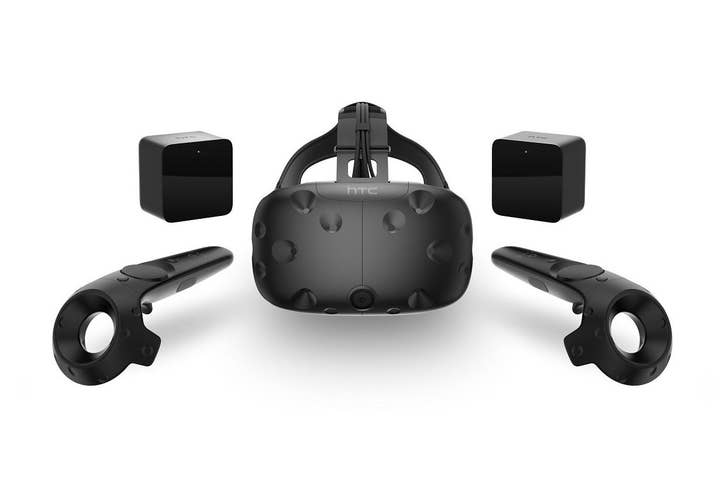 Another big player in VR has shown its cards. HTC today announced that the Vive virtual reality kit created in conjunction with Valve will launch in April for $799. The Vive headset will come packed with two wireless controllers, room-scale movement sensors, and (for a limited time) two games: Job Simulator and Fantastic Contraption.
The consumer version of the hardware will feature a revamped head strap and integrated phone functionality in Vive Phone Service. The service will let users answer and place calls and text messages as well as check calendar invites without removing the headset.
"From the beginning, Vive has been at the forefront of virtual reality, with HTC pioneering several ground breaking technologies," HTC CEO and chairwoman Cher Wang said. "Since announcing Vive this time last year, we have worked tirelessly with Valve to deliver the best VR experience on the market, winning multiple awards and receiving critical acclaim from media, consumers and the industry. With the Vive consumer edition we are now able to realize our ultimate vision; bringing Vive into homes around the globe so that people can experience immersive virtual reality in a away that fires the imagination and truly changes the world."
Preorders for Vive will open at 10 a.m. Eastern time on Monday, February 29.
In January, Oculus announced that its Rift VR headset will ship March 28 for $599, packed in with two games but not the Oculus Touch wireless controllers (they will go on sale later this year). While the price was higher than many expected, it has done well enough that as of this writing, Oculus is expecting July to be the earliest it could ship newly placed orders.
Today's announcement leaves Sony as the last major player in the VR race to release launch details like date and price. In a Fox News interview, GameStop CEO Paul Raines recently said PlayStation VR will ship this fall, but a Sony representative said he was "purely speculating."
Update: HTC has revealed the recommended PC specs for use with its SteamVR-powered Vive headset, as reported by Upload VR. For the most part, they are consistent with those published by Oculus VR, though the Vive's 4GB RAM requirement is half that suggested for the Rift.