Oculus Rift priced $600, ships in March
The much anticipated VR headset finally has a retail price [Update: Palmer Luckey says Rift "obscenely cheap"]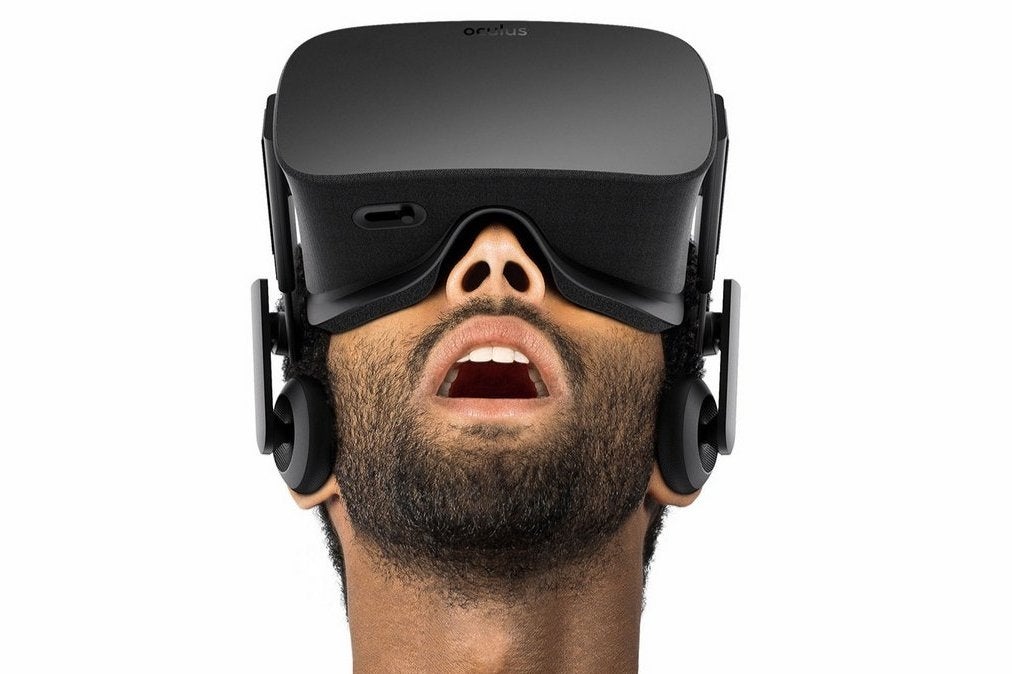 With the pre-order program officially now open, Oculus has revealed its price of $599.99 for the Rift headset. The package, expected to ship in March, includes the VR headset, sensor, Oculus Remote, cables, Xbox One Controller, EVE: Valkyrie, and Lucky's Tale.
Speculation around Rift's price point has circulated for months. A $600 price tag is likely a surprise to many, but Oculus founder Palmer Luckey did state last October that the price would come in higher than $350. "I would say I think people are going to be happy with what they get for the price because I really do think it's going to be that best VR headset you can buy," Luckey said at the time.
While it's true that the package includes two games and a controller, when you factor in the cost of a high-end PC gaming rig, VR becomes a very, very expensive proposition for most people. We'll be keeping an eye on reactions to this news.
Update: On the Oculus blog, the company has specified that the first shipments will go out on March 28, with the Rift being "available in limited locations at select retailers starting in April." For those pre-ordering the Rift, Oculus also noted that by doing so, you'll be securing your place in line for Touch pre-orders later this year.
Oculus is promising more than 100 titles available by the end of this year. Oculus Studios itself will be releasing over 20 games exclusively for the Rift this year, including Rockband VR by Harmonix, Edge of Nowhere by Insomniac, and The Climb by Crytek.
Analysts are now starting to weigh in on the Oculus pricing news. RW Baird's Colin Sebastian noted that Facebook is quite clearly targeting early adopters with the $600 price. "[This] seems to validate our 'slow ramp' VR thesis," he said. "Despite the significant hype and growth potential for virtual and augmented reality platforms, we continue to believe that Mobile VR platforms (e.g., Google Cardboard, Gear VR, etc.) will gain faster momentum, with expensive headsets initially limited to technology 'early adopters.' For comparison, we note that Oculus Rift is priced well above video game consoles (PS4 and Xbox One are in the $300 range). As such, we expect the installed base of high-end VR platform to ramp gradually, and not penetrate the mass market likely until 2017-18 as price-points fall below $400."
SuperData's Joost van Dreunen added that "historically a new device enters with a substantial subsidy in order to capture market share early on." Clearly, Oculus is not taking that approach, and so that "means that the first wave of sales gives us no real sense of whether average consumers will care enough for this to become a household device," he said.
Although many of us have sticker shock, Wedbush analyst Michael Pachter said he thought $600 ended up being "almost 'affordable'" and cheaper than he expected. "I think they have a chance to sell 1 million at that price the first year. Content still matters for the ultimate success of the platform, so we have to wait until we know more," he said.
The early crowd hasn't been too phased by the price point. The initial allotment of pre-orders has already sold out, and Palmer Luckey took to Twitter to stress that "we are not making money on Rift hardware. High end VR is expensive, but Rift is obscenely cheap for what it is."