"Virtual reality will be our best interface with true AI"
VR expert Dave Ranyard discusses the potential for storytelling with virtual and augmented reality at Nordic Game
Advances in artificial intelligence could be most significantly enjoyed through the use of virtual reality, according to Dave Ranyard.
The Dream Reality Interactive founder and former PlayStation VR whizz spoke about immersive storytelling and its relationship with virtual reality during this week's Nordic Game Conference, in one of several talks curated by GamesIndustry.biz.
Touching on the importance of ensuring players feel like they have presence in a VR story and that characters react to them, Ranyard said AI will be vital to achieving this.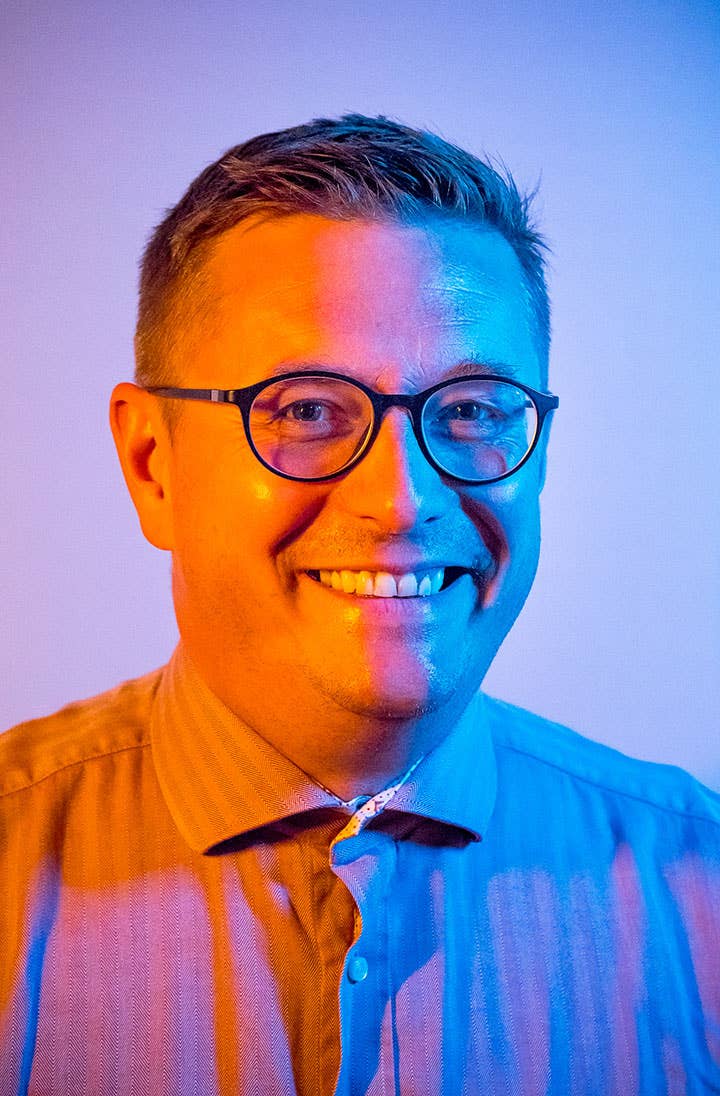 "Engaging with other characters is going to be huge," he told attendees. "I actually did a PhD in AI 20 years ago, and it's been absolutely useless for 19 years - but now AI is hot for the first time.
"I believe VR and AR are going to be our interface to AI. In terms of storytelling, that's amazing. Instead of having a cutscene, imagine having a conversation with a character. I think that's where games are going, and that's really fascinating.
"Even now, if you're in virtual reality and you have a character that looks you in the eye, it's really powerful."
He added that the "opportunity for telling stories and being immersive is huge", but warned that it's "also easy to make some simple mistakes that will spoil that immersion."
Examples he gave included taking control of the camera away from the player, which to the VR user feels like "some God picking up the room you're in and spinning it around", and interactions that don't feel intuitive. Input schemes and mechanics based around motion controls that represent in-game hands are often the best way to immerse players, according to Ranyard, but he added "if you can't do that, make sure your interactions make sense."
There are also key ways in which VR developers can make their titles feel more immersive. Putting players in jeopardy - or at least virtual jeopardy - such as on top of a skyscraper or facing a shark from a diving cage can help build immersion. Ranyard also stressed that while VR worlds don't have to be realistic, as long as they're believable the player should be invested in your virtual environment.
Discussing the future of virtual reality titles, Ranyard said that persistent universes will have a big role to play, citing the technology in the works at London start-up Improbable as a potentially promising start for this. He also expects non-linear storylines, where events are dictated by the player's actions, to become a major factor.
"Multiplayer will be huge as well," he added. "Having different roles to play in a persistent universe will be huge, and that's potentially going to be a big part of how VR is used in the future."
Even non-multiplayer games can help shift the notion that virtual reality is a solitary experience. He gave the example of an instance where he brought his mother and his son into the Sony London Studio to try out the shark cage tech demo for PlayStation VR.
"It really opened my eyes to the fact that [virtual reality can be] social," he said. "They would have happily done that experience together, and that would have been really cool. But even though they did it one after the other, they talked about it while they were in there and afterwards. There's an idea that VR can be very solitary, but actually it can be very social. It promises to take you somewhere cool, let you do something amazing, and do so with your friends."
While he acknowledged that VR is still in its early days, likening it to movies before the close-up was discovered, he believes it is bringing games closer to other entertainment industries - using a classic '60s sitcom as an analogy.
"Games used to be like the awkward second cousin of entertainment," he theorised. "We were super nerdy and a bit cheesy, not really seen as entertainment but as something else. Then games made loads of money and became like the Beverly Hillbillies - all money and no class.
"But now in spaces like VR, and the fact that game engines are being used by so many industries, suddenly we're in demand. We're kind of on a level playing field. It's great to have that recognition."
GamesIndustry.biz is official media partner for Nordic Game Conference 2017.