Valve updates experimental Steam Labs features
Micro Trailers coming to every game, plus new algorithms to help users explore Steam catalogue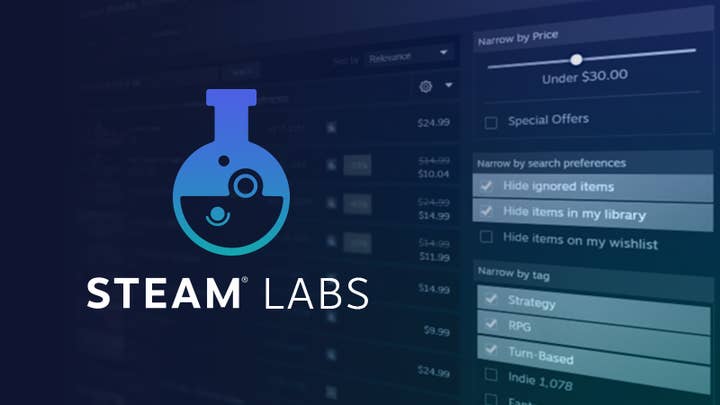 Expanding its Steam Labs feature set, Valve last week released an update to aid discoverability on its storefront.
First revealed back in July, Steam Labs is a hub for Valve to test discoverability features, such as Micro Trailers or recommendation algorithms.
The latest update sees Valve bring its six second Micro Trailers -- the brainchild of indie developer Ichiro Lambe -- to every game on Steam, categorized using nearly 400 tags.
"[Lambe's] experience provides us with an informed perspective on content discovery design and tools that serve both developers and customers," said Valve.
Valve is also introducing a new search feature which allows users to narrow down Steam Store results based on price, discount, and tags.
Additionally, searching by tag now uses an updated algorithm which weights the value of tags when sorting by relevance.
Finally, Valve revealed it has been working with developer Lars Doucet of Level Up Labs to create the upcoming Deep Dive experimental feature.
Deep Dive will "directly leverage the underlying APIs that fuel its recommendations and related game information."
The in-development feature will offer a new interface to discover games based on their similarity to familiar titles, and using these recommendations to dive further into the Steam library.