Valve launches new Steam Charts section
New listings will be ranked by total revenue, including DLC and in-game transactions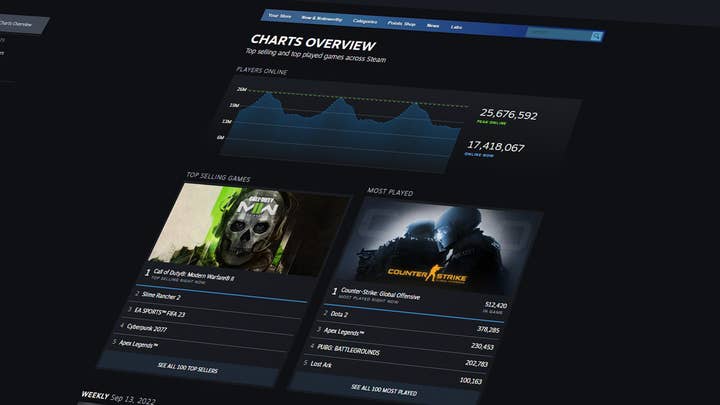 Valve has launched a new Steam Charts section on its marketplace to give better insight into the best-selling and highest-earning hits.
The section replaces the old 'stats' page on Steam and features real-time rankings for the top sellers and most played games, was well as a weekly chart and monthly overview of the top new releases.
The new top-selling list is calculated on total revenue of each title, encompassing full-game purchases, DLC sales and in-game transactions. This chart also includes free-to-play titles and pre-orders; for example, the current No.1 at the time of writing is the pre-purchase of Call of Duty: Modern Warfare 2.
If an individual DLC is selling particularly well, Valve will display that content as its own listing, although the actual threshold for this has not been shared.
Valve said the aim is to "get a more complete picture of which games players are excited about getting into and continuing to play."
The new method of calculating by revenue will also be used in top lists throughout other sections of Steam, including the Top Sellers tab on the homepage as well as genre and tag pages.
Steam has had Top Sellers lists for over ten years, but this revamp makes several improvements to how the rankings are decided and shared. These include showing how many weeks a title has been in the chart, how its position has changed since the previous week, and the ability to switch to country-specific charts for other markets.
Valve will also update the weekly charts to show the Top 100 best-selling games based on revenue every Monday at 10am PT.
Users can also browse through previous weeks' charts, with the historical archive going all the way back to 2005, when there were only three games available: Half-Life 2, Counter-Strike and Counter-Strike: Source.