Valve confirms legitimacy of employee handbook
Valve's internal handbook making rounds, highlights "be your own boss" structure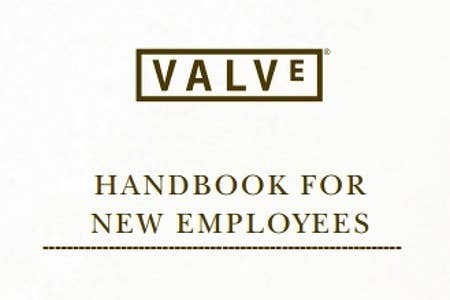 The Valve new employee handbook has turned out to be real, as the publisher/developer has confirmed that the 56-page document is the new guide given to new hires. The handbook describes a business run not by a corporate hierarchy, but a company that allows employees to win and fail at their own leisure.
The book, which is open to employee revision, is designed to give off the sense that a new hire within the company is the most important thing possible for the 200+ employee studio. The book gives the idea that a successful employee follows a "T-shaped model" where a new hire is an expert who is well established in one sector, and knowledgeable enough in others.
Also discussed is Valve's universe, which sets hiring as the center. Items such as design, art, code and other skills are secondary, and considered less important than simply hiring new talent.
Interestingly enough, Valve readily admits that they cannot do mentoring right, and that they are very bad about internal communication. In essence, a new hire is meant to be able to think on their feet, and be ready to go without needing to learn the ropes of the skill that they were hired for.
Those interested in reading the handbook may do so by hitting the link: [PDF].
GamesIndustry International has reached out to Valve "boss" Gabe Newell for comment and reflection on the handbook. We'll update you if we receive further commentary.