Valve adds buttons to Steam controller
Touch-screen makes way for more traditional features as Valve seeks compatibility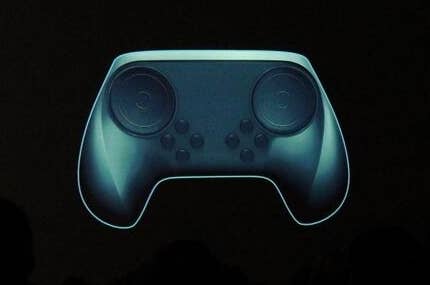 Valve has altered the design of its touch-sensitive Steam controller in an effort to make it more compatible with existing games.
Previously, the face of the controller had a touch-screen between its two circular touch-pads, but Valve has decided to remove that in favour of a d-pad and a typical diamond-shaped arrangement of four buttons.
This change brings Valve's controller more into line with devices on systems like Xbox and PlayStation, and therefore the huge range of games designed to work with their inputs.
The new design was unveiled at Steam Dev Days, along with the news that the controller will have a gyroscope, will run on AAA batteries, and that the API will allow for the use of up to 16 controllers at any one time. Valve has also promised more changes in the future.
A more detailed account of the information released at Steam Dev Days can be found here, but the biggest shift was Gabe Newell's revelation that Valve wants to phase out Steam Greenlight - a service it launched less than 18 months ago, and one that was greeted with no small amount of criticism at first.