US Government amends proposed cybersecurity bill
New legislation will pass into House of Representatives before May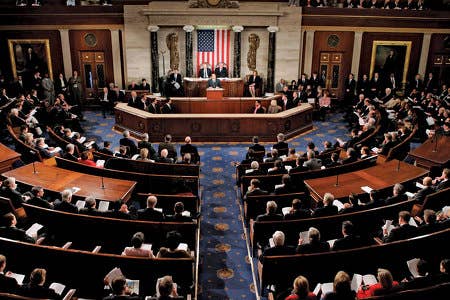 The US House of Representatives has scheduled an ammended electronic security bill which will allow corporations and government bodies to share information pertaining to perceived threats to national security from 'mailicious code'.
The bill has been restricted in terms of its scope after civil liberties bodies, including the Electronic Frontiers Foundation, protested the abilities it would grant to organisations such as the NSA.
Currently, the bill is being spearheaded by House Representatives Mke Rogers and C.A. Ruppersberger, and has secured support form 105 co-sponsors. The bill will be debated in the House at the end of April.
Previously, the bill was proposing to allowwidespread snooping into email and other online communications and a free sharing of that information between service providers and entities such as the CIA.
In its ammended form, thanks to the pressure form the EFF and others, it is restricted to the monitoring and reporting of malicious code and hacking attempts on US Government assets. Any infringement of that policy will leave the Government open to civil law suits, say the creators.
"Malicious code will be caught before it gets into networks. That's where we think we make the biggest bang for the buck," said Rogers.
The bill's ammendments also mean that the NSA will be excised from the reporting process, something which will please groups unsettled by the department's zealous use of terror laws to monitor citizens without obtaining warrants.
This week, the US Navy also announced that it would be contracting a company to try and restore data from old consoles in an attempt to disover information stored and deleted by terrorists and other threats to national security.