UK Charts: Anthem holds No.1 as LEGO Movie 2, Dirt Rally 2.0 and Trials Rising make Top 10
Dead or Alive 6 debuts at No.21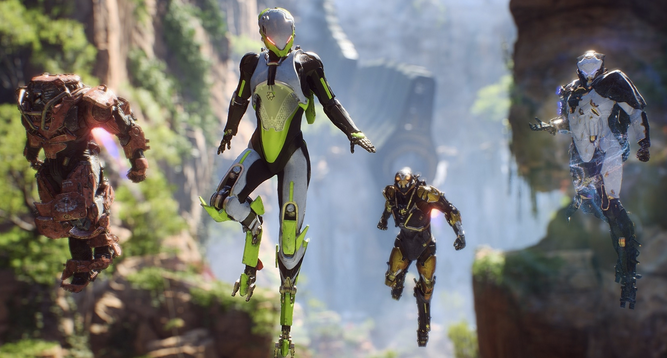 There are four new games in the UK physical charts this week, but it's EA's Anthem that retains the No.1 position.
The new Bioware game suffered a 71 per cent drop in sales week-on-week, but holds off EA's FIFA 19, which rises one place to No.2.
That means Ubisoft's Far Cry: New Dawn drops a place for a second consecutive week, down to No.3.
The highest charting new entry is Warner Bros The LEGO Movie 2 Videogame at No.4. The family game sold best on PS4, with Sony's console accounting for 59 per cent of sales. Codemasters's Dirt Rally 2.0 makes No.6 behind Red Dead Redemption 2 (and coincidentally, 59 per cent of Dirt's sales also came on PS4). In terms of revenue, Dirt Rally 2.0 was the No.2 game of the week (still behind Anthem) and that's because it had a higher retail price than The LEGO Movie 2, Far Cry: New Dawn, FIFA 19 and Red Dead Redemption 2 - which just goes to show how close the charts are this week.
Elsewhere, Ubisoft's Trials Rising: Gold Edition sneaks into the Top Ten at No.10. The market share split for that game is 39 per cent on PS4, 33 per cent on Xbox One and 28 per cent on Nintendo Switch.
There was one other new game in the charts and that was down at No.21. Dead or Alive 6 sold less than half the number of units Dead or Alive 5 managed to do back in September 2012, however, that was in an age where digital wasn't as significant as it is today. Still, the UK charts do not factor in digital sales. The Tecmo Koei fighting game performed best on PS4, which accounted for 73 per cent of the game's physical sales.
Outside of the new releases, almost every game in the charts dropped in sales week-on-week. The notable exceptions were the Pokémon Let's Go games, which saw sales increases (perhaps as the result of last week's Pokémon PR around the franchise's birthday) and F1 2019, which re-entered the charts at No.33 following some retail activity around the racing game.
Here is the UKIE/GfK Top Ten for the week ending February 23rd:
| Last Week | This Week | Title |
| --- | --- | --- |
| 1 | 1 | Anthem |
| 3 | 2 | FIFA 19 |
| 2 | 3 | Far Cry: New Dawn |
| New Entry | 4 | The LEGO Movie 2: Videogame |
| 4 | 5 | Red Dead Redemption 2 |
| New Entry | 6 | Dirt 2.0 |
| 5 | 7 | Metro Exodus |
| 8 | 8 | Mario Kart 8: Deluxe |
| 10 | 9 | Super Smash Bros Ultimate |
| New Entry | 10 | Trials Rising: Gold Edition |