UK Best Places To Work Awards 2022 Special Award finalists revealed
Sumo Group secures four nominations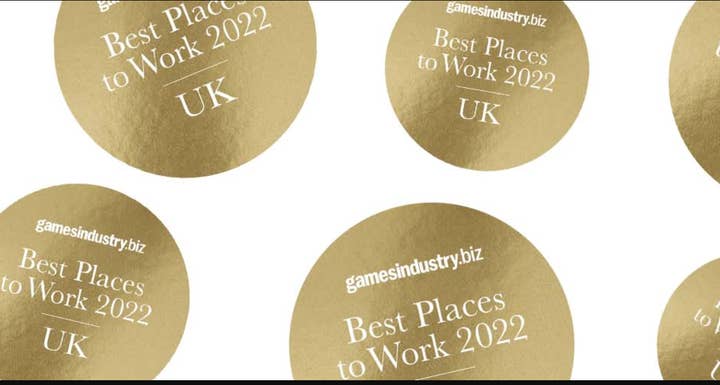 The finalists of the UK 2022 Best Places To Work Awards have been announced.
Sumo Group has been nominated in four categories, while PlayStation London are a finalist in three. Creative Assembly, Rare, Rocksteady and Sports Interactive have all picked up two nominations each.
These are the finalists for our Special Awards only, which are for excellence in specific areas. The winners of these awards, plus the main Best Places badge winners, will be revealed on Tuesday, July 12 during a digital and physical presentation.
Our special categories are designed to highlight excellent work from companies in areas such as climate change, supporting charities, ensuring a healthy workforce, encouraging diversity and working with education. We also have an award to highlight the UK games industry's Best Boss, which was last year won by Sumo Leamington's Harinder Sangha.
In total, over 90 UK games companies took part in the awards, and each one had a chance to win one of these special prizes. The project is sponsored by Amiqus, Games London, Hutch, Ico Partners, Playground Games and Rocksteady. For details on how the awards are judged, click here.
The ceremony will also reveal the 2022 G Into Gaming Award winner, which celebrates an individual who has done exceptional work in supporting gender diversity in video games.
The UK Best Places To Work Awards ceremony will take place on Tuesday, July 12 in Brighton.
Here are the finalists for the 2022 Awards:
The Corporate Social Responsibility Award (Presented by SpecialEffect)
Creative Assembly
Playground Games
PlayStation London Studio
Rocksteady Studios
Sports Interactive
The Health and Wellbeing Award (Presented by Rocksteady)
Mojiworks
NaturalMotion
PlayStation London Studio
Rare
Studio Gobo
Sumo Group
The Environmental Award (Presented by Games London)
Airship Interactive
Rare
Rocksteady
Space Ape Games
Sports Interactive
Sumo Group
The Education Award
Creative Assembly
D3T
Failbetter Games
Space Ape Games
Sumo Group
The Diversity Award (Presented by Ico Partners)
Failbetter Games
Indigo Pearl
Mojiworks
No More Robots
UK Best Boss
Aj Grand Scrutton, Dlala
Bob Makin, SockMonkey
Ella Romanos, Fundamentally Games
Louise Andrew, D3T
Simon Iwaniszak, Red Kite Games
Tara Saunders, PlayStation London