Ubisoft: "Nobody has dared do anything with a granny before"
EMEA Director Alain Corre on Watch Dogs, Tom Clancy, and the dream of creating a game with one billion players
As Ubisoft E3 press conferences go, this year's was surprisingly conventional.
Of course, there was still a dancing panda, a TV comedy series set in a development studio, and a multiplayer roller derby game. It wasn't that conventional -- it was still Ubisoft after all. But whereas recent years has seen experimental VR projects, a toys-to-life space game and Mario shooting a laser gun, this year was dominated by adult action titles and Tom Clancy. Lots of Tom Clancy.
"We're proposing under the Tom Clancy umbrella a lot of kinds of games," explains Alain Corre, EMEA director at Ubisoft.
"If you take The Division 2 or Ghost Recon, they are really different and are not geared towards the same gameplay. Ghost Recon is really something for every kind of shooter fan -- co-op, multiplayer -- so it'll please everybody. That's really something for the shooter category. If you take The Division 2, it's more for the people who like RPGs and want to play for a long time, like the Dead Zone where you have some intense combat schemes. The gameplay is different."
Plus the newly announced Tom Clancy's Rainbow Six Quarantine has been billed as a survival game. Yet even so, we are still looking at a lot of adult rated titles featuring grumpy men with guns.
"We had a lot of Clancy games and we wanted to show that we have games for the family, too"
At least that was until Ubisoft swerved dramatically right at the end of their conference with the reveal of new IP Gods & Monsters. The cartoon fantasy adventure from the makers of Assassin's Creed Odyssey was in stark contrast to all the war and shooting.
"We always want to come at the end of our conference with something unique and different. The 'one more thing'," Corre explains. "And we wanted to bring something fresh and to show that we are doing a lot of different games. Gods & Monsters will be a 12+ game, so that will go out to families, and we wanted to show the variety and diversity of what we had. We had a lot of Clancy games and we wanted to show that besides the Just Dance we are doing, that we have games for the family, too."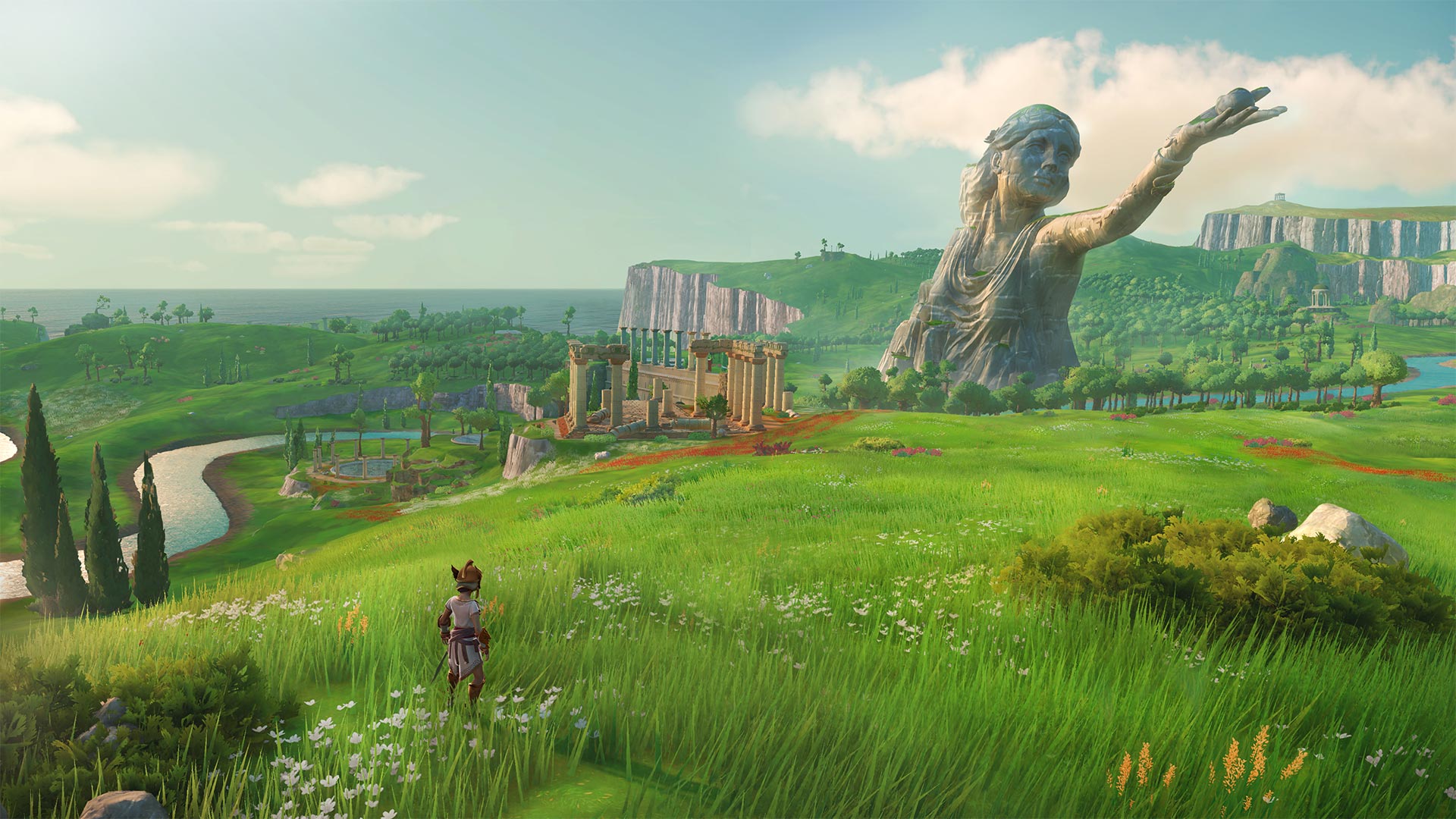 Ubisoft's E3 headline act, if there had to be one, was surely Watch Dogs Legion. The ambitious third game in the series that enables players to control any character in the game, each one with their own story to tell.
"Watch Dogs is building up, shaping up and everything is coming together," Corre says proudly. "We saw it three weeks before E3. It was good but not at the level of what we showed during our briefing. The guys worked so, so hard. Three weeks to polish and make it compelling. We're very confident for when it comes out."
Watch Dogs is another one of Ubisoft's more adult and violent franchises. However, instead of a grumpy man with a gun, Watch Dogs decided to go with a grumpy granny instead.
"She was trending," laughs Corre. "Nobody has dared to do anything with a granny before, I think."
The gun-wielding pensioner certainly went down well with the audience, as did the technical capabilities of the game -- in particular its AI system.
"That's the beauty of what Clint [Hocking], our creative director, brought into the game," Corre says. "The fact that you can recruit any character on the map is really something that makes the game unique and very replayable. When you recruit a team, you can have some missions that go one way. If you take another team then you have to do the missions in a different way. It's very varied and you can replay it many, many times. Thanks to the AI improvements and the AI capacities that our teams are mastering, we have access to this kind of technology. This has never been done in the industry so far."
It's all very impressive, but there's a more controversial element to Watch Dogs Legion. The game is set in a post-Brexit Britain in a dystopian London. The political message appears clear, yet Ubisoft has pulled back from it. Although the game is political in nature, the publisher insists it's not trying to deliver a message or make a statement. The firm wants to enable players to explore the politics, without telling them what to think. This apparent political neutrality has drawn some criticism amongst the media, but it's one Ubisoft has no intention to change.
"What we want in Watch Dogs is to give the keys to the players to explore something that maybe they have never done or have never dreamed of. We don't tell them what to think"
"Well actually, Watch Dogs is taking elements that could happen in the UK, but can also happen in every other country -- the mass surveillance, all these technologies that certain countries are using to greater control people," Corre explains.
"There are plenty of people that are protesting these days or are angry about the life they live. It's a worldwide thing. What we want in Watch Dogs is to give the keys to the players to explore something that maybe they have never done or have never dreamed of. This is also the mission of Ubisoft -- to give the keys to experiment with new things in life within our fictional gameplay so they can be something else, explore something different. We don't tell them what to think. They explore different things they wouldn't do in their own life and ultimately it helps them enrich their lives. If we do that, we've done our job on top of bringing them some fun and entertainment."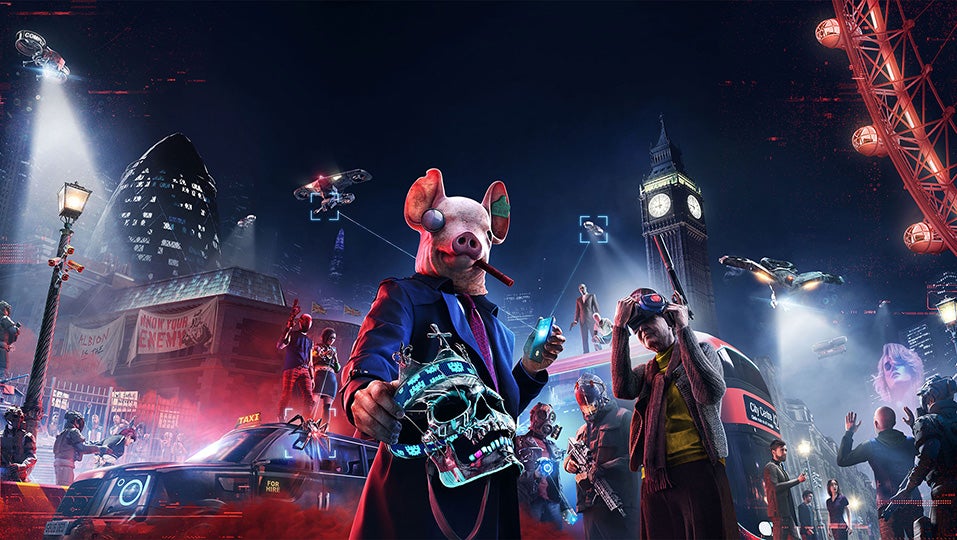 It wasn't all about games at E3 for Ubisoft. The firm revealed Mythic Quest, a new comedy by It's Always Sunny in Philadelphia's Rob McElhenney. Corre says: "Our video game world, things like studios, has never been depicted in a TV series or in a movie. It should be interesting to a lot of people because there are two billion gamers on the planet, and they will want to know a bit more about what happens behind the scenes. We felt this scenario was resonating well and was positive for us."
Ubisoft is also one of the early supporters in Google Stadia and is a strong optimist on the prospect of game streaming. The publisher has also revealed its own subscription service featuring its past and future games -- Uplay+ -- which will also be available via Stadia.
"The reason behind our subscription service is also in the same vein [as streaming] in that it gives more possibilities for our fans to play our games and we can talk to them," Corre explains. "We can keep them in our worlds, we can discuss with them and -- thanks to what they say and the way they behave -- we can feed that back into our games development. When we are in control of that within our ecosystem, we feel it's beneficial for our fans. That's ultimately what we want to do; we want to have more contact with them, more interaction, listening more to what they want and improve based on what they say.
"Hopefully we'll have the game that will please one billion fans in the world within the next five to ten years"
"But subscription is just one way for us to reach our fans. We are still keeping the traditional model whether they buy our games in a store or download them. It's really a case of offering the possibilities. Consumers are evolving really fast, and we want to adapt to what they want and propose new things to them, as well as keep the other means of distribution."
And finally, outside of the new business models and distribution platforms, Corre says he's excited by the next stage in the console business, too. He says that the PS5 and Project Scarlett look like they'll offer a "big leap in new possibilities." Corre says that Ubisoft's numerous development teams are always trying to deliver something innovative, and "the fact that the manufacturers are also pushing the technological boundaries for us is very good news for the industry and its future."
Ubisoft detailed a lot of initiatives at E3, whether it's traditional Tom Clancy games, new IP like Gods and Monsters, educational modes in Assassin's Creed, movies like The Division, TV shows such as Mythic Quest, investment in streaming, subscriptions, new consoles and AI. All of that is part of the company's mission to grow the number of gamers around the world from two billion to five billion.
And for Ubisoft in particular, Corre hopes that maybe it can one day release a game that will have one billion players alone.
"You know that creativity is growing, our market is growing," he concludes. "There are more and more fans. Really, if you add up all these technological leaps and new opportunities, plus all the new actors bringing and taking risks with new IP and bringing something fresh, it's fantastic for our fans moving forward.
"Today we are two billion. [Ubisoft CEO] Yves Guillemot was saying that at one point we will be at five billion players and hopefully we'll have the game that will please one billion fans in the world within the next five to ten years. I believe that within the entertainment industry we are today No.1 on the planet. It was super small 20 years ago and it's now the biggest. At one point everyone will want to have an interactive experience."