Two speed market drove over $30 billion in games deals in 2016
Tim Merel of Digi-Capital on how 2016 broke the industry M&A record by 77%
Last year was a record breaker for games, with Digi-Capital's Games Report 2017 recording $30.3 billion games deals in 2016. The $28.4 billion of games mergers and acquisitions (M&A) was 77% higher than 2014's previous record, and $1.9 billion games investment was the second highest ever. After a games deals ice age in 2015, what put a rocket up deal makers last year?
Bigger and slower
Let's start with the first gear of what is now a two speed market - giant sectors where giants rule. These sectors each threw off tens of billions of dollars revenue last year, and they're what's driving consolidation.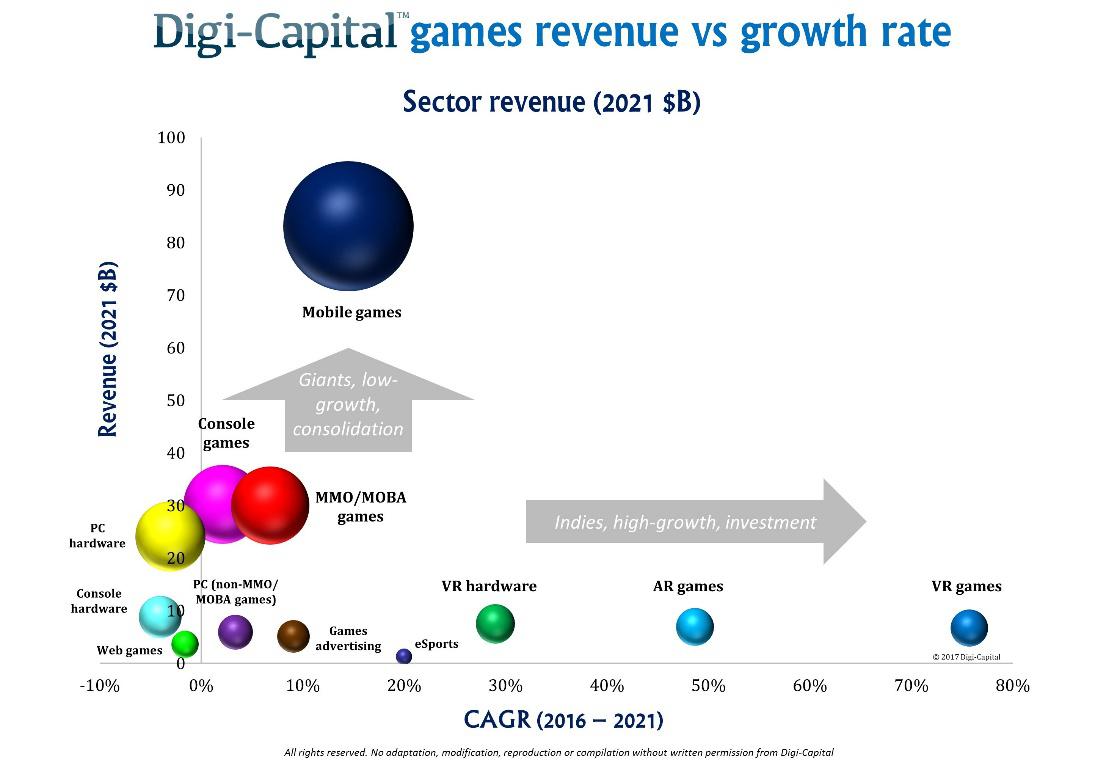 Mobile rules
Mobile apps (not just games) revenue grew an unexpected 40% last year, with China a major driver. Taking over three-quarters of all mobile apps revenue globally, mobile games had an absolute flyer. Despite this outperformance, mobile games growth could slow to 14.5% annually long-term (CAGR) for over $80 billion revenue by 2021 (gross apps revenue across iOS, Google Play and all the Chinese app stores). That's more revenue than the entire games market a few years ago.
Console and MMO/MOBA games each delivered less revenue individually than mobile last year, and with slow growth could each individually drive around $30 billion revenue by 2021. This could make mobile games bigger than console and MMO/MOBA games combined by that time. The remaining big sectors of PC and console hardware are not growing, so could see $30 billion combined revenue by 2021.
Smaller and faster
At the other end of the scale is the land of the indies, where there's room to move. There isn't enough money yet for the big boys, a little like early mobile games.
VR hardware (headsets, peripherals and PCs/GPUs) delivered in the low single digit billions range last year, and could drive over $7 billion revenue by 2021. But VR hardware is dominated by giants like Facebook already, so solutions for specific problems are probably best for startups.
AR games - particularly mobile AR games - had their first hit with Pokémon Go (even if industry insiders don't like to call it AR). If true mobile AR goes mass market next year (underperform 2019, outperform 2017), AR games could drive almost $7 billion revenue in 5 years' time - more than VR games.
Pokémon Go might have made more money than all VR games combined last year, but VR games still have a lot of runway. With high growth rates, VR games could top $6 billion by 2021.
eSports is the last of the high-growth sectors, but might not pass $1 billion until 2021. So a lot of fun and exciting, but could stay relatively small.
Show me the money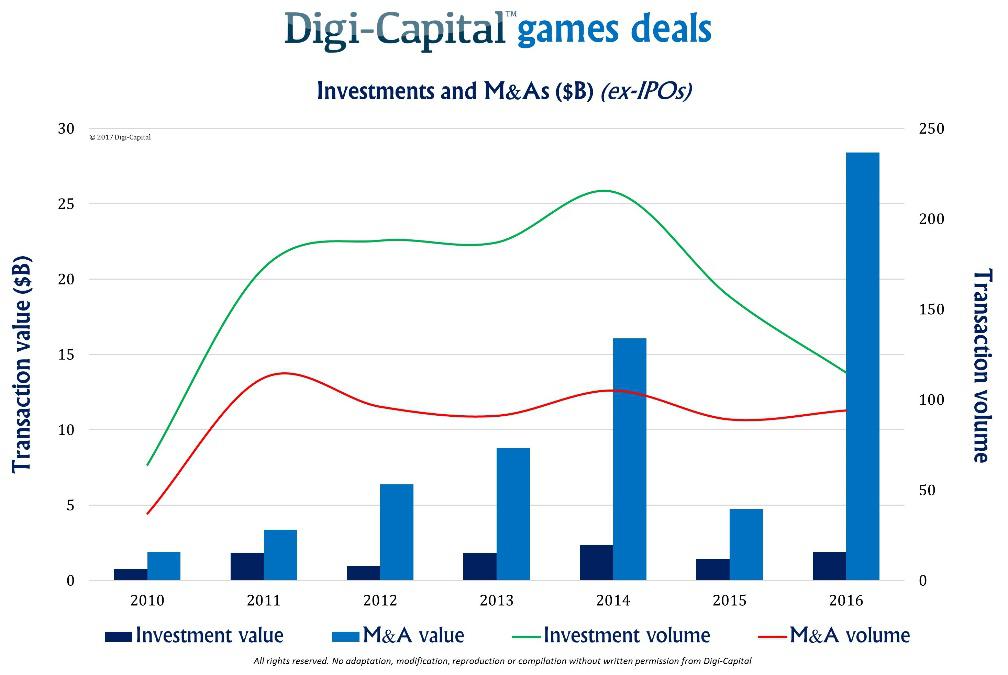 So mobile games aren't just driving market growth, their more than $24 billion M&As dominated deal-making in a year that saw average deal size over $300 million. Only the largest companies can play this game, with blockbuster deals including:
Tencent/Supercell: $8.6 billion
Activision-Blizzard/King: $5.9 billion (announced 2015, closed 2016)
Giant (& others)/Playtika: $4.4 billion
These weren't the only high-profile deals, with others in the hundreds-of-millions to billions of dollars range. Last year might have been the high-water mark for mobile games consolidation, but there are still a few big targets out there for the brave.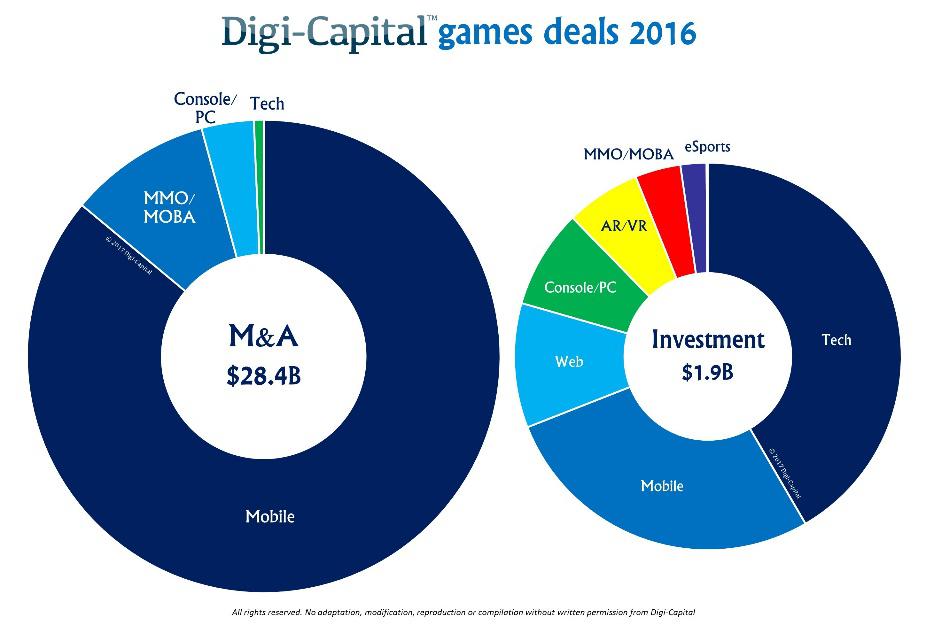 Games tech/services and mobile games took the largest share of VC and corporate investment last year, a lot of it coming from (and going into) China. Again ticket sizes were up, with the average investment topping $16 million. Some of the largest investments included:
Huayi Brothers/Hero Entertainment: $288 million
Tencent (& others)/Douyu TV: $226 million
DFJ (& others)/Unity: $181 million
More or less
From here it looks like games could grow well beyond the $117 billion revenue we're anticipating for 2017, potentially topping $170 billion by 2021. Markets at this scale and maturity are ripe for consolidation, so don't be surprised if a few more big deals happen this year. And while it's always possible the market might not deliver such big numbers, mobile, VR and AR look set to keep things interesting. As Inspector Clouseau said, "expect the unexpected."
You can find out more here.